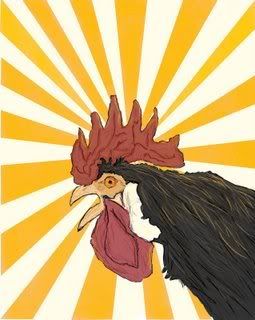 Inertia is a bitch. Ignorance, both willful and enforced, is pervasive. Repetition is boring.
But George Bush DID authorize torture. He has admitted to illegally spying on American citizens. He did invade a sovereign nation with no provocation. People will continue to suffer and die there, for no good reason He is still denying the powers of Congress to subpoena, and thus prosecute, anyone in his administration.
And Congress is still scared shitless to do anything about it.
Inertia is a bitch.
People wander through their lives, hurrying from task to task and wondering why things are so screwed up. They drive home alone in their big car at night to their McMansion in the middle of some faceless cookie cutter suburban development and sit in front of their big screen TeeVee and absorb the images and messages that Madison Avenue has spent hundreds of billions of dollars in psychological research to carefully craft to both keep them content and keep them wanting more! at the same time.
As the planet they have allowed themselves to be disconnected from in favor of this prepackaged consumer 'heaven,' steadily warms beneath their feet.
They bitch and whine about how bad things are, how unjust and unfair it all is… to them, even as they absorb the small daily humiliations and depersonalizations of The System that allow and perpetuate the system itself. And that through their capitulation and acceptance, climb the ladder up through the structure of the system that lead to the enabling of the greater macrocosmic humiliations and depersonalizations that they bemoan as they watch the spoonfed spin that masquerades as reality on TheEveningNews. And then eat the pablum and swallow the placebo of watching other people actually do things on their magic tube. Things that they might do if they weren't busy being such essential cogs in the great machine….things that aren't real either, but that look like more fun than the unreal things that they do.
All the while ignoring the central, essential lesson that the machine has taken infinite care NOT to teach them.
That the world is exactly what they choose to make it.
That there are other ways to live.
Other means and forms and realities that they could partake in, if they would stop choosing what is sold to them as safety, stop choosing to believe that safety actually exists, …outside of the magic box in their living room, that defines for them what safety is and how to achieve it, how long to set the microwave for to produce a warm and tasty dinner of safety that they have purchased, at such a high cost.
And who can condemn them/us? Not I.
From the time we can think, we are told what is Truth, and how to behave and what to do. Schools, churches, governments…and parents, who were taught by their parents, who were taught by their… We are told of the consequences of not doing what we are told and those consequences are reinforced and reinforced and reinforced until we don't even consciously think about them anymore. We know they cause pain, and we are told that pain is a bad thing and we are told that we should fear pain, and we are told not to think about things we fear, lest we create them….so we do what we have been told to do. And part of what we are told to do is to not think about why we do what we are told to do….
All we know is what we are told, unless we go looking…and we are told looking is a bad thing.
But some of us do look.
And when we do, we find a world that could so easily be different.
But we also find a machine, a system, that has been in place for far longer than any individuals lifespan, that has learned and grown and has VERY powerful tools and that is, it must be said, VERY good at what it does.
It is this machine…and its inertia…that allows and even produces George Bush's. If we wish to change the world…we have to change the system, the machine. We have to wake up and educate enough of our fellow humans to do that, or hope that they wake up on their own.
We have to keep pushing and yelling and ….repeating ourselves, until we start to break the loops and overcome the inertia and perhaps even shock people into waking up. That is what we can do. That, plus giving those who do wake up a community to support them, is what we are trying to do here. And what others are trying to do around the world. What we are doing is small, but vital. It doesn't take much, relatively speaking, to change the machine, to alter its course. All it takes is all of us, here and around the world, to keep yelling, and to embrace those who do wake up and to help them to yell too.