(Noon – promoted by ek hornbeck)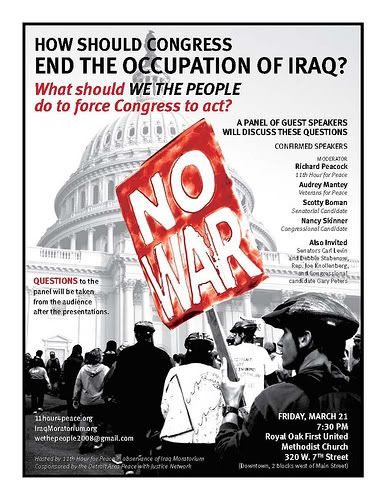 They'll discuss it in Detroit.
They'll write letters in Cornwall, Ct.
They'll march in Duluth, rally in White Plains, and vigil in Cincinnati.
And they've been getting arrested in San Francisco.
Friday is Iraq Moratorium #7, and people across the country are marking it in dozens of different ways, from rallies, marches, protests, vigils to individual actions to call for an end to the war and occupation.
There's even been a bit of civil disobedience by people willing to make arrest to make their point.
It all fits (as long as it's non-violent) under the umbrella of the Iraq Moratorium, a loosely-knit national grassroots movement to end the war and bring the troops home.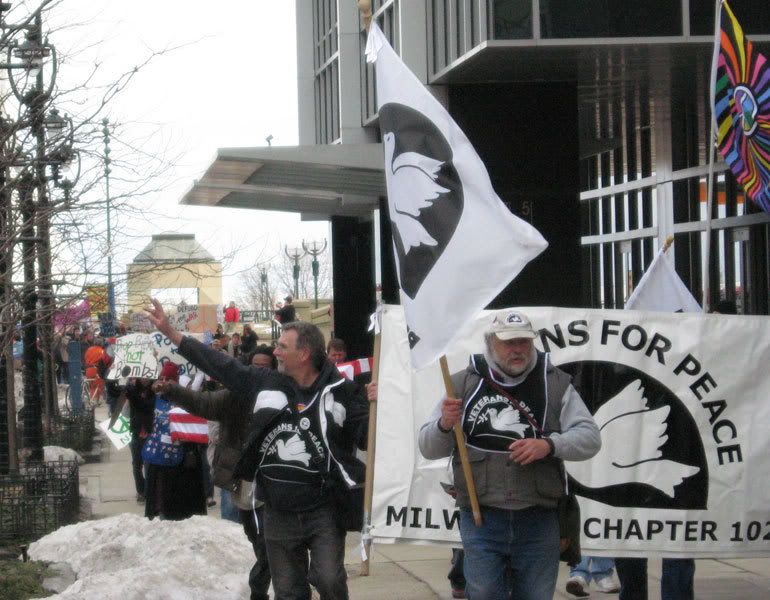 The Moratorium truly is bottom-up, not top-down. Its website lists planned actions (about 90 so far this month and 800 since it began in September), and reports, photos and videos of previous events.
It is observed on the Third Friday of every month, when people are asked to do something, individually or collectively, to show that they want the war to end and the troops to come home.
That can be as simple an action as wearing a button or black armband to work or school, or as dramatic as getting arrested — and a whole lot of things in between.
This month, because of the fifth anniversary of "shock and awe" on March 19, and the observance of Christian Holy Week, Iraq Moratorium events have spread out during the week.
The official Moratorium day is Friday, which is also Good Friday, so some observances will have a religous theme.
The Pike's Peak Justice Coalition will take part in Pax Christi's Way of the Cross/Way of Justice procession in downtown Colorado Springs.
A Hartford, CT "Lamentation and Protest" will begin with an interfaith prayer service, followed by a silent procession to the federal building, where marchers will pile stones bearing the names of victims of the Iraq war. Church bells will ring in a number of communities in Massachusetts to mark Moratorium observances.
If you want this war to end — as you must, if you're reading this post –please do something on Friday. If you've already taken some action this week to protest the war, do one more thing on Friday. If you're traveling or home for the holidays, wear a button and talk about the war with your seatmate or family.
Or, if nothing else, give a buck to the Moratorium or some other peace group working to end this insanity.
It does matter.
Doing something beats the hell out of doing nothing.
Try it and see for yourself.
*(I know it's "you and I," but thought this diary would get at least one extra comment if the headline had a grammatical error).