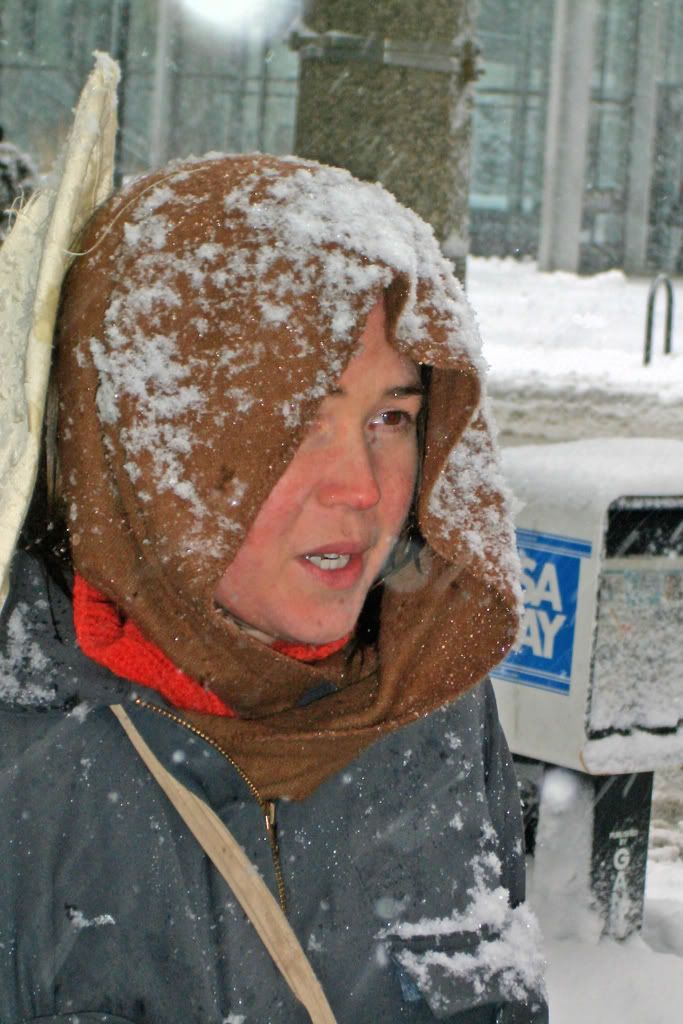 This is the story of the vigil that refused to die — or at least refused to be snowed under. Friday was a horrendous day in Milwaukee as Spring arrived with a huge snowfall that may end up being more than a foot (it's still falling as I write this.) This was the noon report:
Nearly five inches of snow has fallen this morning at General Mitchell International as a winter storm warning remains in effect, keeping police and firefighters busy with multiple accidents reported on local streets and highways.

"Boy it's bad outside," said Milwaukee Battalion 1 Fire Chief Steven Gleisner, who was making rounds to the firehouses in his battalion this morning. "I almost spun out in a 4-wheel drive vehicle, a 6,000 pound Chevy Suburban, and I'm having a tough time getting around. I've never done that in a four-wheel drive vehicle. I'm like, 'No. I'm heading home. Plus, the visibility is lousy."

He suggested others do the same."If folks don't have to go out today, I wouldn't go out," he said.
It just got worse as the day went on. Side streets were nearly impassible, buses were running late if at all, the airport eventually closed. Many churches even canceled Good Friday services. So organizers of a 5 p.m. Iraq Moratorium vigil, a monthly action held on downtown's busiest corner, conferred during the afternoon. Should the show go on? Your humble scribe, having ventured out once in his lightweight car, really didn't want to do it again. However, having written a rather macho online essay earlier in the day, about how weather doesn't stop Wisconsinites from stopping the war, staying home didn't seem like an option.
In mid-afternoon, Peace Action's George Martin said he planned to show up with signs, flags and paraphernalia, since some people were bound to show up no matter what. But he called about 4 p.m. to say the event was off. Let's be honest; I breathed a sigh of relief. I could stay home with a clear conscience, although I might have to eat a little crow about that blog.
But, I looked out at 4:30 p.m. and, although the snow was still falling heavily, our street had miraculously been plowed. So, staying only on a few main arterial streets, I managed to make it to the site of the alleged vigil. There, at Water Street and Wisconsin Avenue, four young people huddled on the corner. One had a rolled-up sign, so it seemed plausible they were there to protest the war, not catch a bus. That turned out to be the case. I told them the vigil was canceled, and asked if they'd at least stay long enough for me to haul a brand new Iraq Moratorium banner out of my car and take a photo. Once there was a banner and a few more people showed up with their own signs, everyone decided to stay for the scheduled hour-long vigil. We ended up with 10 people.
So Milwaukee's record is intact. Seven vigils in the seven months since the Iraq Moratorium began in September. Although this was the smallest turnout ever, it may have been the most satisfying one to be a part of. The people in these photos are winter soldiers, indeed.
Reports from other actions are beginning to trickle in from around the country. Read them, or post your own accounts of what you did, at IraqMoratorium.org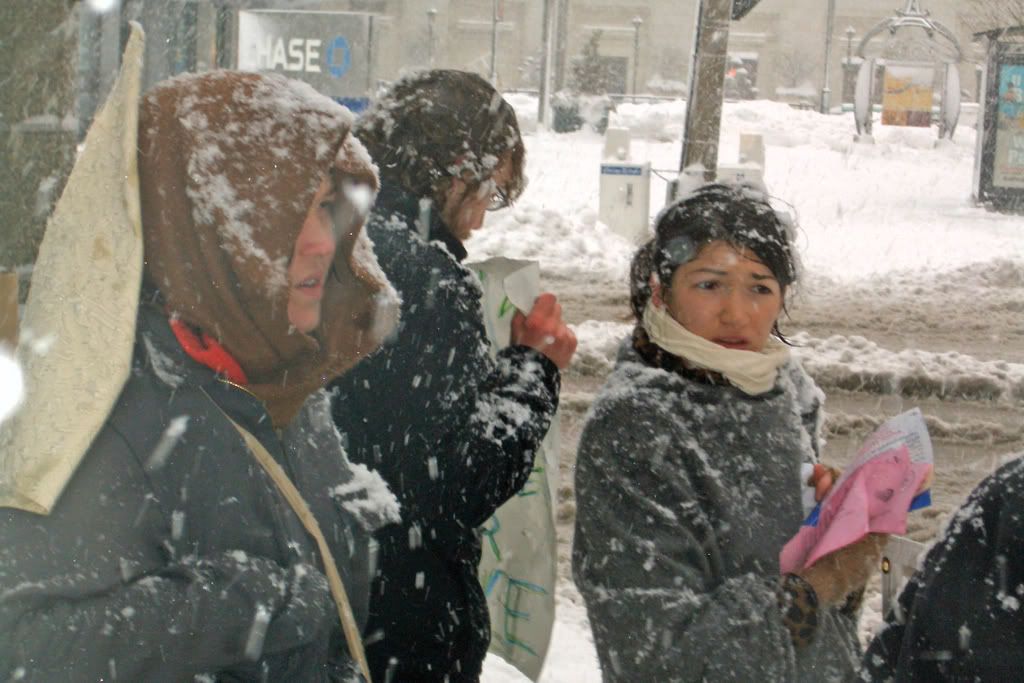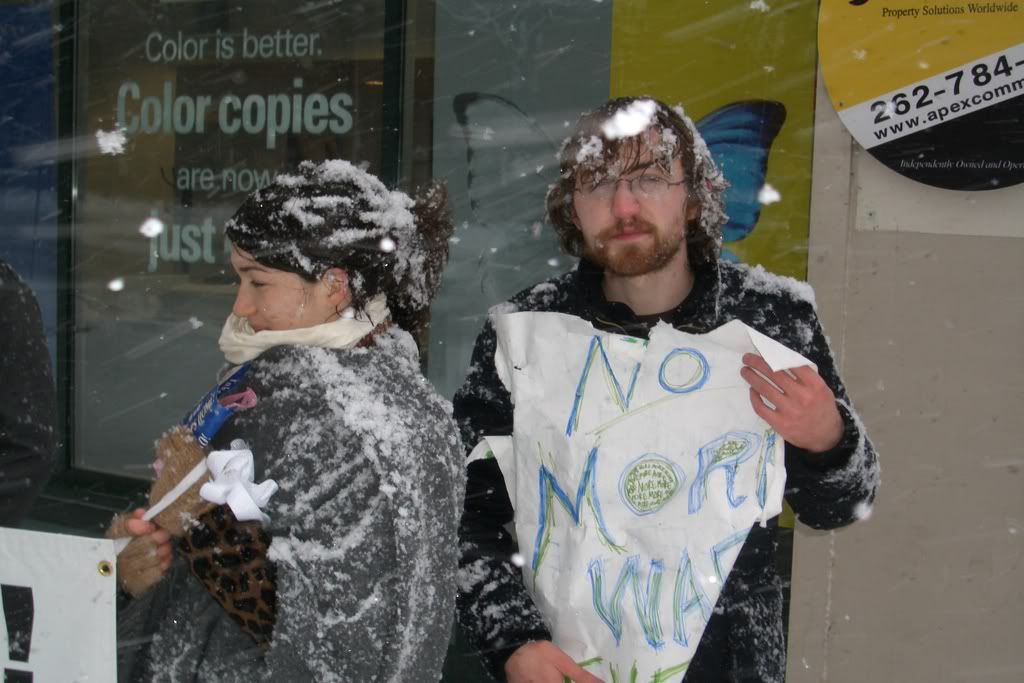 Before and after an hour in the snow in 30-degree temperatures: