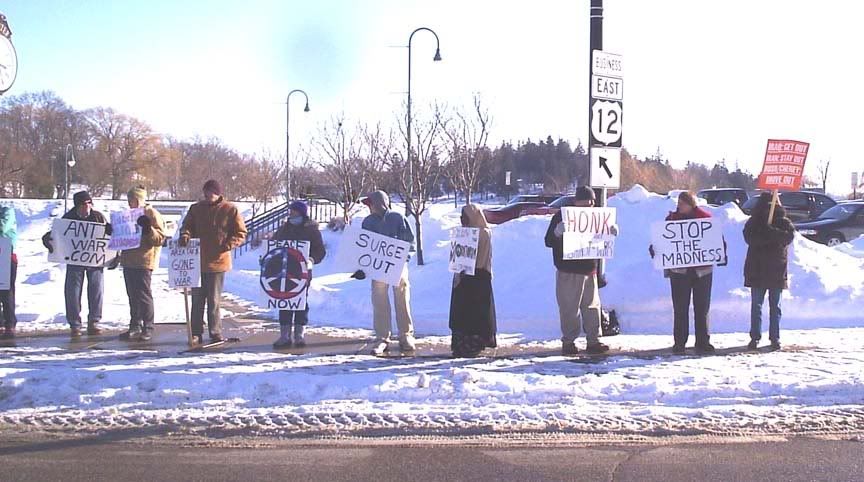 It's Iraq Moratorium day, so of course it's snowing heavily here in Wisconsin, where more than a dozen outside vigils are planned.
There is already several inches on the ground in Milwaukee, and it is still coming down heavily. By our 5 p.m. downtown vigil tonight there could be a foot of the stuff.
But those who can get there will be there, just as they have been during the winter when temperatures and wind chills were sub-zero. (Pictured are folks in Whitewater, WI at their February Moratorium vigil.)
Why?
I have to wonder myself sometimes. Why do we persist, when other public events are being canceled left and right?
The easiest answer is that people are committed to ending this senseless, bloody war — and they want to demonstrate their commitment.
Last week, Iraq Veterans Against the War held Winter Soldier hearings, to testify about what life is like on the ground, and what our troops are being asked to do in the name of "freedom."
Winter Soldier, modeled after the 1971 Vietnam Winter Soldier hearings, takes its name from these words of Thomas Paine, written during the terrible winter of Valley Forge:
"These are the times that try men's souls. The summer soldier and the sunshine patriot will, in this crisis, shrink from the service of their country; but he that stands it now, deserves the love and thanks of man and woman. Tyranny, like hell, is not easily conquered; yet we have this consolation with us, that the harder the conflict, the more glorious the triumph."
So, maybe the weather today is just testing whether we are "summer soldiers and sunshine patriots" or are really committed.
I've talked myself into it: I'll be there tonight, whatever the weather.
Whether you're battling the snow or basking on the beach, please join us in doing something today to show your opposition to the war and occupation of Iraq.
Wear a button or an armband. Write a letter. Send an email. Donate to a peace group. Whatever. But do something. You'll find ideas for individual action and a list of group events at IraqMoratorium.org
Be a winter soldier.