Soon to be at its intended target, L'Orange…where things have gotten a bit out of hand….
If you are even CONSIDERING voting for St. John the Asleep, let alone threatening to, you are a either a mentally deficient jackass or the victim of a drive by lobotomy so effective you don't even remember you had it. That is how excruciatingly badly your brain is working right now. Except….it's not. Clods of dirt have more acuity than you. Rock formations are brighter. Boulders pity your bad brain.
I could care less how much you hate Hillary or how bummed by Barack you are. You are an idiot, plain and simple, case closed, end of story, over and out. Apparently on the planet you are from, spite is like a form of Kryptonite that robs you of all your mental powers. Bitterness and self-righteous anger has burned up all your braincells and all you have left is the ability to screech threats at the other children on the play-ground to show them how tough and outraged you really are.
I won't even go into how breathtakingly imbecilic and heart-stoppingly stupid it is to cast your precious vote out of what amounts to spite.
I will remind you that you are one of only 100 million or so out of 7 BILLION people on the face of the planet who are charged with DECIDING THE FUTURE OF THE WHOLE WORLD.
Seriously thinking of voting for THIS guy?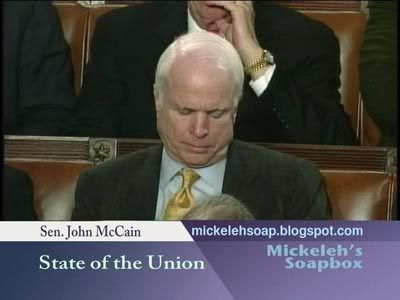 If you look outside your door, you will see that there is a long line of one celled organisms waiting to tell you to wise the fuck up. Your understanding of how the world works apparently arrested itself after watching a really good Rambo movie. We finally have a chance to move away from the supreme failure of the war based geopolitics of the 20th century, but because of some issue in this campaign, which, considering what is at stake in this election for America, the Middle East and the rest of the planet….as well as your children's and mines future, I assure you is utterly goddam trivial, …you want to help elect someone whose last original thought came and went in approximately 1989 and concerned how to cover his ass on corruption charges, and who has been kissing the ass of and whoring himself out to anyone who could serve or fuel his obsessive to the point of monomania pathological obsession to become The Most Powerful Man In The World ever since.
You. are. a. Marooon.
Seriously, aliens have stolen your brain. And replaced it with Cheez-whiz. You should really get that looked at. And while you're there, have them look at your heart too. Because it obviously isn't functioning properly if you don't feel the suffering that another four years of Republican rule….IF he makes it four years without going senile and blowing up the world in a senior moment, or croaking, which puts whichever corrupt war-mongering torture approving Republican ass-clown he has picked as his VP into the Oval Office…..will cause not just in America, but all around the world.
Please pardon my astonishment at the nearly pure state of airless vacuum which evidently exists in your completely vacated cranial cavity, and the echoes of vacuous nothingness that are emanating from it at the speed of light.
Sure, I know, your brain was already stretched to the limit by the surreality of the last 10 years of Republican war-mongering, perfidy, incompetence, torture, and just plain meanness….I understand that after all this exposure time, you have absorbed some of the Kool-aid of the kakistocracy….that the political culture of nonsense that Newt and the Bug-man and Turdblossom created that has penetrated our national consciousness and lowered the collective IQ of the entire continent of North America by a good 15 points has penetrated the inner workings of what people used to refer to as your mind…..but I assure you, sticking your head up your ass to look for it while voting for this guy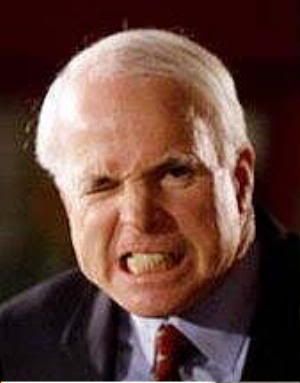 is not the politically savvy move at this time.
I plead with you on behalf of the planet to use the last scintilla of cerebellum you might retain to reconsider this disastrous decision. Voting for this mendacious, machiavellian, corrupted cheater and con man, this duplicitous, deceitful, deluded dissimulator, this erroneous equivocator, fraudulent fabricator, maligning misleader, perfidious prevaricator, who doesn't know Sunni from Shia means only one thing. The continuation of the eo-Con Bushco policies….and worse….that have turned America into a destructive Empire and are bankrupting us, making the world hate and fear us and whose only real interest is self aggrandizement and further inflating his own ego.
His whole campaign is centered around one concept….The Surge is working, in other words keeping the pointless bloodbath in Iraq chugging along. In other words…..death.
Let me put it as baldy as I can. You may not "like" Clinton or Obama and their campaign tactics….But a vote for McCain is a vote for continuing the Republican Reign of Terror, a vote for American Empire, a vote for death and destruction…
I await your defense of your position in the comments with great glee, or as McCain's hero George "the Torturer" Bush told the "terrurists" before they proceeded to kill 4000 American soldiers for HIS hubris and the gratification of his ego….
Bring It On.