Straight from the pages of Haaretz, Israel's oldest daily newspaper.
Twilight Zone / Cut short By Gideon Levy
Here's a short excerpt:
And to all Israelis, al-Adam says: "Our neighbors are not the Europeans or the Americans. You are our neighbors and we have to watch out for one another. We're living here and not hurting anyone. For years I brought up my children to live together [with Israelis], telling them we have to live together, and now they don't believe me anymore." The farmer says these things while standing amid the ruins of his land, which he had worked and nurtured for two years, having transformed the rocky ground into fruit orchards and fields of vegetables and grains. But it was short-lived: A few weeks ago, bulldozers dispatched by the Civil Administration showed up and destroyed all of his fields and his neighbors'. There went the grapevines and the young fruit trees – all uprooted. The magnificent terraces al-Adam had built were destroyed along with the wells they had dug. Just a few days before Tu Bishvat, Jewish Arbor Day, Israel showed them just how much regard it really has for trees.

The European Union had provided generous aid to these farmers in Beit Ula as part of an extensive development project covering almost 100 dunams (25 acres). The farmers invested their own money and much toil in the project, but in the end, all it took was a few hours of work by the Civil Administration's bulldozers – accompanied by foreign workers hired as an auxiliary destructive force for Israel – to trample it into oblivion.
It's not your average Israel vs. Palestine story and it's heartbreaking.
Just go read it. You'll understand.
(hat'tip Cranky Old Bitch)
[UPDATE]:
This is probably something like what it looked like: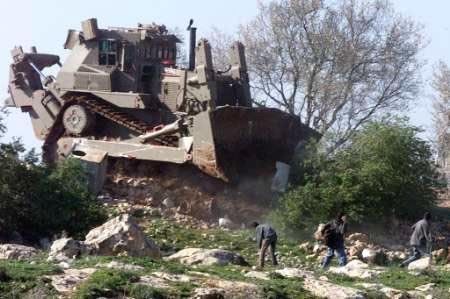 I've submitted the haaretz article to digg BTW. If you can, please digg it.