cross posted from The Dream Antilles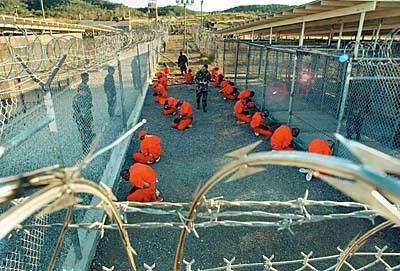 Still Guantanamo
Every day it just gets worse. Today (h/t to Smintheus at dKos), Prof Mark Denbeaux of Seton Hall University Law School (with assistance from many others) released a report (pdf format) on interrogations at Gitmo. It's a shocker. Among other things it says that there have been 24,000 "interrogations" at Gitmo and that all of them have been videotaped.
Join me inside the wire.
The short of it (from the report's executive summary):
*More than 24,000 interrogations have been conducted at Guantánamo since 2002.

*Every interrogation conducted at Guantánamo was videotaped.

*The Central Intelligence Agency is just one of many entities that interrogated detainees at Guantánamo.

*The agencies or bureaus that interrogated at Guantánamo include: the Central Intelligence Agency and its Counterterrorism Center; the Criminal Investigation Task Force (CITF); the Federal Bureau of Investigation (FBI); the Behavioral Analysis Unit (BAU) of the FBI; Defense Intelligence Analysis (DIA); Defense Human Intelligence (HUMINT); Army Criminal Investigative Division (ACID); the Air Force Office of Special Investigations (OSI); and the Naval Criminal Investigative Service (NCIS). Private contractors also interrogated detainees.

*Each of these entities has identical motives to destroy taped investigations as has the Central Intelligence Agency. As one former senior Central Intelligence Agency official put it: "It's a qualitatively different thing-seeing it versus reading about it."

One Government document, for instance, reports detainee treatment so violent as to "shake the camera in the interrogation room" and "cause severe internal injury." Another describes an interrogator positioning herself between a detainee and the camera, in order to block her actions from view.

*The Government kept meticulous logs of information related to interrogations. Thus, it is ascertainable which videotapes documenting interrogations still exist, and which videotapes have been destroyed.

There's a whole lot more in the report. The report is a remarkable piece of work, and Denbeaux and his team deserve a great deal of credit for important work well done.
Now that it has been the disclosed that every "interrogation" has been videotaped– something that the Bush administration has not previously admitted– one would hope that those in Congress who are in charge of oversight might want to view the video tapes. They might want to see what techniques are actually being used in Gitmo. They might want to decide with their own eyes and ears whether what is going on in Gitmo is or is not torture, is or is not legal, is or is not something they feel is appropriate. They might want to see the videos and decide whether they've been told the truth about Gitmo, or if what they've been told is a pack of lies. Bottom line, whatever is on the video is going to be different from reading about the events in classified documents.
At the very least those who are responsible for oversight should immediately demand that they be provided with copies of all of these videotapes. They have the staff and resources to cull these videotapes and to find out precisely what has been going on. And they should do that. This is what they were elected to do. And it's different from sitting in briefings about the "interrogations" and nodding their heads. (Yes, I'm talking to you, Nancy.)
And what if, as before, it turns out that the videotapes have been– quel surprise!– destroyed? Maybe Arlan Spector and others can rouse them selves and make as big a deal out of these Guantanamo videotapes as they have about the NE Patriots videos.
Might this be something to dial up "our" Congress people about?