Tonight a total eclipse of the full moon will be visible from most of North America. According to NASA, the total eclipse will begin at 10:01 pm est, and end at 10:51 pm est. The linked website also contains a map indicating what areas of North and South America, Europe, Africa, and western Asia will be able to see the eclipsed satellite (Feb 21st in the Eastern Hemisphere).
Sonnet of the Moon

by Charles Best

Look how the pale Queen of the silent night

doth cause the ocean to attend upon her,

and he, as long as she is in sight,

with his full tide is ready here to honor;

But when the silver waggon of the Moon

is mounted up so high he cannot follow,

the sea calls home his crystal waves to morn,

and with low ebb doth manifest his sorrow.

So you that are sovereign of my heart

have all my joys attending on your will,

when you return, their tide my heart doth fill.

So as you come and as you depart,

joys ebb and flow within my tender heart.
February's full moon is known as the Full Snow Moon or Full Hunger Moon in Native American Lore, and in other traditions as the Storm Moon, Fasting Moon, or Weaning Moon.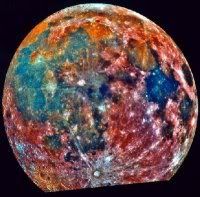 as always, wikipedia has more info…
Moonlight Sonata, thanks to Beethoven…
CCR, Bad Moon Rising