( – promoted by buhdydharma )
In the aftermath of Hillary Clinton's narrow win over Barack Obama in New Hampshire, there are indications that voter backlash against the Beltway pundits and media hacks who take such delight in savaging her may have played a role in producing this unexpected outcome. We'll never know with any certainty why Hillary won, but the results in New Hampshire provide further evidence that the contempt of Americans for the corporate media is intensifying.
It's about time.
The very idea of discussing issues, examining the candidates' positions, or even analyzing voter preferences does not and cannot even occur to Chris Matthews. That–the most elementary nuts and bolts of standard, healthy journalism–is way, way beyond the scope of what our media stars are able to do or want to do. Petty personality-based gossip and speculative, worthless chatter is all they know.
It's not just Tweety. On every network, in every major newspaper and magazine, day in and day out, corporate media hacks display "every repellent attribute that defines the Standard Modern Political Journalist":
*Jaded, bitterly cynical coolness masquerading as sophistication (no emotion, no passion, is even real)

* Vapid, shallow stupidity (political matters judged exclusively by Drudge-like personality distractions)

* Mindless recitation of idiotic, Kristol-like right-wing talking points (we need manly Tough Guys, not Girly Crying, for our Wars)

* The basest and most glaringly obvious strain of sexism (no mention of the endless crying episodes from GOP Warrior-Cheerleaders)

* Their self-absorbed and almost-always-wrong belief that their own insulated biases are how the Regular Folk Think (hence, Hillary's "crying," which voters apparently either appreciated or ignored, was going to doom her candidacy, just as Huckabee's press conference would doom his in Iowa)

* Herd-like adolescent malice rituals directed towards the Hated Loser (NYT reporters grouping together to chortle and cackle oh-so-knowingly at the Wicked Witch).
On progressive blogs, we've been telling the truth about the corrupt media and political establishments for years. We've told the truth in our diaries, we've told it in our essays, we've told it in our comments. We've told it time and time again, only to be ignored time and time again. Most Americans aren't even aware of our existence, and tens of millions of others are still dismissing us as radical partisans unworthy of their attention.
We're going to keep telling the truth anyway. Someone has to. As we've struggled to be heard, as we've endured the ridicule of the corporate media, as we wonder at times how much longer we can keep this up, our hope that Americans will finally start listening to us, our hope that we can make a difference, has not only sustained us through these dark years, it has empowered us and will empower us even more as we realize that the power of hope has no limits.
This guy doesn't have my vote yet:
But he has the wisdom to believe in the power of hope:
In the unlikely story that is America, there has never been anything false about hope. For when we have faced down impossible odds; when we've been told that we're not ready, or that we shouldn't try, or that we can't, generations of Americans have responded with a simple creed that sums up the spirit of a people. Yes we can.

It was a creed written into the founding documents that declared the destiny of a nation. Yes we can.

It was whispered by slaves and abolitionists as they blazed a trail toward freedom through the darkest of nights. Yes we can.

It was sung by immigrants as they struck out from distant shores and pioneers who pushed westward against an unforgiving wilderness. Yes we can.

It was the call of workers who organized; women who reached for the ballot; a President who chose the moon as our new frontier; and a King who took us to the mountaintop and pointed the way to the Promised Land.
Progressive bloggers have been pointing the way to a brighter future for America and the world ever since our first blog appeared on the Internet. We're still pointing the way, we still believe that brighter future is possible. We are not going to tolerate war crimes for profit, we are not going to clap louder for Madame Complicity, we are not going to allow corporate criminals and their hacks in both parties to block the Impeachment of George Walker Bush and Richard Bruce Cheney.
Yes we can be heard. Yes we can make a difference. Yes we can force Impeachment. The spirit of progressive blogs is characterized by YES WE CAN. These simple but powerful words inspired and empowered Americans of every generation as they confronted injustice and joined together to overcome the challenges they faced. YES WE CAN is empowering us as we join together and intensify our efforts to reclaim the civil liberties and sovereign power the Founding Fathers invested in America's citizens.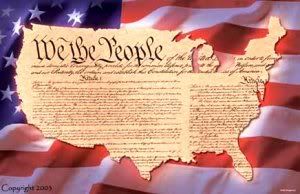 Madame Speaker tells us we can't end BushCo's bloody occupation of Iraq.
Chairman Conyers tells us we can't Impeach.
Rahm and Steny tell us we can't beat Complicit Incumbents, Inc.
Rupert Murdoch's cynical talking heads and jaded scribblers tell us we can't become the media.
Yes We Can. Every post on Docudharma affirms that we matter, that our voices deserve to be heard and will be. YES WE CAN rings out every time a new essayist joins us. YES WE CAN rings out even louder every time they are welcomed and encouraged. YES WE CAN rings out louder still as more and more Americans come here, read our words, and stand with us to proclaim YES WE CAN across this awakening country. Every time another ignored advocate becomes a leader, every time another soldier speaks out against this criminal government, every time another American realizes that we must be the leaders we've been waiting for, YES WE CAN is reaffirmed and we empower ourselves even more.
Yes we can kick your asses, war criminals in Washington, fascist Republicans and corporate thieves. Start digging spider holes, election hijackers and bible thumping hypocrites, NSA spies and Blackwater thugs, CIA torturers and DOJ goons. Start packing, voter cagers and robocallers, complicit Democrats and barking Blue Dogs.
A friend of ours has a message for you:
We're coming. We're heading your way, we're bringing democracy with us and plenty of PAYBACK. To every voting booth. To every precinct in every city in America, from New York to L.A. and everywhere in between, from the urban centers on the coasts to wingnut towns in Wyoming so small the streets have no name . . .