More unfortunate climate change news for us and the candidates – this time from the boreal forests. The Guardian and others are reporting on a new study that finds trees are absorbing less CO2 as the world warms.
The ability of forests to soak up man-made carbon dioxide is weakening, according to an analysis of two decades of data from more than 30 sites in the frozen north.

The finding published today is crucial, because it means that more of the CO2 we release will end up affecting the climate in the atmosphere rather than being safely locked away in trees or soil.

The results may partly explain recent studies suggesting that the amount of CO2 in the atmosphere is increasing faster than expected. If higher temperatures mean less carbon is soaked up by plants and microbes, global warming will accelerate.
Worldwide, only tropical rainforests are larger then boreal or northern forests. They cover Alaska, northern Canada, Scandinavia and Siberia.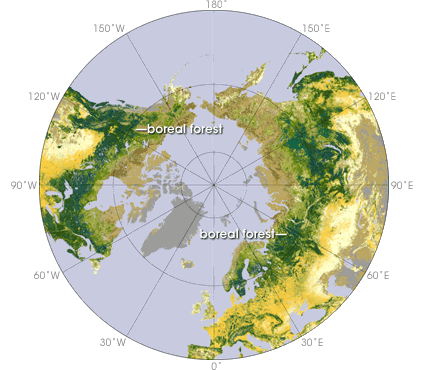 Any minor change in their ability to use CO2 could have serious climate impact across the entire earth. Previously there was some optimism that a greening in the northern forests would help reduce CO2, but instead it could lead to increased warming.
The research study, Net carbon dioxide losses of northern ecosystems in response to autumn warming is being published today by the science journal Nature and was conducted by a team of Canadian, Chinese, and European researchers.
As the story about the study, New research suggests longer autumns inhibit carbon uptake in forests in the Canadian Press notes, "theories suggesting warmer springs and summers will reduce carbon dioxide through greater growing activity are probably too optimistic." The reason being is autumn temperatures are warming faster than spring temperatures. So, combined with hours of daylight growing shorter as the winter approaches, trees absorption of CO2 slows down "while carbon emissions increase as busy soil microbes feast on a fresh crop of fallen leaves." So warmer autumns null out warm springs.
As The Guardian story explains this is a "surprise rethink" and "the research could partly explain results by the Global Carbon Project, which confirmed that the rise in CO2 levels in the atmosphere is accelerating." The increase is partially due to increased CO2 emissions from China and other nations, but research suggests "weakening carbon sinks were also to blame."
The use of forest carbon sinks is advocated by each of the three of Democratic frontrunners – Hillary Clinton, John Edwards, and Barack Obama. Each plan to use trees in some way to help remove the carbon dioxide from our atmosphere.
This is what Senator Hillary Clinton says:
I want to focus on international attention to solve the problem of global deforestation. We're losing our forests dramatically. They play such an important role in removing carbon dioxide from the atmosphere and we need to figure out how to have a win-win strategy for that.
This is John Edwards' plan:
Create GreenCorps: Idealistic young Americans can help fight climate change by conducting volunteer energy audits, weatherizing homes, installing home solar panels, and training neighborhood groups to do the same. Volunteers will also plant carbon sinks – such as fast-growing forests that store carbon – on urban, conservation and federal lands. Edwards will create a GreenCorps within AmeriCorps to create opportunities for them to serve.
And Senator Barack Obama idea is this:
Confront Deforestation and Promote Carbon Sequestration: Obama will develop domestic incentives that reward forest owners, farmers, and ranchers when they plant trees, restore grasslands, or undertake farming practices that capture carbon dioxide from the atmosphere.
But this new study suggests with northern forests lessening ability to absorb CO2, then plans that are based on trees – especially northern trees – may need to be rethought.
According to John Miller, a University of Colorado Climate scientist who the Guardian article quotes as commenting on the study, 50 percent of all of the CO2 we produce is being removed already by the oceans and land ecosystems. "Unfortunately," he writes, "we have no guarantee that the 50% discount will continue, and if it disappears we will feel the full climatic brunt of our unrelenting emission of CO2 from fossil fuels."
Since the start of the Industrial Revolution, the earth has been sequestering carbon away, lessening the brunt of our carbon lifestyle, but we keeping more CO2 into the atmosphere than the earth's systems can mitigate. So part of our rethinking about how to address global warming, I think we and our presidential candidates will need to include ways to significantly reduce our carbon dioxide emissions. If we don't, the earth is indicating its forests won't be able to keep helping.