We can look back with a little space between us and the Twentieth Century now. And looking back, we can see that in the bloodiest century in human history…in a time period marked and defined by epic struggles of good versus evil, there are two men who stand head and shoulders above the rest, two real, undeniable and unsullied heroes. Now heroes are tricky, they are after all only human beings, just like the rest of us, and often have feet of clay. But the Twentieth brought us two undeniable heroes. Two men whose greatness, looking back, was not even in the acts that they did, though those were considerable. Whose impact reaches far, far beyond the number of people that they helped and affected, though those are innumerable. Two heroes whose lives have changed not just the course of history, though they undeniably did. The greatness of these two men, in many ways student and teacher, does not lie in just their actions, but in their world changing idea. An idea so radical to the previous history of the human race that I unreservedly hold them up as not just heroes of the Twentieth Century, but as two men who have changed undeniably for the better, and hopefully forever, all of humankind. For they have in a way, changed the very definition of good and evil.
Today we celebrate the birth of one of those men. And the idea that bound them together.
Have we not come to such an impasse in the modern world that we must

love our enemies – or else? The chain reaction of evil – hate

begetting hate, wars producing more wars – must be broken, or else we

shall be plunged into the dark abyss of annihilation.

Martin Luther King, Jr.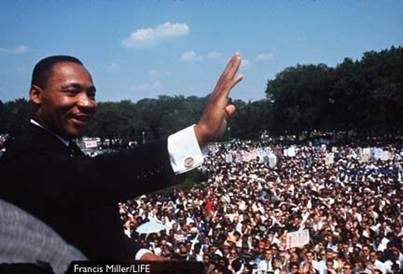 "Peace is not merely a distant goal that we seek, but a means by which we arrive at that goal."
Dr King is known for fighting racism, Ghandi for fighting imperialism. But it wasn't what they fought and overcame that is the most important part of the story, it is the way they fought it.
Good versus evil is a struggle that has existed as long as humankind has existed. Before King and Ghandi, the forces of good and evil, when they found themselves in inevitable conflict, would assemble and array themselves across a battleplain and, on the orders of their leaders, rush together and begin to slaughter each other.
The forces of "Good" would attempt to slaughter and maim and destroy as many of the forces of "Evil" as possible. So it had gone for all of human history.
"An eye for eye only ends up making the whole world blind."

Mahatma Gandhi
"Darkness cannot drive out darkness; only light can do that. Hate cannot drive out hate; only love can do that."

Martin Luther King
Mahatma Ghandi gave a lesson to the entire world, and Dr. King applied that lesson, forever proving its worth and effectiveness: You do not have to kill the enemies of good for good to triumph. You do not have to slaughter one group of humans to free another group. You do not have to kill for freedom and justice to triumph. There IS another way.
"Nonviolence is a weapon of the strong"

Mahatma Gandhi
"Peace is not merely a distant goal that we seek, but a means by which we arrive at that goal."

Martin Luther King
Both men achieved much in their short and violently ended lifetimes, but this is far and away their greatest achievement. One that has transformed the way we think about change, about justice, and about how to achieve them. These two men have transformed the human race forever. They have brought the lesson of nonviolent change, it is up to us now to bring their lesson into the Twenty-first Century and to continue the fight that they started. The fight for justice and equality and peace through non-violent means.
Let's hope that we can learn their lesson and carry on their work, and let us not forget the gift that they were able to bring to all humankinkind.
"The ultimate measure of a man is not where he stands in moments of comfort and convenience, but where he stands at times of challenge and controversy."

Martin Luther King
"Whatever affects one directly, affects all indirectly. I can never be what I ought to be until you are what you ought to be. This is the interrelated structure of reality."

Martin Luther King
"The ultimate tragedy is not the oppression and cruelty by the bad people but the silence over that by the good people."

Martin Luther King

"When you are right you cannot be too radical; when you are wrong, you cannot be too conservative."

Martin Luther King
"Be the change you want to see in the world."

Mahatma Gandhi