( – promoted by buhdydharma )
Switchgrass is nothing less than amazing!
BBC News reports on a new study, Grass biofuels 'cut CO2 by 94%'.
Producing biofuels from a fast-growing grass delivers vast savings of carbon dioxide emissions compared with petrol, a large-scale study has suggested.

A team of US researchers also found that switchgrass-derived ethanol produced 540% more energy than was required to manufacture the fuel.

One acre (0.4 hectares) of the grassland could, on average, deliver 320 gallons of bioethanol, they added.
This is good news for the United States in so many ways:

Fewer CO2 emissions – 94% is almost "carbon neutral"

540% EROEI – Growing "energy independence"

Better than corn and soy – Less need for harmful herbicides and pesticides, such as Atrazine

Native prairie grass – Improves local biodiversity

Plant once – Reduces erosion and farm fuel consumption
The five-year study on switchgrass (Panicum virgatum) was led by Ken Vogel, a professor at the University of Nebraska-Lincoln and a geneticist for the U.S. Department of Agriculture. His findings are published this week by in the Proceedings of the National Academy of Sciences USA, Net energy of cellulosic ethanol from switchgrass (PDF) (Abstract).
According to Nature News, Prairie grass energy boost studied in the field. There is more energy potential in switchgrass than in other crops used in biofuels. Vogel estimated that annually a hectacre of switchgrass could produce an average of 60 gigajoules of energy if turned into bioethanol. Switchgrass had a net 540% Energy Returned on Energy Invested (EROEI). "Soya bean biodiesel, in contrast, returns 93% more energy than is used to produce it, whereas corn grain ethanol currently provides only 25% more energy. Greenhouse-gas emissions from the switchgrass would be 94% lower than emissions from petrol, they calculate – that's nearly, but not quite, carbon neutral."
The Reuters story on the study explains how the CO2 savings is made.
Switchgrass plants sequester carbon dioxide in the ground because they have extensive root systems that remain buried after the crop is harvested, Vogel said. Steep greenhouse gas emissions reductions, of about 94 percent compared to gasoline, are contingent on burning switchgrass waste to fire bio-refineries. Unlike waste left over from corn after it is made into ethanol, switchgrass waste cannot be made into the animal feed distillers' grain.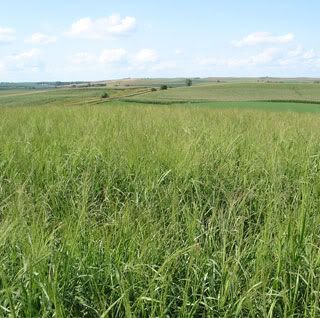 Corn and soybeans need to be planted every year. This causes increased risk of soil erosion and the non-native crops require using herbicides and pesticides that can be environmentally harmful to wildlife and people. Scientific America reports Grass makes better ethanol than corn does. Switchgrass only needs to be planted once and is a plant indigenous plant to the vast American prairie and "once established, the fields yielded from 5.2 to 11.1 metric tons of grass bales per hectare, depending on rainfall". But, there still is a large challenge blocking the adoption of switchgrass ethanol.
But yields from a grass that only needs to be planted once would deliver an average of 13.1 megajoules of energy as ethanol for every megajoule of petroleum consumed-in the form of nitrogen fertilizers or diesel for tractors-growing them. "It's a prediction because right now there are no biorefineries built that handle cellulosic material" like that which switchgrass provides, Vogel notes. "We're pretty confident the ethanol yield is pretty close." This means that switchgrass ethanol delivers 540 percent of the energy used to produce it, compared with just roughly 25 percent more energy returned by corn-based ethanol according to the most optimistic studies.
As noted, the catch is there presently are not any biorefineries that handle the switchgrass. The refineries are currently geared toward producing ethanol from corn and soybeans. However this may be about to change. In a story about the study, Associated Press reports on the effort underway to develop cellulosic ethanol:
Renewable Fuels Association spokesman Matt Hartwig said this latest study adds to the evidence supporting the development of cellulosic ethanol.

"It underscores that cellulosic ethanol production is not only feasible, it is essential," said Hartwig, whose group represents ethanol producers.

Nebraska Ethanol Board Projects Manager Steve Sorum said the industry is excited about the prospects for cellulosic ethanol because the feedstocks for it, such as switch grass, are cheaper to grow. Plus some of the byproducts created in the process can be burned to generate electricity.

Sorum said the key will be developing an economic way to break down the cell walls of cellulose-based fuel sources…

Last year, the Department of Energy announced plans to invest $385 million in six ethanol refineries across the country to jump-start ethanol production from cellulose-based sources, a process that has not yet been proven commercially viable.
When $385 million for cellulose ethanol production is compared to the opportunity costs due to the Bush administration's war in Iraq, our country's "jump start" is laughable. Kansas and Nebraska has spent $7.2 billion on the war and the entire country together has spent over $484.2 billion on it. To me, the nation's priorities are obviously wrong.
Changing to switchgrass-based ethanol would have additional environmental benefits. Growing native prairie grasses can help preserve our country's biodiversity and help reduce erosion and the use of pesticides and herbacides. According to Land of Biofuels? an article in this month's Minnesota Conservation, a journal published by the Minnesota Department of Natural Resources:
From tilling to fertilizing to irrigating to distilling, corn ethanol production consumes large amounts of fossil fuels and water — offsetting some of the biofuel benefits of being local, renewable, and carbon neutral. And the increased demand for corn puts pressure on farmers to convert grasslands to cornfields. Soil erosion and water pollution increase when grassland is plowed and fertilized for corn. And few animals find cornfields to be as satisfactory for habitat as native grasslands and brushlands…

First, many plants — particularly native perennial plants — need far less fossil fuel input to grow, so production of ethanol from native plants would generate less CO2. Prairie grasses, such as switchgrass, big bluestem, prairie cordgrass, and Indiangrass (or better yet, a mixture including wildflowers), also provide superb wildlife habitat. Grasses help soil stay in place and filter polluted runoff. If plant species and genetic makeup, land, and harvest regimen were coordinated to maximize natural resource potential, native vegetation managed for cellulosic biofuels could provide far better homes for ducks, deer, songbirds, prairie chickens, and other native species than row crops.

"We think [biomass harvest] can have a positive benefit, particularly if it means something that's in row crop production now is converted to grass, or if it means we have lands that are decadent that we can then use biomass harvest as a management tool to increase the productivity of those lands for wildlife," says DNR farmland wildlife program leader Bill Penning. For instance, Penning says, DNR currently invests hundreds of thousands of dollars each year in brushland management for brushland-dependent wildlife species such as sharp-tailed grouse. If brush becomes a commodity, management could start to pay for itself.

"That's a win-win situation for us," Penning says. "We couldn't ask for anything more."
Neither could I. Switchgrass is amazing. Let's solve the challenges with cellulosic ethanol, start planting prairie grasses, and get those bio-refineries built. I cannot wait for this future for America and the heartland!