A lot of excited headlines are reporting an historic climate agreement, in Bali. Don't believe the hype. This is what they want you to believe:
Agence France-Presse

BBC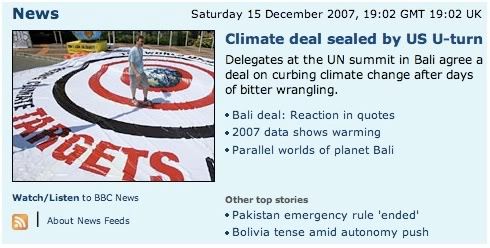 CNN

Guardian
New York Times
Reuters

Spiegel Online
Washington Post
What did the U.S. give up?
As Spiegel Online reports:
The last-minute deal came on Saturday after the US delegation made a U-turn in a final negotiating session. The US had opposed a proposal by the G77 bloc, which represents developing countries, for rich nations to do more to help the developing world combat increasing greenhouse gas emissions.
That's it. The ostensible leader of the free world gave up its opposition to helping the developing world. Wow.
But, as the New York Times explained:
In all of this, the Bush administration did not, in the end, have to shift overall from its most staunchly defended goal, which was that it would only agree to a comprehensive new accord that maintained flexibility, allowing nations to agree on a rough goal for global emissions, but using any mix of means at the national level to get there.
Do, the Bush Administration made the supreme sacrifice of agreeing to help developing countries, but they got to keep their number one goal: to do nothing.
The Times continues:
However the roadmap does not include the firm emission reduction targets which the European Union and the Intergovernmental Panel on Climate Change had been demanding, although it does state that emission cuts are necessary. Environmental groups and some delegates criticized the draft for not going further, describing it as a missed opportunity.
So, they agreed to say that emissions are bad. Not that they're going to mandate actually doing anything about it, but they're saying that they're bad. That's what was accomplished in Bali.
And:
Under the roadmap approved at the Bali summit, nations will hold a two-year series of talks to negotiate a new treaty which will succeed the Kyoto Protocol after it expires in 2012. According to the plan, the successor treaty will be adopted at a UN climate conference in Copenhagen in late 2009.
Oh, good. They'll hold more talks. Probably in similarly exotic paradise vacation spots. Great work!
The Guardian:
The Bali agreement will trigger two years of intense negotiations over how to prevent a likely 4C rise in global temperatures this century. The rise would threaten the food and water supplies of billions of people, and drive thousands of species to extinction.
Yep. Better talk about it for another two years. That's showing the leadership and the sense of urgency!
One of the last passages to be agreed, concerning targets for carbon reductions by rich countries, has in recent days proved the major obstacle to consensus.

In a move that was widely expected, Europe was reported tonight to have dropped its demands for a 25%-40% cut on 1990 levels by 2020, a proposal that was bitterly opposed by the US.
But remember those headlines: it was the U.S. that backed down.
One small quote, tucked into this Reuters article gets it right:
"At the end of the day, we got an extremely weak agreement," said Sunita Narain, head of the Centre for Science and the Environment in New Delhi. "It's obvious the U.S. is not learning to be alive to world opinion."
And this final Guardian headline, from their environment editor, John Vidal: