When we last checked in with our intrepid antiwar warriors in Hayward, Wisconsin, they were basking in the afterglow of Iraq Moratorium #3, having turned out some 40 people in a city of 2129 for a roadside vigil. We noted that the same percentage turnout across the nation would put 6 million people in the streets, calling for an and to the Iraq war.
Now comes the local weekly, the Sawyer County Record, to remind us that organizing for peace in a small, rural community is not all seashells and balloons, as Al McGuire used to say (meaning everything was coming up roses.) The paper reports:
They've become a familiar sight at the corner of Highways 63 and 27 in Hayward.

They hold signs. They wave. They usually smile.

They appreciate the honks of support. They tolerate the jeers and middle fingers pointed in their direction
.
But members of Peace North, which organizes the event, are busy working on turnout for Iraq Moratorium #4 next week, on Friday, December 21.
It's a challenging time to organize for peace — four days before Christmas, one day before the shortest and darkest day of the year. It'll be below freezing if not below zero in some parts of the country. Most campuses will be shut down and students scattered.
Organizers are responding with some creative ideas, many of them holiday-themed to match the goodwill the season seems to generate. More events and plans are being listed every day on the Moratorium website.
"Dress warmly and be ready to sing," warned organizers of the Patriots for Change peace vigil in Chagrin Falls, Ohio.
Mall walks, antiwar carols, Santa suits and hats, vigils and actions to reach out to holiday shoppers all are in the works.
In Valley Forge, Pennsylvania the Brandywine Peace Community plans a Christmas candlelight vigil at Lockheed Martin weapons complex,to include: reading of names of Iraq war dead (both Iraqi and U.S.)to the backdrop of Christmas Carols, bell-tolling, poetry and music, reading of the Christmas story and guest minister commentary on "Seeing the World Through Jesus Eyes".
Check the website for an event near you. But you don't need an event to participate in the Iraq Moratorium. All you need to do is to take some action on December 21 to express your wish for an end to the war. Wear a button or a black armband to work or school. Write, call or email your members of Congress. Put a sign in your yard or hang one on a freeway overpass. Make a donation. The list is a long one, and you'll find many more ideas on the website.
Do what you're comfortable doing — but do something.
Curse the darkness, but also light a candle.
One closing note: In our previous post in praise of Hayward, we erroneously identified the city as the Musky Capital of the World. It turns out that although Hayward does play host to the Musky Festival and is the home of the National Freshwater Fishing Hall of Fame, which features a musky sculpture half a block long and four and a half stories high, that Hayward is NOT the Musky Capital of the World.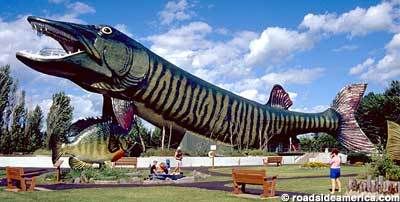 That honor belongs to Boulder Junction, Wisconsin, which guards it zealously.
When one of the Peace North members in Hayward pointed that out, we agreed that when Boulder Junction turned out two per cent of its population for an Iraq Moratorium event we might set the record straight. But we're doing it now anyway. How about it, Boulder Junction? Want to be the Peace Capital of the World?