(If we could figure out how to make them notice us doing this and how to make sure they interpret it correctly……….. – promoted by buhdydharma )
[originally at DKOS]
Is this site dedicated to electing Democrats, or Democrats in Name Only (DINOs)? If the latter, congratulations. Mission accomplished.
Apparently, The Great Satan himself is incredulous at his own handiwork:
If Reid and Pelosi stand firm [insert laughs] they will finally fulfill one of their key 2006 campaign promises, proving they have the courage to stand tough for what they believe, while giving the vast majority of the American people what they want.

If they yield [more laughter] they will reinforce perceptions of Democratic weakness. Worse, they will be siding with an unpopular president and an unpopular Republican Party over an unpopular war, and their own popularity will suffer as a result.

The options to those of us outside of the Beltway are so obvious it's truly unfathomable that we are still left wondering which path the Democrats will take.
Ahem. And excuse me. First, off, Democrats have done NOTHING, except enable Bush. That is something, but it is a negative something, so it's worse than nothing. Their popularity and approval ratings are indeed in the toilet. However, I strenuously object to the idea that the behavior of Democrats is unfathomable.
Before we try to fathom the core problem, let me share this atrocious piece of advice written prior to the 2006 elections. Please swallow any liquids completely before reading this:
Finally, and most importantly, all of these problems go away as soon as we win. We'd be able to write the bills, we'd have a party leader/leaders who can set the agenda, and we wouldn't rely on Republicans to do actual governing. Of course, given the criticality of winning, that means that decisions should be made with an eye on '06 and '08. We should be more understanding of efforts to choose fights that are politically popular and be quieter on politically unpopular fights. We should be more understanding of efforts to put the best candidates in the best races and with the best chances. And, we should understand that Democrats may not say or do everything we want because it may not be helpful to the cause of winning.
I urge you not to bash your brains out, pluck out your eyes from their sockets, or commit ritualistic forms of suicide, however honorable, and however impeccable the etiquette. Yes, it is true you voted for Democrats in 2006, and you now rightly feel responsibility for their actions in furtherance of the Bush agenda of mayhem, law-breaking, and genocide. However, in that atrocious and hilarious passage above resides one half-truth and one untruth that are critical to fathoming, and controlling Democrats. The untruth is obviously this bit of comedy gold:
Finally, and most importantly, all of these problems go away as soon as we win.
Again, I urge you not to kill yourselves yet, because the kicker is in the half-truth, which goes something like this:
Given the criticality of winning, would you dirty unwashed masses who represent our base, Please, shut the fuck up! We are playing it safe here ONLY TO WIN SEATS, and your criticisms are distracting and detrimental to our effort. We ignore you only for the purpose of WINNING SEATS.
Implicit in this half-truth (we are playing it safe only in order to win seats), is the obvious untruth (all problems go away as soon as we win). In other words, give us your vote unconditionally now, and we will repay in kind once we gain our seats of power. In other words, the base has to be complicit in order for this "playing it safe" strategy to work.
I urge you not to castrate yourselves.
Pols care about one thing only: their seats of power. They know those seats of power depend on you, but they don't want you to truly realize the implications of that, because if you did, you would also realize that we don't need "better Democrats" at some time in the future. We would have better Democrats now.
Their Only Goal is Seats.
Here is an excerpt from a diary that made a lot of sense in this regard:
The Main Goal – SEATS it is the only thing that matters. Don't let anyone tell you differently. Seats are power to wield policy. Seats in congress gives control on all legislation. It essentially leaves the minority powerless except for procedural moves and a lot of public complaining. The White House seat is the second pillar. It can stop congress from doing just about everything. Seats on the court can force states to do even what they do not want to do. These seats truly are the viewed as the most powerful in the land. The main goal NEVER, NEVER changes. Both parties are all about Seats. It may look like it is being set aside for a time but it always business and business means gaining and holding seats
Got it? They couldn't care less about your bank accounts, health care, family, jobs, social security, or educations, much less you're your opinions, demands, philosophies, morals, beggings, pleadings, and hopes. They don't give a rip about environmental collapse, wars, natural disasters, epidemics, or even national security for that matter. Social justice? Oh my, no. They wouldn't lift a finger to save a million Iraqis. In fact, they actually voted to kill them, because that was politically "safe." Nuclear war? Bring it on, they'll say casually. They will say or do anything that keeps them in their seats of power.

The diarist goes on to explain the complicity of the base in this sad state of affairs that arises from allowing Democrats to "play it safe."
There on basically 5 electorate blocks for DC politicians. Far Right, Center Right, Center, Left Center, Far Left. They only work to get the center. Under the current political landscape only the center matters. As far as the DC believes the left will always vote DEM. The Right will always vote GOP. Basically because they have no other alternate. They can get as mad as they want but they will still vote the same. The center however is viewed as really tough. They are perceived as HUGE (I've heard numbers as high as (20-30%). They rarely vote except in major elections.
So, here's a made-up distribution of voters. To the far left are leftists in blue, to the far right are wingnuts in red. The leftist vote is taken for completely for granted. The wingnut vote is not attainable. This leaves the Democrats free to pander to the center, perhaps even a little right of center. The exact width and placement of the Pandering Zone depends primarily on much they can take for granted, how much you let them pander to the center, and even right of center, and let them get away with it.
Again, as long as the base gives Democrats their votes unconditionally, Democrats are free to pander to the center, even center-right, and win their SEATS OF POWER, because don't forget, their intentions are honorable:
Finally, and most importantly, all of these problems go away as soon as we win.
Right. In fact, as soon as we won, our problems simply got "unfathomably" worse. We have party leaders setting the agenda alright, instructing the Democrats to specifically obstruct you and enable Bush, all for one reason, and one reason only: they want more Seats of Power, Precious. Suffering under Bush is great for gaining seats. The status quo is good, but enabling Bush is even better. And there is not a goddamned thing you can do about, because you are going to vote for them no matter what. There is nothing unfathomable about Democrats. Here is what is unfathomable:
Democrats will let Bush illegally tap your private communications, and still you'll vote for Democrats. Democrats will give Bush another $50 billion to continue the genocide, and still you'll vote for Democrats. They will let Bush shit in your bed, have Cheney shoot you in the face, destroy the economy, and start a war with Iran, and still you'll vote for Democrats.
Democrats frustrate and obstruct you while enabling Bush because it makes the center, and even the center-right, that much more uncomfortable with Bush and the GOP, which is great for Democrats in 2008. They will use that discomfort to pander as far right as you let them.
Now, imagine what would happen to their pandering zone if your vote [insert laughs] were actually conditioned on the actual behavior and results of Democrats now in power. For example, if Democrats don't set a deadline in Iraq, they lose my support. That would look something like this: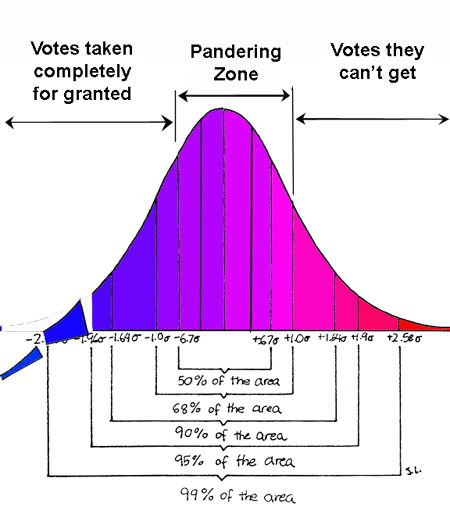 If supporting began calving off the tail-end of the glacier of support for Democrats, probably not much would happen, because the tail of the distribution is small, negligible really. If just a few of us calve off, it probably won't affect the pandering zone significantly. But what if the base began calving off the glacier at unprecedented and alarming rates?
That would be an inconvenient truth demanding action. If huge chunks of the base began calving, you would notice a sudden leftward shift in the Pandering Zone. Concrete action would be taken to stave off the losses.
Either you threaten to throw them out on their asses in 2008 if they do NOTHING (and you must be able to carry through with your threat), or they will blow you off just like they are blowing you off now. Right now, they are riding high on the mindless support of the suffering nation generally and the netroots specifically. They are banking on your unconditional love, and they are laughing all the way to the bank.
Don't be left wondering which path the Democrats take. Tell them now. Begging and hoping are not bargaining chips. If they lose half their base before the election, you can bet things will start getting done now.
Republicans Democrats said there were appalled by Sen. Chuck SchumerCompound F's comment, reported by The Associated Press on Thursday, that the Bush administration Democrats wouldn't get a "free lunch."

…"We need to do more than say to the Iraqis Democrats that our patience has run out and that they need to seize the opportunity that has been given them," said Sen. Carl Levin, D-Mich. Compound F. "Their dawdling will only end when they have no choice."
In my book, Democrats have no choice but to deliver now.