I noticed this article yesterday from Associated Press, and following the foot-steps of several players in the run up to war with Iran, it looks like time is running out.
MOSCOW – Israeli Prime Minister Ehud Olmert made a surprise trip to Moscow on Thursday to discuss Iran's nuclear program with Russian President Vladimir Putin, who just returned from talks with Iranian leaders in Tehran.
The very day after Putin meets with Iranian President Mahmoud Ahmadinejad, Isreali Prime Minister Ehud Olmert makes a surprise visit to the Kremlin. His message;
"In a situation in which Iran has nuclear weapons and Syria has sophisticated weapons from Russia, Israel will have to weigh its actions against these threats."
Other Isreali officials (Ze'ev Hanin, an Israeli expert on Russian affairs) have declared Olmerts message as;
"Iran must not be allowed to acquire the atom bomb. Officials here have warned time and again that if the world does not stop Iran, Israel will. They say military action against Iran's nuclear facilities is a last resort, but it is an option."
That was Thursday, Oct. 18. On Wednesday, Oct. 17, Secretary of State Condoleezza Rice met Ehud Olmert as part of preparations for a U.S.-hosted peace conference in November or December. However both parties declined to reveal details about the talks, saying that it was a private meeting.
Also, of course, Putin met with Mahmoud Ahmadinejad on Wednesday, Oct. 17.
Link
Putin had carried a message of friendship and cooperation for Iran.
Ahmadinejad stated that talks were held in an amicable atmosphere, adding, "Russia has said it will complete construction of Iran's Bushehr power plant."
"In his interview with reporters, Putin has also announced that Russia will carry out works on Bushehr power plant and will complete it," he said.

"Russia is responsible for completion of Bushehr plant and we think this will happen," Ahmadinejad stressed.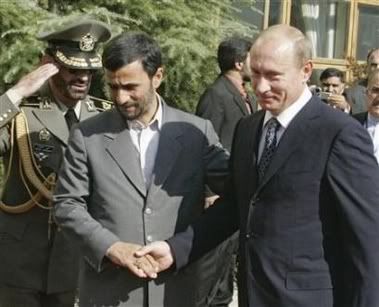 Not to mention our American goof-ball Bush's remarks made recently at a press conference called specifically to threaten the entire world of an eminent World War III;
"We've got a leader in Iran who has announced that he wants to destroy Israel," Bush said.

"So I've told people that, if you're interested in avoiding World War III, it seems like you ought to be interested in preventing them from having the knowledge necessary to make a nuclear weapon."
So I see quite a bit of movement from these players, could it be that we are getting closer every minute to attacking Iran, and if we don't, Isreal will.
These last few days have been historical, and there's practically no mention of it in American press-go figure. Am I missing something here?