First, thanks to Sheddhead for the essay and great pictures.
This would have been sooner, but I'm kinda' new at this digital stuff and uploading on a public site, etc.
As Sheddhead said, the day turned out beautiful, although a little brisk.
I did not attend the Union Park Rally, or the march, but instead went early to Federal Plaza, where all protestors ultimately gathered.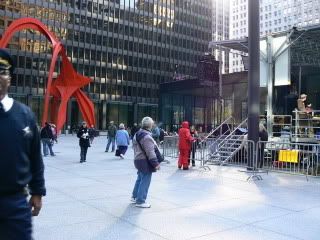 Early arrival at Federal Plaza
There's more:
Although, there was media everywhere, the coverage was scant and the Chicago Tribune's video did not do justice to the event. The video and other news stated that there was a poor turnout, only about 5,000 people. I knew better and I spoke to the office of the organizers yesterday. The 5,000 figure was based on numbers at Union Park while Jan Shakowsky was speaking (3rd speaker). As time grew on, busload after busload arrived to join the rally and the march. Once under way, the march gathered people all along the route.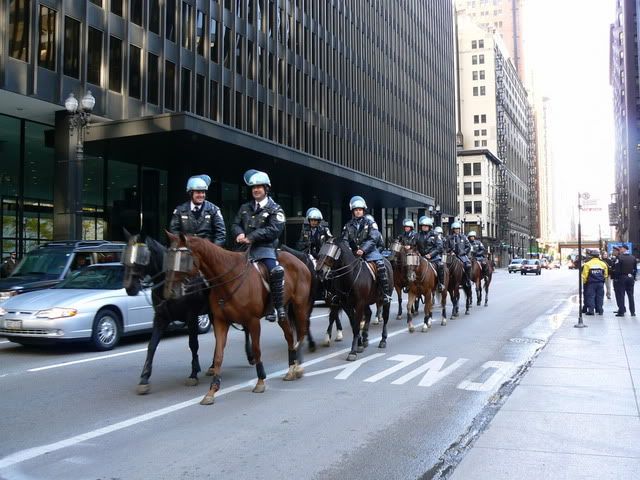 The Mounted Police Arrive at Federal Plaza
While the march was going on, Federal Plaza began filling up to capacity.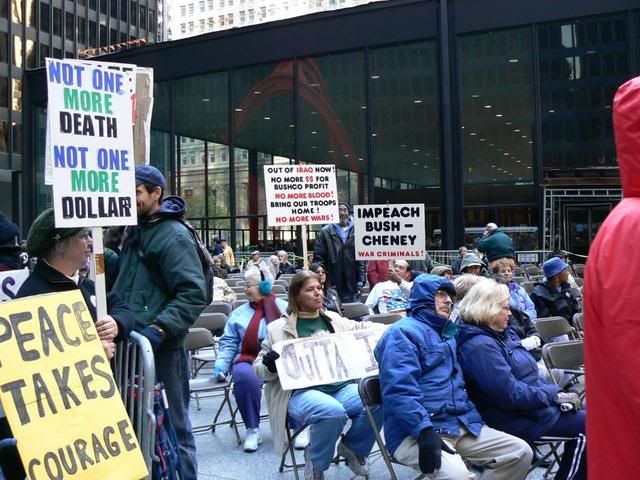 Crowds growing!
Once the marchers arrived, there was an estimated 15,000 to 20,000 people, according to the organizer's office. "It was the largest turnout Chicago has ever had!", he said.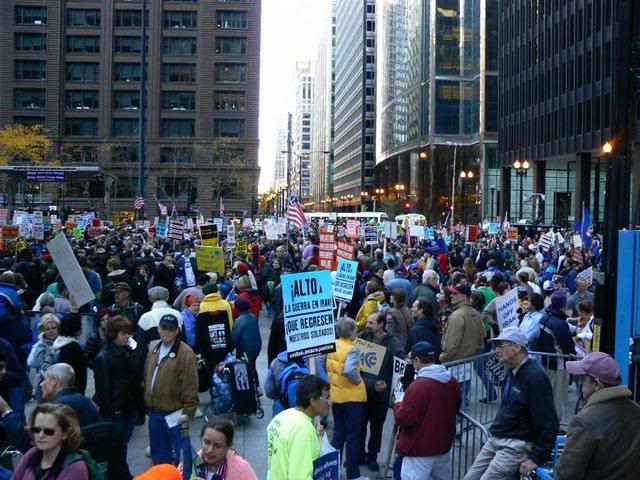 The Marchers Have Arrived! The Plaza was filled. Crowds overfilled streets.

View Toward Platform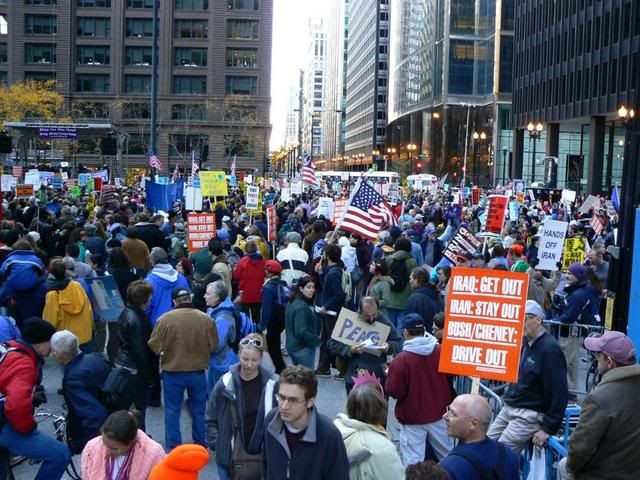 View looking North on Dearborn Street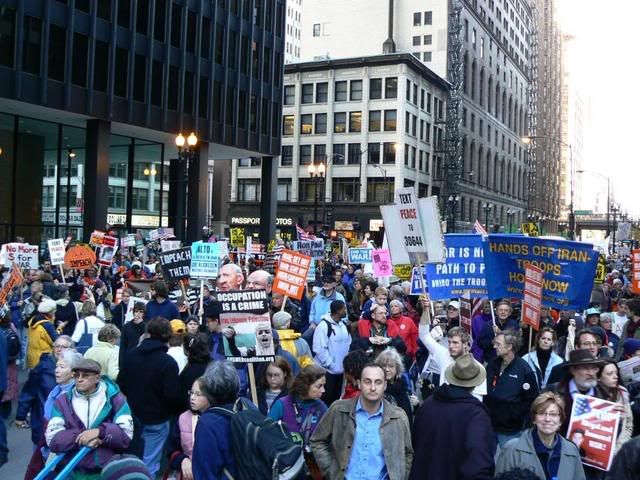 View looking South on Dearborn Street
The event was extremely well organized and the speakers, from all walks, i.e., labor leaders, a couple of Congressmen, religious leaders, veteran groups, ethnic groups, etc. The speakers were passionate and dynamic. The crowd was heated with enthusiasm and conviction.

Stacey Hafley, Midwest Military Families Speakout, with other MFSOs, IVAW, VVAW and Vets for Peace on Stage at Fed Plaza
I recall Congressman Danny Davis speaking about John Conyers, Jr. He mentioned that Conyers had been working on impeachment articles prior to January, 2007, but that Nancy Pelosi had taken impeachment off of the table even prior to January, 2007. I took it as an attempt to somehow alleviate any fault of Conyers in a way.
I noted that just about every speaker said that Congress should not be intimidated and urged everyone to keep the pressure up on Congress.
The last speaker was a Reverend, whose name I cannot remember, but he is a well known activist in the Chicago area. His deliverance and passion was awesome and his last words were, "They must be impeached."

End of Rally!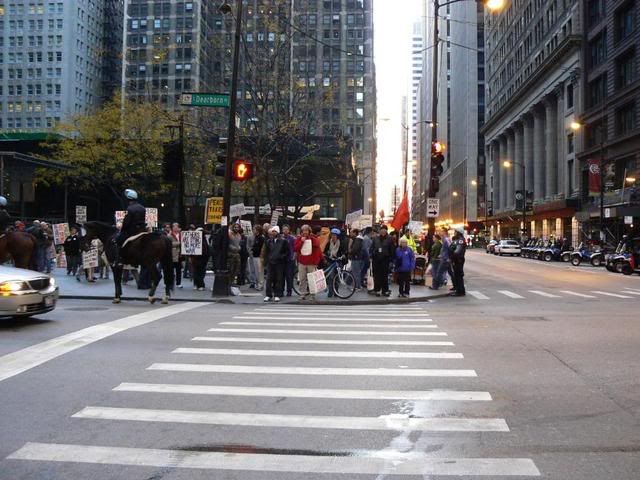 Looking Back at the End!
Hope you've enjoyed! All I can say is it was great to be there and a part of this great rally.
You can click on the photos for larger size(except for the 1st one)
Also, see www.oct27chicago.org for video and more pictures (some of mine, too.)