The long version is taking too long to write! It is coming out well and I will publish it later….most likely tomorrow, as the first Big Picture essay.
In the meantime…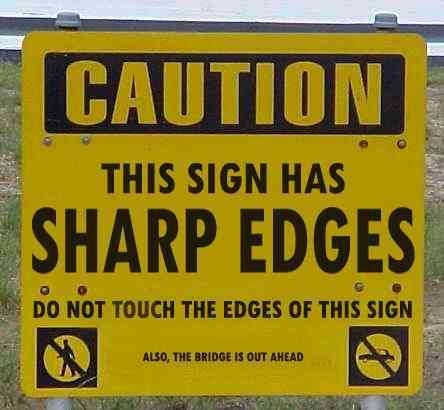 So the short version.
I will not tell people they cannot write civility lectures.
I WILL tell anyone I see writing a civility lecture to shove it up their ass. But I will probably do it nicely!
My only disagreement with Armando was that there had been a civility lecture…There wasn't one. So there was nothing for me to do! Armando says ek has it right in this comment….
If what you meant Armando, was that nobody can have the expectation that they won't get their feelings hurt, and that there is no whining and complaining about hurt feelings I agree.

In the strongest terms.

If you're not tough enough to withstand my saying your ideas are stupid acompanied by a Wrong! or a Hide without complaining about it OR worrying that it's somehow going to negatively affect your "popularity" you are showing the same kind of craven cowardice we decry in our elected Representatives.

Think about it.

YOU ARE NOT YOUR FUCKING HANDLE! YOU ARE NOT YOUR FUCKING UID! WHY DO YOU GIVE A RAT'S ASS WHAT I THINK! IF I HURT YOUR FEELINGS GET OVER IT!

Maybe you'll agree with me next time.

But don't expect anyone to act toward you in any particular way, because they don't have to. It's up to you to control how you act.
I find nothing to disagree with in that statement.
But….we are trying to create new forms here. And those new forms cannot, imo, start off with A RULE about civility. Then we have to define civility, then we have to discuss the definition…etc etc etc.
Not gonna do it.
New forms means among other things….finding new ways to deal with problems. Assuming people will act HERE as they act elsewhere is something I am not willing to do until it is proven to me. And until I, and I hope others, have tried a new form of dealing with it, I am not going to assume we need old forms to handle it, I don't want to start of using the old way. Certainly NOT an authoritarian way. Top Down Authoritarianism only works with children…and even then not very well.
If a child posts here, I will treat him as a child. But until that happens, I am going to assume we are all adults.
When something comes up that needs dealing with it…we will deal with it. If we need A RULE to deal with it….we will make one.
This was not the case here.
Armando, I hope you can have the level of trust and commitment to try new forms with us. You know I understand your concerns.
And I hope you trust me/us to do the right thing.
Ok. this is turning into the long version! So I am going to publish and we can thrash it out in the comments if I have not made myself clear!