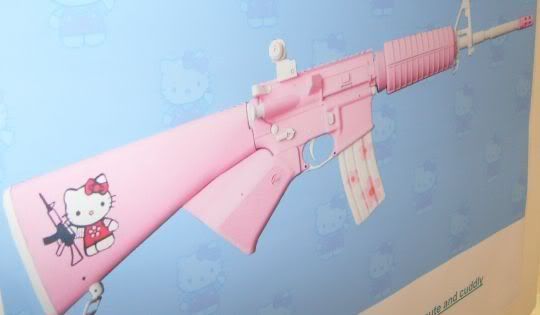 Hey, little miss!
Looking for a gun that doesn't look macho and have "lethal weapon" written all over it?
Jim's Gun Supply in Baraboo, Wisconsin has just the thing: A hot pink "Hello Kitty" AR-15, pictured above. Also available in AK-47 and other styles, it'll be the talk of the cafeteria, and you can be the first in your school to have one.
Looking for something a little less bulky, to fit in your purse? Try this model.
The "Hello Kitty" model seems to be missing from the shop's website today, perhaps because of this news report:
Sanrio, the company that owns the "Hello Kitty" brand, issued a statement saying that it had nothing to do with one of the guns displayed, an automatic rifle that bears its logo. The company denounced the practice and said it is planning to take legal action against any manufacturer who uses its logo to sell products that look like guns that are being sold in stores and on the Internet.
Milwaukee Mayor Tom Barrett held a news conference Monday at Childrens Hospital, where photos of some of the guns were displayed. Said Barrett:
"Take a look at this and how it's advertised: Hello Kitty AR-15. Evil black rifle meets cute and cuddly." I've got three daughters that are nine, 11 and 13. I see nothing cute and cuddly about putting an AR-15 near any little girl," Barrett said.
Dr. Marlene Melzer is the medical director of the emergency department at Children's Hospital. It treats more than 100 children a year who have been shot. Melzer says kids already are drawn to guns, and they don't need to be lured by colorful ones — or those that they mistake for toys.

"We know that children developmentally are unable to view firearms as a deadly or dangerous weapon. There are many reasons for this. Toy guns are used in play by children, when I was growing up I remember doing that. Children play video games that feature guns and shooting where scoring is better for the best shot," Melzer said.

Milwaukee Police Chief Edward Flynn voiced a different concern. He says when real guns are painted to look like toys, police officers don't always know what they're dealing with.

"I've got officers out there every day who literally have to make life and death decisions under pressure with insufficient information. When they're faced with a toy that looks like the real thing, or the real thing that looks like a toy, they're going to hesitate and that moment of hesitation may cost someone's life," Flynn said.
The gun shop owner said he was too busy to talk to the media on Tuesday, but he's defended his practices in the past:
The owner of Jim's gun shop, Jim Astle, said, "Pink doesn't make it any more deadly than black."

Astle said most of his customers are in law enforcement."They're buying them for their wives so they can go to the range and shoot with them," Astle said.
But it is law enforcement officers who are expressing concern and outrage over the candy-colored weapons.
CNN reports: "If somebody points it at an officer, he could hesitate," Bryan Soller of the Arizona Fraternal Order of Police told CNN, "in which case he could get shot or, even worse, the officer could react and take the life of a child."
Sgt. Manny Mendoza of the San Bernadino County Sheriff's Department in Barstow, CA warned that "now we're at the point where anything that looks like a gun, no matter what color, is considered a firearm, and we will act accordingly to defend ourselves and the public."
The Orlando Sentinel knows what that means:
Here's a tragedy waiting to happen: A police officer shoots a kid with a pink Hello Kitty AK-47, thinking the kid is holding a real gun.

The mistake would be understandable. Gun manufacturers are now selling real guns painted to look like toy guns, giving rise to a Glock painted pink and the Hello Kitty assault rifle. Customers can also buy guns painted lime or lavender.

Color this a stupid idea.

Police officers have to protect themselves and the public as the first order of business, and then ask questions later. Making a wrong call on whether a gun is real can be fatal.

If gun dealers can't police themselves, then local and state governments need to put a stop to this dangerous marketing practice.
Mayor Barrett stopped short of calling for legislation, but said he hoped gun sellers and manufacturers will respond to public pressure, if not their own moral compasses.
Good luck with that.
(The Wisconsin Anti-Violence Effort (WAVE), which works to prevent firearms violence, organized the Milwaukee news conference.)