I can't believe it's that time already.
Revised from November 20, 2010 for obvious timely reasons.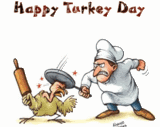 I never went to cooking school or took home economics in high school, I was too busy blowing up the attic with my chemistry set. I did like to eat and eat stuff that tasted good and looked pretty, plus my mother couldn't cook to save her life let alone mine and Pop's, that was her mother's venue. So I watched learned and innovated. I also read cook books and found that cooking and baking were like chemistry and physics. I know, that was Translator's territory, but I do have a degree in biochemistry.
For you really geekie cooks here is a great article about the "Turkey Physics" involved in getting it all done to a juicy turn.
Cooking a turkey is not as easy as the directions on the Butterball wrapping looks. My daughter, who is the other cook in the house (makes the greatest breads, soups and stews) is in charge of the Turkey for the big day. Since we are again having a house full of family and friends, one the two 13 to 15 pound gobblers will get cooked outside on the gas grill that doubles as an oven on these occasions. Her guru is Alton Brown, he of Good Eats on the Food Network. This is the method she has used with rave reviews. Alton's Roast Turkey recipe follows below the fold. You don't have to brine, the daughter doesn't and you can vary the herbs, the results are the same, perfection. My daughter rubs very soft butter under the skin and places whole sage leaves under the skin in a decorative pattern, wraps the other herbs in cheese cloth and tucks it in the cavity. If you prefer, or are kosher, canola oil works, too.
Bon Appetite and Happy Thanksgiving