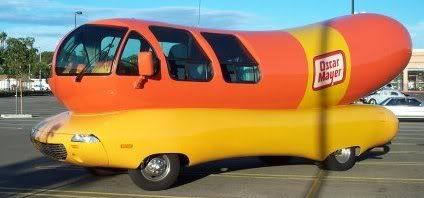 Coming Soon To A Town Near You
There is nothing quite like a summer scandal (Note: your Bloguero hesitates to call it "a sex scandal"). The temperature and humidity are both in the mid-90's in New York. The air is fetid. Movies that are heavily air conditioned are expensive. The subway is a complete Schwitz. And as if all of that weren't miserable enough, there's the quease-inducing idea of a 46-year old Congressman sexting with mid-20 year old women (are there more than six?) whom he has never met in person and who either like or do not like receiving such digital "stimulation." (Note: your Bloguero cannot resist such puns. The heat made him do it.) In the midst of all this folly, that pinnacle of human garbage, Andrew Breitbart, got a public apology from the Weiner. And MSNBC is now writing about how Democratic women aren't screaming for Weiner's resignation, let alone consulting with Lorena Bobbitt about appropriate sanctions. My father-in-law often said of that old the promotion, "New York is a Summer Festival," "Yeah, New York is a summer vegetable." How very true and prescient.
On Tuesday, your Bloguero was incensed by the kidnapping of Syrian blogger Amina Abdallah, and he wrote Free Amina. Amina had to be crazy, your Bloguero figured, writing from Damascus, being an out lesbian in a country where that is illegal, and criticizing the current despot, who appears to believe in armed violence against all protesters. But crazy or not, your Bloguero was outraged that Amina was targeted and whisked off the streets by armed goons and disappeared. What is this, your Bloguero shouted, do they think Syria is Videla's Argentina or Pinochet's Chile? Your Bloguero promptly withdrew the remark: evidently Syria is cut from exactly the same fabric.
And then, cold water was immediately thrown on your Bloguero's outrage. It turns out that the entire story might be a hoax or fabrication or disinformation of some kind. How Many "L's" Are There In "Gullible" detailed the many problems. Your Bloguero notes that as of Friday afternoon, there are no new entries at A Gay Girl In Damascus, which your Bloguero reads as confirmation of a hoax of some kind.
Weiner: Make Me One With Everything was a rant about Weiner's public apology to Andrew Breitbart. Your Bloguero is not holding his breath until Andrew Breitbart apologizes to anyone, much less Shirley Sharrod, for being a piece of barnyard excrement and for the mischief he has made.
On June 6, 2011, your Bloguero noted the anniversary of the assassination of Bobby Kennedy.
Your Bloguero is a football (as in futbol, as in soccer) fanatic. This may be because other ball sports give unfair premiums to big or tall persons, and your Bloguero is neither. It may be because your Bloguero loves to play the game. So your Bloguero's hall of fame is filled with people like him, of small stature who are the wizards of futbol skills. Two of these: Lionel Messi, who is your Bloguero's size, and Diego Maradona, who ever so slightly smallter at 5'5″. Both are from Argentina. Diego Maradona Pwns FIFA noted that Maradona had spoken the truth about the governing powers of futbol, FIFA, calling them out as corrupt and saying that they should step down so that former players could run and preserve the game. Your Bloguero agrees 100%.
Meanwhile, in Chile, Puyehue volcano erupted, dropping ash in Chile and Argentina and forcing evacuations.
And in a dramatic highwire act without a net, Visualizing That Tightrope, Part 2 your Bloguero celebrated the feat of Nik and Delilah Wallenda, his mother, in safely completely the very stunt that killed Karl Wallenda. Your Bloguero is in awe of this kind of daring.
Your Bloguero notes that this Digest is a weekly feature. Your Bloguero, though needs encouragement. From you. It's easy to give him that. If you read this Digest, please click the "encouragement jar" in the comments. That's the only way your Bloguero will know that you visited. Hasta pronto.