also posted at Truth & Progress
(apologies to Casey Neill)
(Ammiq wetland, also at bottom – photos reproduced with permission of A Rocha.)

I began looking into the subject of this essay almost a year ago and it is still mostly unfinished just as it was then, crucial research not yet done and important questions not answered. Like everything else this little project was interrupted by personal tragedy, the sudden unexpected death of my dearest friend of some 30 years, and the aftermath. But somehow it seems appropriate now.
As a child I was regularly shooed off to Sunday school at the only church in our tiny little town. Probably just to get rid of me for a while, but maybe also in some vague hope that it would improve my behavior. As far as I know, neither of my parents ever set foot in the place.
It was a pretty gentle Christianity, heavy on parables and light on hellfire. The texts didn't really take in my case, not in the intended sense of conversion anyway. But something else eventually did.
Two teachers in particular left an impression that would take me many years to understand and to appreciate. A husband and wife team. They recited and exhorted. They produced little plays and arranged trips to church camps in the mountains and on the coast and served as chaperones. And paid themselves for the kids who couldn't afford the minimal expenses involved. In the wintertime, they found ways to distribute food to families that had fallen on hard times without embarassing them.
They once organized a cleanup campaign. Not for the church grounds; someone was paid to do that. For the rest of the town. I wound up on ditch detail, removing the beer bottles and assorted trash from the old mill ditch that ran through town. In the old days, it was the water source for fire trucks equipped with pumps. Now, it was a trash collector, but one full of tadpoles, wild iris, and crawdads that grew to enormous size in the absence of predator fish.
Do this because you know it is right.
Your reward is in heaven. Ask for no other.
Looking back years later, I saw the great and essential gift they had really given me: a living example of the difference one person of pure intention could make in the life of others and in the community at large. I came to think of my unwitting secular heroes as the Saints of the ditch.
Thoughts of my Saints returned when I ran across A Rocha for the first time in the summer of 2006, in a news article about their evacuation of staff from the Ammiq marshes during that year's war – or whatever we call them these days – between Israel and Hezbollah.
The Ammiq (English transliteration varies) wetlands, by far the most significant in Lebanon, are the remnant of a once much larger system of swamps, now drained or dried up. Their unique position in the migration flyways elevates their importance further. An incredible 250 species of birds frequent the swamp.
Sadly they exist on other crossroads as well. Suffice it to say they drain into the Litani, and are fed by runoff from the Al Shouf Cedar Nature Reserve, home of another remnant, the scraps of the great forest under documented assault since the time of Gilgamesh (and also bombed, accidentally, last summer).
I became intrigued with these A Rocha people, who quietly and successfully worked to preserve a swamp; Christians who publish manifestos in Arabic on the imperative of caring for creation. (The name is Portugese for "the rock." The British mother group's first project was in Portugal.)
And I'm looking at them again, after my ten months in nowhere. There is a lot to explore; their webpages go on forever. There is sometimes an emphasis on the Christianity, but at other times one has the impression of an environmental movement infiltrating and evangelizing the Christian community. The group seems to embrace a strategy of bringing Christianity around to its green way of thinking, and reinvigorating the environmental movement with its Christian perspective.
The emphasis is on research, conservation, restoration, sustainability, community development. And the targets aren't all small: one declared goal is the reversal of global warming.
In the meantime there are little projects around the world. In northwest Washington state, A Rocha volunteers are working to reestablish kestrels as natural controls on the introduced starlings that drive berry farmers to despair.
Above all A Rocha understands the value of ecosystem services and the inordinate threat their loss poses to the poor. Here is Stella Simiyu, national committeewoman of A Rocha Kenya and A Rocha International Trustee:
If you look at Africa, for example, the rural poor depend directly on the natural resource base. This is where their pharmacy is, this is where the local supermarket is, this is where the Do-It-Yourself store is, this is in fact their fuel station, their power company, their water company. What would happen to you if these things were removed from your local neighbourhood? Therefore we cannot afford not to invest in environmental conservation, because this is how we enhance the ability of the rural poor to have options and provide for them ways of getting out of the poverty trap.
While their newsletters sometimes include terms like abomination, affront to God, blasphemy, they are universally reserved to describe not the sexual behavior of imaginary cartoon characters or the tenets of other faiths, but mercury pollution, illegal dumping on streambanks, and the impoverishment of biodiversity.
The frequent use of the term creation might give some pause. But to the extent that A Rocha talks about God's creation, it is creation in a certain theological sense, not the opaque dead literalism of televangelists and the legions of village atheists who mistake them for Christianity. While there may be a few somewhere in the tent who sympathize with creationism, the following, from Tsunami Tragedy: Where was God? by a Sri Lankan member of A Rocha's International Council of Reference is typical:
Modern science has given us a picture of God's world and of human life as evolving through a long process of potentialities being actualized in time.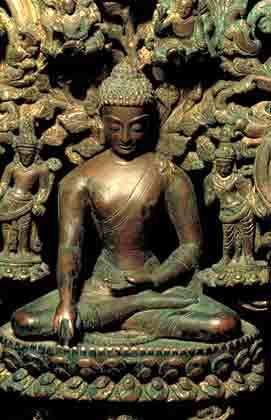 That might as well be Jay Gould. In searching A Rocha's publications and web materials so far, the only direct references I can find to creationism describe it as "an annoyance."
And frankly, I have to like a group that finds joy and purpose in the Book of Job. One of the most popular sermons passed around A Rocha sites is on the following text:
But ask the animals, and they will teach you, or the birds of the air, and they will tell you; or speak to the earth, and it will teach you, or let the fish of the sea inform you.

–Job 12:7-8, New International Version
This is not far at all from a fundamental buddhist notion. In the common image of the buddha touching the ground, the gesture is a claim of authority. Questioned as to the reality of his enlightenment or what gives him the right to say such outlandish things, buddha doesn't appeal up to heaven but reaches down to the earth itself as witness.
I do not understand the endless ranting and raving about religion that goes on in the blogosphere, particularly the dimwitted antinomianism focussed on Christianity so much of the time. Sure, all the children of Abraham are bloodthirsty and tiresome. Filthy gets, the lot of them. But they're not going away, and I'd miss them after just a few days of listening to bores like Hitchens and Dawkins.
Barrels of ink and millions of pixels are squandered daily on the likes of Fred Phelps. Ever see a story about A Rocha? If you know a Christian who might benefit from the acquaintance, tell them about A Rocha.
Here are two videos produced by A Rocha. That is at least one too many, but they offer slightly different perspectives. The second is included partly for its casual, offhand demolition of the Dominionists that seem to loom so large in American Christotainment.

Me, I ran screaming from the church long ago and have never looked back, but were I to attempt an argument for Christianity, it would be largely about the care of creation and on the terms laid out by A Rocha, whose work would be exhibit A.
If I still had a Jesus, he would be this Jesus of the swamps.