Oh dear, it's that time of year again when you invite all the family members and friends whom you haven't seen since last Thanksgiving 2019 to partake in the great American traditional gorge. Last year's Thanksgiving was pretty much downsized due to the CoVid-19 pandemic and no vaccine. This year will be almost normal except for the cost. The pandemic has caused supply chain delays which has resulted in higher prices for everything. Though, thanks to vaccinations, we can ditch the masks for dinner with vaccinated friends and family.
My extended family will be gathering at my sister-in-law's home. She has the biggest dining room (there are nearly 20 of us) and the newest kitchen gadgets, including a double oven with convection technology. My mother-in-law is here from France, she is in charge of appetizers and wine. My daughter is once again in charge of the turkeys, two 15 lb. fresh ones. I have the honor of desserts which will include a Paris-Brest, a French dessert made of choux pastry and a praline flavored cream.
If you're an experienced cook or one who looks at the kitchen as a foreign country and are preparing a turkey on Thanksgiving, or any time for that matter, our hero is Alton Brown and his absolutely fool proof method for roasting a turkey is here. No basting required which leaves you time for other tasks or enjoying your company. We repeat this post every year at this time. If you haven't already purchased your bird, you need to do that today. A frozen bird needs at three days in the refrigerator to defrost. The best bet is a fresh turkey. While it may cost a few cents more, you're assured that it's thawed and ready to cook. So, get thee to the grocery store!
Revised from November 20, 2010 for obvious timely reasons.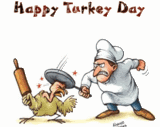 I never went to cooking school or took home economics in high school, I was too busy blowing up the attic with my chemistry set. I did like to eat and eat stuff that tasted good and looked pretty, plus my mother couldn't cook to save her life let alone mine and Pop's, that was her mother's venue. So I watched learned and innovated. I also read cook books and found that cooking and baking were like chemistry and physics. I know, that was Translator's territory, but I do have a degree in biochemistry.
For you really geekie cooks here is a great article about the "Turkey Physics" involved in getting it all done to a juicy turn.
Cooking a turkey is not as easy as the directions on the Butterball wrapping looks. My daughter, who is the other cook in the house (makes the greatest breads, soups and stews) is in charge of the Turkey for the big day. Since we are again having a house full of family and friends, one the two 13 to 15 pound gobblers will get cooked outside on the gas grill that doubles as an oven on these occasions. Her guru is Alton Brown, he of Good Eats on the Food Network. This is the method she has used with rave reviews. Alton's Roast Turkey recipe follows below the fold. You don't have to brine, the daughter doesn't and you can vary the herbs, the results are the same, perfection. My daughter rubs very soft butter under the skin and places whole sage leaves under the skin in a decorative pattern, wraps the other herbs in cheese cloth and tucks it in the cavity. If you prefer, or are kosher, canola oil works, too.
Bon Appetite and Happy Thanksgiving.
The recipe is below the fold.
Good Eats Roast Turkey
Ingredients

* 1 (14 to 16 pound) frozen young turkey

For the brine:

* 1 cup kosher salt

* 1/2 cup light brown sugar

* 1 gallon vegetable stock

* 1 tablespoon black peppercorns

* 1 1/2 teaspoons allspice berries

* 1 1/2 teaspoons chopped candied ginger

* 1 gallon heavily iced water

*

For the aromatics:

* 1 red apple, sliced

* 1/2 onion, sliced

* 1 cinnamon stick

* 1 cup water

* 4 sprigs rosemary

* 6 leaves sage

* Canola oil

Directions

Click here to see how it's done.

2 to 3 days before roasting:

Begin thawing the turkey in the refrigerator or in a cooler kept at 38 degrees F.

Combine the vegetable stock, salt, brown sugar, peppercorns, allspice berries, and candied ginger in a large stockpot over medium-high heat. Stir occasionally to dissolve solids and bring to a boil. Then remove the brine from the heat, cool to room temperature, and refrigerate.

Early on the day or the night before you'd like to eat:

Combine the brine, water and ice in the 5-gallon bucket. Place the thawed turkey (with innards removed) breast side down in brine. If necessary, weigh down the bird to ensure it is fully immersed, cover, and refrigerate or set in cool area for 8 to 16 hours, turning the bird once half way through brining.

Preheat the oven to 500 degrees F. Remove the bird from brine and rinse inside and out with cold water. Discard the brine.

Place the bird on roasting rack inside a half sheet pan and pat dry with paper towels.

Combine the apple, onion, cinnamon stick, and 1 cup of water in a microwave safe dish and microwave on high for 5 minutes. Add steeped aromatics to the turkey's cavity along with the rosemary and sage. Tuck the wings underneath the bird and coat the skin liberally with canola oil.

Roast the turkey on lowest level of the oven at 500 degrees F for 30 minutes. Insert a probe thermometer into thickest part of the breast and reduce the oven temperature to 350 degrees F. Set the thermometer alarm (if available) to 161 degrees F. A 14 to 16 pound bird should require a total of 2 to 2 1/2 hours of roasting. Let the turkey rest, loosely covered with foil or a large mixing bowl for 15 minutes before carving.