No o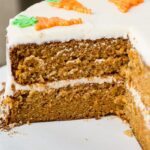 ne knows where of when carrot cake originated and there are as many stories as there are recipes for this favorite moist cake. It may have originated with carrot pudding, in the Middles Ages when sugar and sweeteners were hard to find or too expensive. Carrots have been long been used as as sweetener. The World Carrot Museum says that a recipe for carrot pudding called T'Khabis al-jazar (Carrots) was found in a 10th century Arabian cookbook. George Washing was served a carrot tea cake at Fraunces Tavern in lower Manhattan on the occasion of British Evacuation Day on November 25, 1783. You can find more about the history of Carrot Cake and recipes at the Carrot Museum website here.
My favorite Carrot Cake recipe is from the Betty Crocker Cookbook that was given to me over 50 years ago by my aunt who couldn't cook to save her life. It calls for the cake to be baked in a 9″ x 13″ sheet pan but I have baked in two 9″ round cake pans, two 8″ loaf pans and a bundt pan. I even have baked it in a specialty pumpkin shaped cupcake pan and a large round pumpkin shaped sheet pan. You just have to adjust cooking times. All methods call for a 350°F preheated oven.
Ingredients:
2 cups all-purpose flour
1 1/2 teaspoon baking soda
2 teaspoons baking powder
1 teaspoon ground cinnamon
1/4 teaspoon ground nutmeg
1/2 teaspoon salt
2 cups grated raw carrots (medium grate)
4 large eggs
1 3/4 cups sugar
1 teaspoon vanilla
1 cup canola or vegetable oil
8 ounces crushed pineapple, undrained
For the cream cheese frosting:
3 cups powdered sugar
8 ounces cream cheese, softened
1/2 cup butter (1 stick) softened
1 teaspoon vanilla
Steps
1. Heat the oven to 350°F. Spray bottom of 13×9-inch pan with nonstick cooking spray. In a large bowl, mix together flour, baking soda, baking powder, cinnamon, nutmeg and salt. Add grated carrots and toss to coat. Set aside.
2. In a mixing bowl, using medium speed of electric mixer, beat eggs, sugar and vanilla. Add oil and pineapple, mix well. In batches on low speed, add carrot mixture, mix until combined. Pour into your pan. Bake for 40 to 45 minutes, or until a toothpick inserted into the center comes out clean.
3. To make the cream cheese frosting, run a dry whisk or fork through the powdered sugar to break up any lumps and set aside. In a medium mixing bowl, using electric mixer at medium speed, beat cream cheese, butter and vanilla until very smooth. Turn the mixer on low speed and add in the powdered sugar in batches.
4. Cool cake completely, about 1 hour. Frost with the cream cheese frosting.
Expert Tips
To ensure even distribution, coat shredded carrots in flour before stirring into the batter.
After the cake is generously frosting, dust with cinnamon or sprinkle with chopped pecans for a showstopping final look. If you're really creative set aside some frosting in two small bowls; color one orange and the other greed using Wilton's food coloring that can be found in stores like Michael's or Bed Bath and Beyond. Using a pastry back and a round tip large #12. Instruction on how to do it can be found here at the Wilton site. It's really very simple.