Summer is coming to a rapid close. Autumn begins September 22nd at 9:30 AM ET. The first religious holiday of the season is Rosh Hashanah, the Jewish New Year, which literally means the "head of the year." It begins at sundown on September 18th with the blowing of the shofar marking the start of 10 days of penance culminating with a day of fasting on Yom Kippur.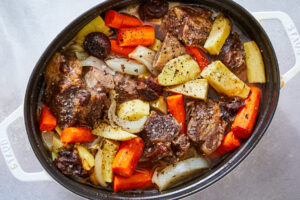 The Jewish holidays all revolve around family and food, Rosh Hashana is no different. One of the traditional dishes, Tzimmes (pronounced SIMM-es), is an Ashkenazi Jewish sweet stew typically made from beef, yams, carrots and dried fruits such as prunes or raisins, and with other root vegetables. The beef should be a cut that is used for braising, like chuck short ribs or high quality stew beef. The beef is slow cooked the day before serving and left to cool so the excess fat solidifies and can be skimmed from the top. Traditional Jewish cooks saved the rendered fat for other dishes, not exactly a heart healthy idea for the modern cook.
The next day, the meat is returned to the oven with addition of the vegetables and pitted prunes and cooked until the vegetables are tender. The recipe below from the New York Times serves 6 to 8 people. Left overs stand up well to freezing.
Ingredients
3

bone-in flanken, also known as flanken-style ribs, or English-cut short ribs (about 3 pounds)

1

tablespoon kosher salt, plus more to taste

1 ½

teaspoons freshly ground black pepper, plus more to taste

1

fresh (or dried) bay leaf

3

pounds sweet potatoes, preferably Japanese white sweet potatoes (3 to 4 large sweet potatoes), peeled and cut into 2-inch chunks

2

medium white or yellow onions, halved and sliced

5 to 6

medium carrots, peeled and cut into 2-inch segments

8

ounces prunes, pitted and left whole

Chopped fresh parsley, for serving
Preparation
A day before serving, heat the oven to 350 degrees.
Season the meat with 1 tablespoon salt and 1 1/2 teaspoons pepper.
Put the meat and the bay leaf in a Dutch oven or other large, heavy pot, and add enough water to cover (about 8 cups). Bake, covered, for about an hour, then remove from heat, let cool and refrigerate overnight.
The next day, the fat will have congealed on top; using a slotted spoon, remove and discard the layer of fat.
Add the sweet potatoes, onions, carrots and prunes to the meat, and stir to combine. Bake, covered, for another hour, then remove the lid and cook until the potatoes are cooked, the meat is tender and the water is reduced, another 30 minutes to 1 hour. Season to taste. If there is more broth than you'd like, ladle some out and save for another use. Sprinkle with parsley just before serving.