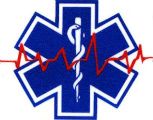 Welcome to the Stars Hollow Gazette's Health and Fitness News weekly diary. It will publish on Saturday afternoon and be open for discussion about health related issues including diet, exercise, health and health care issues, as well as, tips on what you can do when there is a medical emergency. Also an opportunity to share and exchange your favorite healthy recipes.
Questions are encouraged and I will answer to the best of my ability. If I can't, I will try to steer you in the right direction. Naturally, I cannot give individual medical advice for personal health issues. I can give you information about medical conditions and the current treatments available.
You can now find past Health and Fitness News diaries here.
Follow us on Twitter @StarsHollowGzt
>
What To Cook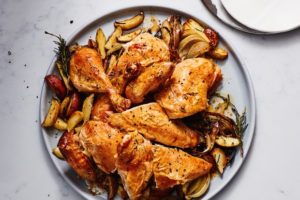 Low-Fuss Crispy Roast Chicken
Rendering fat trickles from the chicken as it roasts onto a bed of sliced potatoes and onions, resulting in a deliciously crisp and juicy low-fuss bird with a built-in side dish.
Hot Honey Pork Chops with Escarole and White Beans
The spicy garlic-honey glaze for the pan-seared pork chops also forms the base of the sauce for the warm escarole-and–white bean salad in this easy one-pan dinner.
Hummus Dinner Bowls with Spiced Ground Beef and Tomatoes
Hummus is a great base for a weeknight dinner. Top each serving off with crispy spiced beef and a fresh tomato salad and dig in, with pita or without.
Antipasto Salad
Long sweet peppers show up at farmers' markets during the peak of the season and may be sold as long sweet yellow, sweet banana, Hungarian Sweet, or Cubanelle. You can substitute two medium red, orange, or yellow bell peppers (don't use the green ones).
Slow-Cooker Oatmeal With Apples and Ginger
This warming porridge features oats two ways plus brown rice, millet, or quinoa. Knowing you have a bubbling hot breakfast waiting for you on a chilly morning makes getting out of bed so much easier. This recipe feeds a crowd, but it also reheats easily for individual servings throughout the week.
Cinnamon–Chocolate Chunk Skillet Cookie
This eminently sharable cookie has all the flavors of a latte. And chocolate. Lots of hot, melting milk chocolate.
Health and Fitness News
Gum Disease Bacteria Found in Alzheimer's Brains
Many Cancer Patients Have Undiagnosed Hepatitis
'Wonder Dog' Alerts Owner to Blood Sugar Swings
Too Much Fried Food May Shorten Your Life
Moms Join Suit to Force EPA Chemical Ban
Eat What You Want and Still Slim? Thank Your Genes
Study Confirms Steady Rise in School Shootings
Expert Panel: 2 Back Pain Surgeries May Be Useless
Measles A Health Emergency in 1 Washington County
Gold Medal Flour Recalled on Salmonella Fears
Delaying Baby's First Bath May Bring Benefits
Finasteride Can Safely Cut Prostate Cancer Risk
Some Broken Ankles May Heal in 3 Weeks, Not 6
Childhood Lead Exposure Raises Mental Risks Later
Insulin Price More Than Doubles in U.S.
Liver Transplants Tied to Alcohol Use Doubled