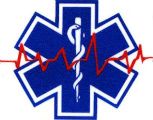 Welcome to the Stars Hollow Gazette's Health and Fitness News weekly diary. It will publish on Saturday afternoon and be open for discussion about health related issues including diet, exercise, health and health care issues, as well as, tips on what you can do when there is a medical emergency. Also an opportunity to share and exchange your favorite healthy recipes.
Questions are encouraged and I will answer to the best of my ability. If I can't, I will try to steer you in the right direction. Naturally, I cannot give individual medical advice for personal health issues. I can give you information about medical conditions and the current treatments available.
You can now find past Health and Fitness News diaries here.
Follow us on Twitter @StarsHollowGzt
What To Cook
Tuesday is Christmas. So by now everyone most likely has their meal planned. But, what about Christmas Eve? Italian-Americans have a tradition of eating fish which. most likely, evolved from the Roman Catholic tradition of not eating meat the day before a holy day. They call it the "Feast of Seven Fishes" where there are seven different seafood dishes served. In Italy, it's called La Vigilia, The Vigil, commemorating wait for the birth of Jesus. According to Wikipedia, it's not clear where or when the term "Feast of the Seven Fishes" originated:
The meal may include seven, eight, or even nine specific fishes that are considered traditional. However, some Italian-American families have been known to celebrate with nine, eleven or thirteen different seafood dishes. "Seven" fishes as a fixed concept or name is unknown in Italy itself. In some of the oldest Italian American families, there was no count of the number of fish dishes. Dinner began with whiting in lemon, followed by some version of clams or mussels in spaghetti, baccalà and onward to any number of other fish dishes without number. Some have suggested that the idea of "seven" fishes originated in restaurants.

The most famous dish for Southern Italians is baccalà (salted cod fish). The custom of celebrating with a simple fish such as baccalà reflects customs in what were historically impoverished regions of Southern Italy, as well as seasonal factors. Fried smelts, calamari and other types of seafood have been incorporated into the Christmas Eve dinner over the years.
If you have a big family or lots of friends over for Christmas Eve, The Feast of The Seven Fishes can be a problem solver for what to cook. There are fifty one suggested recipes to choose from at Epicurious. Here are just a few: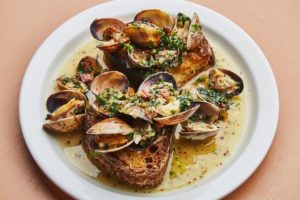 Clam Toasts with Pancetta
Shellfish and pork are a power duo. The salty-sweet pancetta soffritto is the backbone of this clam toast.
Cioppino Seafood Stew with Gremolata Toasts
Feel free to experiment with your favorite seafood in this classic San Franciscan fisherman's stew. And don't forget to use the toasts slathered with zippy gremolata butter to soak up the flavorful broth. Bonus: This stew is great for entertaining since you can make the base a day in advance.
Lobster Fra Diavolo
To keep lobsters alive in your fridge for up to one day, pack in damp newspaper. You can substitute eight frozen tails; sear per recipe method, then use the meat from four in place of the knuckles and claws, and split the others for serving.
Crab Toast with Lemon Aioli
This dish is only as good as the crab it's made with; buy the freshest you can find.
Seafood en Brodo with Tarragon Pesto
Most fish markets will sell you the bones you need to make the rich broth, but avoid those from oily fish like mackerel or bluefish, which will overpower the stew's flavor.
Rock Shrimp Pasta with Spicy Tomato Sauce
A flavorful tomato sauce that's a cinch to make and rock shrimp that come already peeled mean a weeknight dinner recipe has never been so easy—or delicious.
Charred Asparagus with Citrus Bagna Cauda
The one–two punch of citrus zest and juice balances all that anchovy richness in our new favorite dressing recipe for spring veg.
Roasted Potatoes and Haddock Puttanesca
Puttanesca isn't just for pasta. Anchovies and olives punch up a sauce hearty enough to stand up to meat or fish.
Health and Fitness News
Christmas Cookies: Watch Out For the Shiny Stuff
2 Types of Diabetes Meds May Raise Heart Risk
Hep C Cases Cluster in States Hit Hard by Opioids
Teething Jewelry Linked to Infant Death
Certain Antibiotics Tied to Deadly Heart Vessel Tears: FDA
Hospital Readmission Penalties May Hurt Patients
Stress Keeps 1 in 3 Americans Up at Night
Scientists modify ivy to filter air pollutants
FDA Finds Listeria on Avocado Skins
Just 6 Months of Walking May Boost Aging Brains
Average American Getting Fatter, but Not Taller
1 in 4 People Over 25 Will Be Hit by Stroke
Drug Combo Boosts Pancreatic Cancer Survival Time
More U.S. Kids Dying From Guns, Car Accidents
Why Are Blacks More Prone to Sudden Cardiac Death?
Food Allergies Tied to MS Relapses