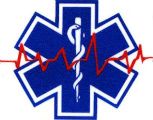 Welcome to the Stars Hollow Gazette's Health and Fitness News weekly diary. It will publish on Saturday afternoon and be open for discussion about health related issues including diet, exercise, health and health care issues, as well as, tips on what you can do when there is a medical emergency. Also an opportunity to share and exchange your favorite healthy recipes.
Questions are encouraged and I will answer to the best of my ability. If I can't, I will try to steer you in the right direction. Naturally, I cannot give individual medical advice for personal health issues. I can give you information about medical conditions and the current treatments available.
You can now find past Health and Fitness News diaries here.
Follow us on Twitter @StarsHollowGzt
August is here. The green markets and farm stands teeming with fresh fruits and vegetables. Here are some great recipes to make use of that bounty.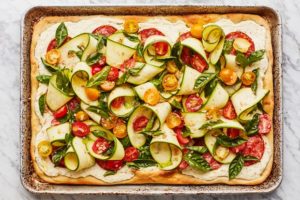 Summer Pizza with Salami, Zucchini, and Tomatoes
It's a pizza. It's a salad. It's…a pizza with a huge salad on top of it. Who can argue?
Tomatoes and Haricots Verts with Anchovies
This time anchovies are not optional. They're an integral ingredient here, and it's worth seeking out quality brands. We love the oil-packed ones from Ortiz, Agostino Recca, and Merro.
Fresh Corn Quiche
A great Sunday Brunch entree can be made year round using frozen corn.
Epi Classic Blueberry Muffins
Our ultimate muffins are chock-full of blueberries and have just the right amount of sweetness, plus a gentle tang and tender crumb thanks to sour cream. A dusting of coarse sugar gives them a shimmery top with an addictive crunch.
Grilled Brisket with Scallion-Peanut Salsa
Normally, you associate brisket with long, slow cooking—maybe on a winter afternoon—but we're making a case for throwing it on the grill. Hear us out, because it works, especially with this peanut topping. The only thing wintry: Freezing the brisket makes it easier to slice it against the grain, which nullifies its naturally ropy texture and exposes more surface area to the flavorful marinade.
Classic Tomato Toast with Mayonnaise and Chives
Let the flavors of perfect summer tomatoes shine on this simple-is-best toast.
Health and Fitness News
Too Many Hot Chips A Recipe for Stomach Trouble?
More Fish For Moms Tied to Lower Preemie Risks
Can Arthritic Dogs Benefit From Stem Cell Therapy?
'Moderate' Drinking May Protect Brain
As Opioid Epidemic Rages, Painkiller Prescriptions Don't Drop
2nd Baseball Player Has Hand, Foot & Mouth Disease
Germs Gaining Resistance to Hand Gels in Hospitals
Research Flourishes on Promise of Fecal Transplants
How Severe Brain Injuries Might Trigger Dementia
Parasite Could Be in Salads and Wraps, USDA Warns
'Heading' a Soccer Ball More Dangerous for Women
Caffeine Not a Dieter's Friend