Tomorrow's full moon, also called the cold moon by Native Americans, is the only super moon of 2017. Moon rise is at  4:59 PM ET just shortly after sunset. So put on you coat, grab a camp chair,  your favorite beverage, hot or cold and enjoy the view.
Supermoon 2017: Biggest, Brightest Moon of the Year to Light up the Night Sky—Here's How to See It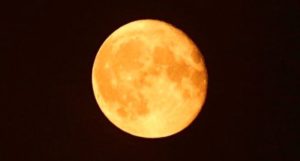 The first and only visible supermoon of 2017 will occur on the night of December 3, shining up to 16 percent brighter and 7 percent larger than normal, according to National Geographic.

Because the moon's orbit of the Earth is not perfectly circular, its distance from us varies. A supermoon occurs when perigree – the closest point to Earth in the moon's orbit – coincides with a full moon. This makes the moon appear larger and brighter in the sky than usual.

Budding astronomers on the East Coast need only stay awake until 4:00am ET on December 4 to see the moon at its nearest distance to Earth – a measly 222,443 miles. During the average apogee – when the moon is furthest from the earth – this distance stretches to roughly 252,000 miles, according to NASA. ​[..]

While November didn't see a supermoon, it did give us the closest moon of the year so far in the full Beaver Moon. The Full Cold Moon will be the only moon of the year to dwarf November's, which reached around 227,000 miles from earth at perigree.

The closest moon to the earth in recent memory was 2016's supermoon, beating all supermoons since 1948,  as the above video from NASA shows.

Don't fear if you miss December's supermoon, as January 2018 offers not just one but two. Make sure to look to the skies on the nights of January 2 and January 31st for the Full Wolf Moon and a Blue Moon.