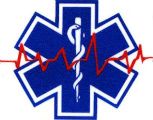 Welcome to the Stars Hollow Gazette's Health and Fitness News weekly diary. It will publish on Saturday afternoon and be open for discussion about health related issues including diet, exercise, health and health care issues, as well as, tips on what you can do when there is a medical emergency. Also an opportunity to share and exchange your favorite healthy recipes.
Questions are encouraged and I will answer to the best of my ability. If I can't, I will try to steer you in the right direction. Naturally, I cannot give individual medical advice for personal health issues. I can give you information about medical conditions and the current treatments available.
You can now find past Health and Fitness News diaries here.
Follow us on Twitter @StarsHollowGzt
I used to work a late shift on Fridays, didn't get home until well after 9. Some of those nights, my wife would roast a chicken after work, and we'd eat it late, at just north of room temperature, with roasted carrots and a green salad and plenty of bread to mop up the drippings, sitting in candlelight, tired at the end of a long week. It was just so, so great.

Here's how to roast a chicken, if you want to paint that picture for yourself. Here's a particularly interesting recipe for roast chicken that contradicts some of those teachings. Here's a terrific recipe for a roasted carrot salad. (Just make the carrot part and leave out the rest and you'll be in clover.) Here's the vinaigrette you could drizzle on your greens. And for bread? You could eat this meal with a fresh baguette or toasted white bread spread with oleo and still record a win. It's forgiving. It's Friday on a plate.

For some in our community, Yom Kippur begins this evening. It comes to a close Saturday night after sundown, after a full day of fasting and atonement. If you're observing, I hope it's an easy fast. Here are some ace recipes to break it.

Things I'd like to cook this weekend include these lemon poppy muffins to share with family or give to friends who aren't expecting a gift. Also, a bowl of pasta with bread crumbs and anchovies, in the Sicilian tradition, and maybe some turkey chili to freeze against a meal next week.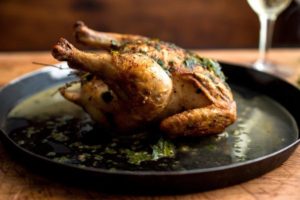 André Soltner's Roast Chicken
"I can only roast chicken the way I roast chicken," the chef Andre Soltner told The Times's Molly O'Neill in 1991. Mr. Soltner, then the chef of the celebrated Lutece in Manhattan, was explaining a controversial step in his recipe for the bird, which results in marvelously juicy, flavorful meat.
Ludo Lefebvre's Roasted-Carrot Salad
Toasting the cumin for the carrots and the crème fraîche is very important, but don't worry if you can't find all the herbs for the garnish. Just one or two will bring pleasure.
Basic Vinaigrette
Ready in minutes and fine to keep in the fridge for weeks, it can totally change a salad. And it's highly adaptable. Add garlic or tarragon in place of the mustard, or infuse it with other herbs.
Green Tomato Frittata
The acidic green tomatoes are nicely balanced by the neutral flavor of the eggs.
Lox Chowder
There is a recipe for lox chowder in Mark Russ Federman's charming memoir of his family's appetizing business on the Lower East Side of Manhattan: "Russ & Daughters: Reflections and Recipes From the House That Herring Built."
Lemon Poppy Muffins
Buttery and soft, tart and sweet, they are soothing in their simplicity, while seeds add just a bit of crunch. This version gets a healthy dose of lemony tang thanks to an ample amount of grated zest and a zippy lemon-juice glaze.
Health and Fitness News

Brain Disconnects Spotted in Parkinson's Patients With Visual Hallucinations
Coffee Doesn't Help Parkinson's Motor Disorders
Delays in Diagnosis Hurt Women Who Have Heart Disease
It's Time to Get Your Flu Shot Again
Many Patients Denied Costly New Cholesterol Drugs
Whooping Cough Shot Works, But Many Moms-to-Be Skip It: CDC
Exercise, Not Vitamin D, Recommended to Prevent Falls
High Blood Pressure in Pregnancy May Boost Child's Obesity Risk
Many With Work-Related Asthma Not Getting Key Vaccine
Post-Op Opioids: How Much Is Enough?
Radiation and Chemotherapy Together Boost Lung Cancer Survival
Rapid, Easy Zika Test Developed
20 Percent of U.S. Teens May Have Had a Concussion
ERs Prescribing Opioids at Lower Doses, Shorter Durations
Genetic Testing May Help Make Blood Thinner Safer
Postpartum Depression Likely to Recur With Future Pregnancies
Scientists Spot Marker for CTE in Living Football Players
Blacks, Elderly Missing From U.S. Cancer Clinical Trials
Breast Cancer Radiation 'Less Scary' Than Thought
Cancer Patients May Have Undiagnosed Depression
Mastectomy Study Confirms 'Jolie Effect'
Nerve Stimulation Pulls Patient From 15-Year Vegetative State
Stopping Aspirin Tied to Quick Rise in Heart Attack, Stroke Risk
Where It's Legal, One-Quarter of Cancer Patients Use Medical Pot