On March 8 in 1911, International Women's Day is launched in Copenhagen, Denmark, by Clara Zetkin, leader of the Women's Office for the Social Democratic Party in Germany.
International Women's Day (IWD), originally called International Working Women's Day is marked on the 8th of March every year. It is a major day of global celebration of women. In different regions the focus of the celebrations ranges from general celebration of respect, appreciation and love towards women to a celebration for women's economic, political and social achievements.

Started as a Socialist political event, the holiday blended in the culture of many countries, primarily Eastern Europe, Russia, and the former Soviet bloc. In many regions, the day lost its political flavour, and became simply an occasion for men to express their love for women in a way somewhat similar to a mixture of Mother's Day and St Valentine's Day. In other regions, however, the original political and human rights theme designated by the United Nations runs strong, and political and social awareness of the struggles of women worldwide are brought out and examined in a hopeful manner.

The first IWD was observed on 19 March 1911 in Germany following a declaration by the Socialist Party of America. The idea of having an international women's day was first put forward at the turn of the 20th century amid rapid world industrialization and economic expansion that led to protests over working conditions.

In 1910, Second International held the first international women's conference in Copenhagen (in the labour-movement building located at Jagtvej 69, which until recently housed Ungdomshuset). An 'International Women's Day' was established. It was suggested by the important German Socialist Clara Zetkin, although no date was specified. The following year, 1911, IWD was marked by over a million people in Austria, Denmark, Germany and Switzerland, on March 19. In the West, International Women's Day was first observed as a popular event after 1977 when the united Nations General Assembly invited member states to proclaim March 8 as the UN Day for Women's Rights and International Peace.

Demonstrations marking International Women's Day in Russia proved to be the first stage of the Russian Revolution of 1917.

Following the October Revolution, the Bolshevik Alexandra Kollontai persuaded Lenin to make it an official holiday in the Soviet Union, and it was established, but was a working day until 1965. On May 8, 1965 by the decree of the USSR Presidium of the Supreme Soviet International Women's Day was declared a non working day in the USSR "in commemoration of the outstanding merits of Soviet women in communistic construction, in the defense of their Fatherland during the Great Patriotic War, in their heroism and selflessness at the front and in the rear, and also marking the great contribution of women to strengthening friendship between peoples, and the struggle for peace. But still, women's day must be celebrated as are other holidays."
The campaign theme for IWD 2017 is #BeBoldForChange
International Women's Day as a vehicle for change, is it possible?

Last year, organizations and individuals around the world supported the #PledgeForParity campaign and committed to help women and girls achieve their ambitions; challenge conscious and unconscious bias; call for gender-balanced leadership; value women and men's contributions equally; and create inclusive flexible cultures. From awareness raising to concrete action, organizations rallied their people to pledge support to help forge gender parity on International Women's Day (IWD) and beyond.

But the World Economic Forum predicts the gender gap won't close entirely until 2186. This is too long to wait. Around the world, IWD can be an important catalyst and vehicle for driving greater change for women and moving closer to gender parity.

What if the world truly stepped up to take bold action?

Will you #BeBoldForChange on International Women's Day 2017 and beyond by taking groundbreaking action that truly drives the greatest change for women.

Each one of us – with women, men and non-binary people joining forces – can be a leader within our own spheres of influence by taking bold pragmatic action to accelerate gender parity. Through purposeful collaboration, we can help women advance and unleash the limitless potential offered to economies the world over.
On the eve of IWD a statue of a young girl appeared on Wall Street standing in defiance of the famous Wall Street Bull.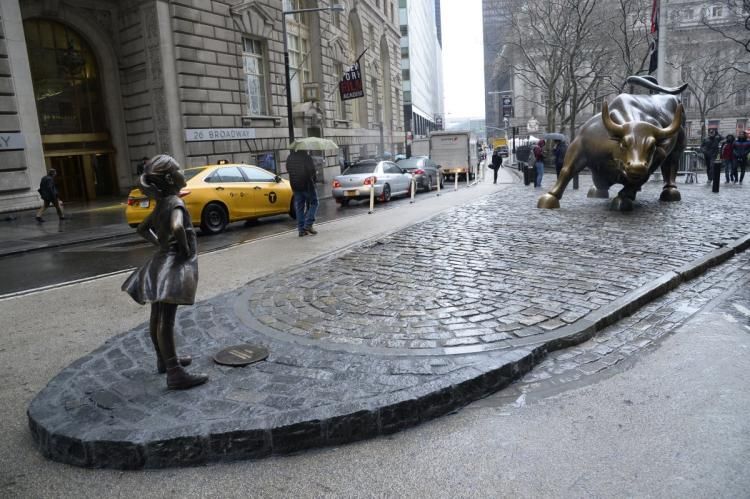 As many American women prepare to draw attention to their role in the workplace, a Wall Street firm on Tuesday put up a statue of a girl in front of Lower Manhattan's well-known bronze charging bull, as if to fearlessly stare it down.

Placing the diminutive, grade school-aged girl in front of the massive bull on the eve of International Women's Day was a way of calling attention to the lack of gender diversity on corporate boards and the pay gap of women working in financial services, a spokeswoman for State Street Global Advisors said.

"A lot of people talk about gender diversity, but we really felt we had to take it to a broader level," said Anne McNally, whose firm is an investment management subsidiary of State Street Corp.

In conjunction with International Women's Day on Wednesday, many American woman are planning to stay home from work, which has led some schools to cancel classes.

Organizers asked women who cannot afford to miss a day of work to limit their shopping to female-owned businesses or to wear red.

Although women have made some headway against the glass ceiling, State Street said one out of four of the companies that make up the Russell 3000 Index still have no female representation on their boards.
In coordination with IWD, an International Women Strike is being called. Women are being asked to stay home from work, take their daughters out of school school and take to the streets. This is where I will be tomorrow
On March 8th, the International Women's Strike NYC – a coalition representing dozens of grassroots groups and labor organizations – is organizing a number of actions in support of labor campaigns, migrants' rights, Sanctuary Campus campaigns, and others.

At 4 PM there will be a rally in Washington Square Park.

The rally will open with an artistic performance created by Alejandra Ballón Gutiérrez (Arequipa, Peru 1975), "La Alfombra Roja", and songs by singers Natalia Saez, Renee Ghoust and Liah Alonso. "La Alfombra Roja" project was created to make visible the terrible effects of patriarchal relations on women's lives. Among the forms of violence that affect women, it was used to denounce the criminal policies of forced sterilization of indigenous women, carried out in the Nineties by the then-President of Peru, Alberto Fujimori: https://www.youtube.com/watch?v=1kw_4d2pL9Q.

At 5:30 PM we will march to Zuccotti Park. The march will make some stops along the way, with performances in front of the Triangle Shirtwaist Factory site, the Varick Street Immigration Detention Center, Stonewall, City Hall, the African Burial Ground and the former slave market, financial institutions funding the Dakota Access Pipeline, and others.
Join us in the streets to celebrate women and advance our priorities. You can find an event near you here.
My father told me when I was growing up that I could do anything I set my mind and heart and no one but myself could stop me. I did. Thanks, Pop.