This is your morning Open Thread. Pour a cup of your favorite morning beverage and review the past and comment on the future.
Find the past "On This Day in History" here.
August 30 is the 242nd day of the year (243rd in leap years) in the Gregorian calendar. There are 123 days remaining until the end of the year.
On this day in 1967, Thurgood Marshall becomes the first African American to be confirmed as a Supreme Court justice. He would remain on the Supreme Court for 24 years before retiring for health reasons, leaving a legacy of upholding the rights of the individual as guaranteed by the U.S. Constitution.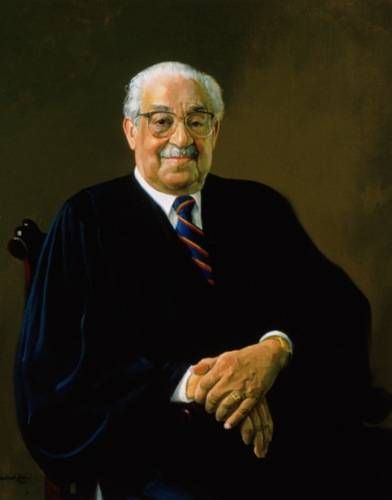 Thurgood Marshall (July 2, 1908 – January 24, 1993) was an American jurist and the first African American to serve on the Supreme Court of the United States. Before becoming a judge, he was a lawyer who was best remembered for his high success rate in arguing before the Supreme Court and for the victory in Brown v. Board of Education. He was nominated to the court by President Lyndon Johnson in 1967.

Marshall was born in Baltimore, Maryland on July 2, 1908, the great-grandson of a slave who was born in modern-day Democratic Republic of the Congo.His original name was Thoroughgood, but he shortened it to Thurgood in second grade because he disliked spelling it. His father, William Marshall, who was a railroad porter, instilled in him an appreciation for the Constitution of the United States and the rule of law.

Marshall graduated from Frederick Douglass High School in Baltimore in 1925 and from Lincoln University in Pennsylvania in 1930. Afterward, Marshall wanted to apply to his hometown law school, the University of Maryland School of Law, but the dean told him that he would not be accepted because of the school's segregation policy. Later, as a civil rights litigator, he successfully sued the school for this policy in the case of Murray v. Pearson. As he could not attend the University of Maryland, Marshall sought admission and was accepted at Howard University School of Law.

Marshall received his law degree from the Howard University School of Law in 1933 where he graduated first in his class.

Marshall won his very first U.S. Supreme Court case, Chambers v. Florida, 309 U.S. 227 (1940), at the age of 32. That same year, he was appointed Chief Counsel for the NAACP. He argued many other cases before the Supreme Court, most of them successfully, including Smith v. Allwright, 321 U.S. 649 (1944); Shelley v. Kraemer, 334 U.S. 1 (1948); Sweatt v. Painter, 339 U.S. 629 (1950); and McLaurin v. Oklahoma State Regents, 339 U.S. 637 (1950). His most famous case as a lawyer was Brown v. Board of Education of Topeka, 347 U.S. 483 (1954), the case in which the Supreme Court ruled that "separate but equal" public education, as established by Plessy v. Ferguson, was not applicable to public education because it could never be truly equal. In total, Marshall won 29 out of the 32 cases he argued before the Supreme Court.

Marshall served on the Court for the next twenty-four years, compiling a liberal record that included strong support for Constitutional protection of individual rights, especially the rights of criminal suspects against the government. His most frequent ally on the Court (indeed, the pair rarely voted at odds) was Justice William Brennan, who consistently joined him in supporting abortion rights and opposing the death penalty. Brennan and Marshall concluded in Furman v. Georgia that the death penalty was, in all circumstances, unconstitutional, and never accepted the legitimacy of Gregg v. Georgia, which ruled four years later that the death penalty was constitutional in some circumstances. Thereafter, Brennan or Marshall dissented from every denial of certiorari in a capital case and from every decision upholding a sentence of death.[citation needed] In 1987, Marshall gave a controversial speech on the occasion of the bicentennial celebrations of the Constitution of the United States. Marshall stated,



"the government they devised was defective from the start, requiring several amendments, a civil war, and major social transformations to attain the system of constitutional government and its respect for the freedoms and individual rights, we hold as fundamental today."

In conclusion Marshall stated



"Some may more quietly commemorate the suffering, struggle, and sacrifice that has triumphed over much of what was wrong with the original document, and observe the anniversary with hopes not realized and promises not fulfilled. I plan to celebrate the bicentennial of the Constitution as a living document, including the Bill of Rights and the other amendments protecting individual freedoms and human rights."

He retired from the Supreme Court in 1991, and was reportedly unhappy that it would fall to President George H. W. Bush to name his replacement. Bush nominated Clarence Thomas to replace Marshall.

Marshall died of heart failure at the National Naval Medical Center in Bethesda, Maryland, at 2:58 p.m. on January 24, 1993 at the age of 84. He is buried in Arlington National Cemetery. His second wife and their two sons survived him

On November 30, 1993, Justice Marshall was posthumously awarded the Presidential Medal of Freedom by President Bill Clinton.
526 – King Theoderic the Great dies of dysentery at Ravenna; his daughter Amalasuntha takes power as regent for her 10-year old son Athalaric.
1282 – Peter III of Aragon, originally traveling with his fleet on a military expedition against the Hafsid Kingdom, ends up in the Sicilian town of Trapani, after he was asked by the inhabitants of Palermo to help in the fight against Charles of Anjou.
1363 – Beginning date of the Battle of Lake Poyang; the forces of two Chinese rebel leaders- Chen Youliang and Zhu Yuanzhang-are pitted against each other in what is one of the largest naval battles in history, during the last decade of the ailing, Mongol-led Yuan Dynasty.
1464 – Pope Paul II succeeds Pope Pius II as the 211th pope.
1574 – Guru Ram Das became the Fourth Sikh Guru/Master.
1590 – Tokugawa Ieyasu enters Edo Castle. (Traditional Japanese date: August 1, 1590)
1791 – HMS Pandora sank after running aground on a reef the previous day.
1799 – Capture of the entire Dutch fleet by British forces under the command of Sir Ralph Abercromby and Admiral Sir Charles Mitchell during the Second Coalition of the French Revolutionary Wars.
1800 – Gabriel Prosser leads a slave rebellion in Richmond, Virginia
1813 – Battle of Kulm: French forces defeated by Austrian-Prussian-Russian alliance.
1813 – Creek War: Creek Red Sticks carried out the Fort Mims Massacre.
1835 – Melbourne, Australia is founded.
1836 – The city of Houston is founded by Augustus Chapman Allen and John Kirby Allen
1862 – American Civil War: Battle of Richmond: Confederates under Edmund Kirby Smith rout a Union army under General Horatio Wright.
1862 – American Civil War: Union forces are defeated in Second Battle of Bull Run.
1873 – Austrian explorers Julius von Payer and Karl Weyprecht discover the archipelago of Franz Joseph Land in the Arctic Sea.
1897 – The town of Ambiky is captured by France from Menabe in Madagascar.
1896 – Eight provinces in the Philippines are declared under martial law by the Spanish Governor General Ramon Blanco. These were Manila, Cavite, Bulacan, Pampanga, Nueva Ecija, Bataan, Laguna, and Batangas.
1909 – Burgess Shale fossils discovered by Charles Doolittle Walcott.
1914 – Battle of Tannenberg.
1918 – Fanny Kaplan shoots and seriously injures Bolshevik leader Vladimir Lenin. This, along with the assassination of Bolshevik senior official Moisei Uritsky days earlier, prompts the decree for Red Terror.
1922 – Battle of Dumlupinar, final battle in Greco-Turkish War (1919-1922) ("Turkish War of Independence").
1942 – World War II: Battle of Alam Halfa begins.
1945 – Hong Kong is liberated from Japan by British Armed Forces.
1945 – Supreme Commander of the Allied Forces, General Douglas MacArthur lands at Atsugi Air Force Base.
1956 – Lake Pontchartrain Causeway opens.
1962 – Japan conducts a test of the NAMC YS-11, its first aircraft since the war and its only successful commercial aircraft from before or after the war.
1963 – Hotline between the leaders of the U.S.A. and the Soviet Union goes into operation.
1967 – Thurgood Marshall is confirmed as the first African American Justice of the United States Supreme Court.
1974 – A Belgrade-Dortmund express train derails at the main train station in Zagreb killing 153 passengers.
1974 – A powerful bomb explodes at the Mitsubishi Heavy Industries headquarters in Marunouchi, Tokyo, Japan. 8 killed, 378 injured. Eight left-wing activists are arrested on May 19, 1975 by Japanese authorities.
1984 – STS-41-D: The Space Shuttle Discovery takes off on its maiden voyage.
1995 – NATO launches Operation Deliberate Force against Bosnian Serb forces.
1998 – Second Congo War: Government troops and their Angolan and Zimbabwean allies recapture Matadi and the Inga dams in the western Democratic Republic of the Congo.
1999 – East Timor voted for independence from Indonesia in a referendum.
2003 – While being towed across the Barents Sea, the de-commissioned Russian submarine K-159 sinks, taking 9 of her crew and 800 kg of spent nuclear fuel with her.