This is your morning Open Thread. Pour your favorite beverage and review the past and comment on the future.
Find the past "On This Day in History" here.

Click on image to enlarge
June 8 is the 159th day of the year (160th in leap years) in the Gregorian calendar. There are 206 days remaining until the end of the year.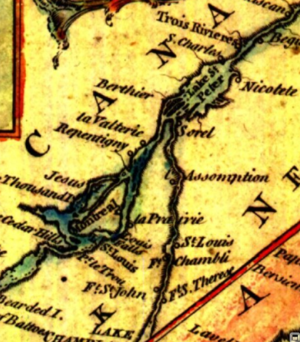 On this day in 1776, Canadian Governor Sir Guy Carleton defeats American Patriot forces under John Sullivan, who were already in retreat from Quebec toward Montreal.

After General Richard Montgomery's early success in Montreal, he and Colonel Benedict Arnold attempted to take Quebec in the middle of the night between December 31, 1775 and January 1, 1776. Montgomery lost his life and Arnold was wounded in the action; half of their men were also lost to death, injury or capture and Quebec remained in British control. The colonists' ill-conceived, pre-emptive attack on Canada ended in disaster. Instead of winning French Canadians to the Patriot cause, it led only to a huge loss of life among Patriot forces.
The Battle of Trois-Rivières (Three Rivers in English) was fought on June 8, 1776, during the American Revolutionary War. A British army under Quebec Governor Guy Carleton defeated an attempt by units from the Continental Army under the command of Brigadier General William Thompson to stop a British advance up the Saint Lawrence River valley. The battle occurred as a part of the American colonists' invasion of Quebec, which had begun in September 1775 with the goal of "liberating" the province from British rule.

The crossing of the Saint Lawrence by the American troops was observed by Quebec militia, who alerted British troops at Trois-Rivières. A local farmer led the Americans into a swamp, enabling the British to land additional forces in the village, and to establish positions behind the American army. After a brief exchange between an established British line and American troops emerging from the swamp, the Americans broke into a somewhat disorganized retreat. As some avenues of retreat were cut off, the British took a sizable number of prisoners, including General Thompson and much of his staff.

This was the last major battle fought on Quebec soil. Following the defeat, the remainder of the American forces, under the command of John Sullivan, retreated, first to Fort Saint-Jean, and then to Fort Ticonderoga.
68 – The Roman Senate proclaims Galba as emperor.
218 – Battle of Antioch: Elagabalus defeats with support of the Syrian legions the forces of emperor Macrinus. He flees, but is captured near Chalcedon and later executed in Cappadocia.
793 – Vikings raid the abbey at Lindisfarne in Northumbria, commonly accepted as the beginning of the Scandinavian invasion of England.
1191 – Richard I arrives in Acre (Israel) thus beginning his crusade.
1405 – Richard le Scrope, Archbishop of York and Thomas Mowbray, Earl of Norfolk, are executed in York on Henry IV's orders.
1690 – Siddi general Yadi Sakat, razes the Mazagon Fort in Mumbai.
1776 – American Revolutionary War: Battle of Trois-Rivières – American attackers are driven back at Trois-Rivières, Quebec.
1783 – The volcano Laki, in Iceland, begins an eight-month eruption which kills over 9,000 people and starts a seven-year famine.
1789 – James Madison introduces twelve proposed amendments to the United States Constitution in the House of Representatives; by 1791, ten of them are ratified by the state legislatures and become the Bill of Rights; another is eventually ratified in 1992 to become the 27th Amendment.
1794 – Robespierre inaugurates the French Revolution's new state religion, the Cult of the Supreme Being, with large organized festivals all across France.
1856 – A group of 194 Pitcairn Islanders, descendants of the mutineers of HMS Bounty, arrives at Norfolk Island commencing the Third Settlement of the Island.
1861 – American Civil War: Tennessee secedes from the Union.
1862 – American Civil War: Battle of Cross Keys – Confederate forces under General Stonewall Jackson save the Army of Northern Virginia from a Union assault on the James Peninsula led by General George B. McClellan.
1887 – Herman Hollerith applies for US patent #395,791 for the 'Art of Applying Statistics' – his punched card calculator.
1906 – Theodore Roosevelt signs the Antiquities Act into law, authorizing the President to restrict the use of certain parcels of public land with historical or conservation value.
1912 – Carl Laemmle incorporates Universal Pictures.
1928 – Second Northern Expedition: The National Revolutionary Army captures Peking, whose name is changed to Beiping ("Northern peace").
1941 – World War II: Allies invade Syria and Lebanon.
1942 – World War II: Japanese imperial submarines I-21 and I-24 shell the Australian cities of Sydney and Newcastle.
1948 – Milton Berle hosts the debut of Texaco Star Theater.
1949 – Celebrities Helen Keller, Dorothy Parker, Danny Kaye, Fredric March, John Garfield, Paul Muni and Edward G. Robinson are named in an FBI report as Communist Party members.
1949 – George Orwell's Nineteen Eighty-Four is published.
1950 – Sir Thomas Blamey becomes the only Australian-born Field Marshal in Australian history.
1953 – Flint-Worcester tornado outbreak sequence: A tornado hits Flint, Michigan, and kills 115.
1953 – The United States Supreme Court rules that Washington, D.C. restaurants could not refuse to serve black patrons.
1959 – The USS Barbero and United States Postal Service attempt the delivery of mail via Missile Mail.
1966 – One of the XB-70 Valkyrie prototypes is destroyed in a mid-air collision with a F-104 Starfighter chase plane during a photo shoot. NASA pilot Joseph A. Walker and United States Air Force test pilot Carl Cross are both killed.
1966 – Topeka, Kansas is devastated by a tornado that registers as an "F5" on the Fujita Scale: the first to exceed US$100 million in damages. Sixteen people are killed, hundreds more injured, and thousands of homes damaged or destroyed.
1967 – Six-Day War: The USS Liberty incident occurs, killing 34 and wounding 171.
1968 – Robert F. Kennedy's funeral takes place at the Basilica of St. Patrick's Cathedral, New York City.
1972 – Vietnam War: Associated Press photographer Nick Ut takes his Pulitzer Prize-winning photo of a naked 9-year-old Phan Thi Kim Phuc running down a road after being burned by napalm.
1982 – Bluff Cove Air Attacks during the Falklands War: 56 British servicemen are killed by Argentine air attack on two landing ships : RFA Sir Galahad and RFA Sir Tristram.
1984 – Homosexuality is declared legal in the Australian state of New South Wales.
1987 – New Zealand's Labour government establishes a national nuclear-free zone under the New Zealand Nuclear Free Zone, Disarmament, and Arms Control Act 1987
1992 – The first World Ocean Day is celebrated, coinciding with the Earth Summit held in Rio de Janeiro, Brazil.
1995 – Downed U.S. Air Force pilot Captain Scott O'Grady is rescued by U.S. Marines in Bosnia.
2004 – The first Venus Transit in modern history takes place, the previous one being in 1882.
2007 – Newcastle, New South Wales, Australia, is hit by the State's worst storms and flooding in 30 years resulting in the death of nine people and the grounding of trade ship, the MV Pasha Bulker.
2008 – The Akihabara massacre takes place in the Akihabara shopping quarter in Chiyoda, Tokyo, Japan. Tomohiro Kato drives a two-ton truck into a crowd before leaving the truck and attacking people with a knife.
2009 – Two American journalists are found guilty of illegally entering North Korea and sentenced to 12 years of penal labour.
2013 – The Wedding of Princess Madeleine of Sweden and Christopher O'Neill takes place in Stockholm, Sweden.
* Bounty Day (Norfolk Island)
* Christian Feast Day:
* Chlodulf of Metz
* Medard
* William of York
* June 8 (Eastern Orthodox liturgics)
* Earliest day on which Queen's Birthday can fall, while June 14 is the latest; celebrated on the second Monday in June. (Australia, except Western Australia)
* Primoz Trubar Day (Slovenia)
* World Brain Tumor Day
* World Oceans Day (International)