In remarks on foreign policy before the Chicago Council on Global Affairs, potential 2016 GOP presidential hopeful, former Florida Governor Jeb Bush attempted to distance himself from his brother President George W. Bush and his father, Pres. George H. W. Bush, insisting that he is "his own man."
He pretty much stumbled and fumbled, even with the telepromter, and, quite obviously isn't ready for prime time on foreign policy.
One way he unmistakably resembles his father and brother is in his apparent discomfort with a prepared text. He appeared far more at ease answering questions than delivering his speech, which he read quickly, without the authority he has often shown when discussing domestic issues.

Still, his responses were not mistake-free: When he sought to attack President Obama, he inflated the number of Islamic State fighters, saying in his remarks that there were 200,000. A spokeswoman for Mr. Bush later clarified that he had meant to say 20,000. At another point, he pronounced Boko Haram, the Islamist militant group based in Nigeria, as "Boku Haram."

Mr. Bush said his formative experience on foreign policy had come not from watching his brother or father serve as commander in chief, but as a 20-something working and starting a family in Venezuela, and then as the governor of a state actively involved in foreign trade.

He recalled how many times he had visited Israel (five) and noted that he had "forced" himself to visit Asia four times each year.

Despite explaining how his biography differed – he recalled the high price of Pampers in Caracas – Mr. Bush is benefiting from the former presidents Bush.
As bad as his appearance was, the real problem is that someone forgot to tell his staff that it might not be a good idea to release the list of foreign policy advisers that Jeb has decided to be on his team.
The list represents the full spectrum of views within the Republican foreign policy establishment – from relative moderates, including former secretaries of state George P. Shultz and James A. Baker III, to staunch neoconservatives such as Iraq war architect Paul D. Wolfowitz. [..]

Among Bush's announced advisers are several viewed as staunch defenders of the CIA, including former director Michael V. Hayden, who came under heavy criticism in a recent Senate Intelligence Committee report about the agency's interrogation techniques.

Just as telling were those missing from the official list.

Although former secretary of state Condoleezza Rice is at least as close personally to the Bush family as anyone on the list – and has consulted with the former Florida governor – the absence of her name suggests that he is sensitive about being seen as a carbon copy of his brother.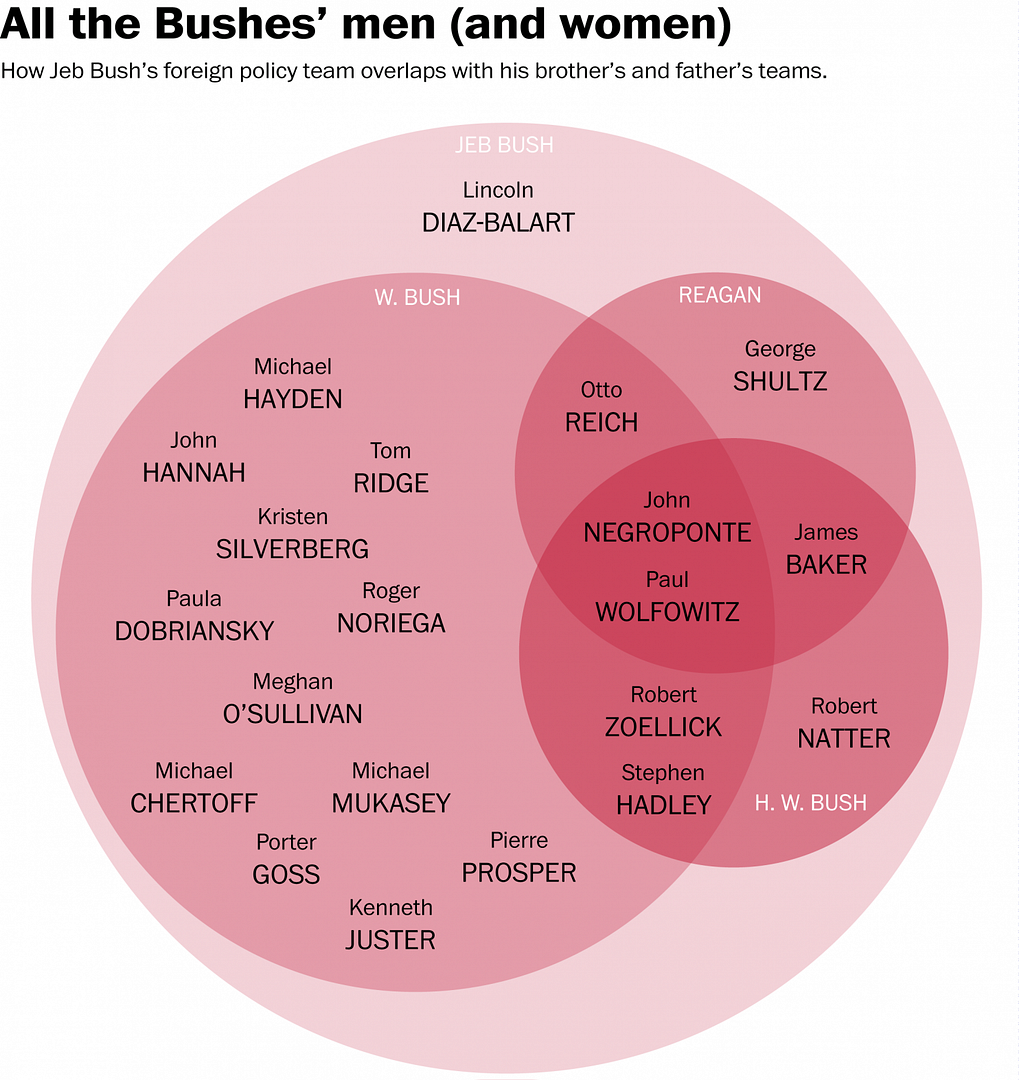 Click on image to enlarge
The apple didn't fall too far from the tree or that far from his older bother.