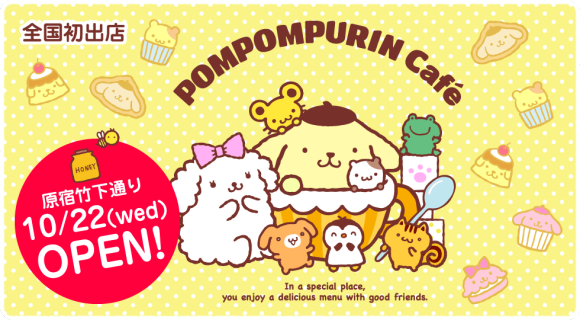 New cafe in Harajuku serves up Pom Pom Purin-shaped cuisine, attracts fans and pop idols alike

Hayashi 'Fang' Hougi

Despite being nowhere near as famous as his feline counterpart abroad, Sanrio's Pom Pom Purin has a very loyal fan base in his homeland, so much so that the pastel-yellow "pudding" dog managed to clinch fourth place in this year's Sanrio Character Ranking, at one point leading the pack.

But while Hello Kitty, My Melody and Kiki & Lala have all been given their own themed cafes, poor old' Pom Pom has had to wait on the sidelines like the patient pup he is. But by the looks of it, the first ever Pom Pom Purin Cafe was well worth the wait, with the Harajuku location boasting a super-kawaii menu with meals, desserts and drinks featuring everyone's favorite Sanrio canine as well as adorable merchandise available only at the cafe.

STATS

¥307,500

Per capita medical expenses in 2013-a record, according to the health ministry

¥4 billion

Estimated cost per year of Japan's "scientific" whaling program, according to the Fisheries Agency

¥5.1 billion

Amount of money stolen in credit card theft from January to June, according to the Japan Credit Card Association
NEWS FROM THE GULLET

Just in time for gibier season, officials at the health ministry say they're ready to slap a ban on the consumption of raw game.

Health authorities report that 500 people suffered food poisoning after eating "lightly pickled cucumbers" at a fireworks festival in Shizuoka.

The University of Yamanashi will introduce a course of study called the "wine frontier leader development program."

Leading gyoza chain Osho announced that it would start using only domestic ingredients in its dumplings.
Get Deported?
Then You Can Dance
Japan Style
Disney pens love letter to Japan with robot film



By YURI KAGEYAMA

Disney executives call their next film "a love letter to Japanese culture." No wonder: This nation can't get enough of animation, especially Disney's.

Walt Disney Animation Studios is practically bending backward to woo Japanese moviegoers after the stupendous success of "Frozen." The fifth-highest-grossing movie of all time made more than $250 million of its total in Japan alone, nearly a third of its overseas numbers and more than five times what it made in France, according to Box Office Mojo.