Welcome to The Breakfast Club! We're a disorganized group of rebel lefties who hang out and chat if and when we're not too hungover  we've been bailed out we're not too exhausted from last night's (CENSORED) the caffeine kicks in. Join us every weekday morning at 9am (ET) and weekend morning at 10:30am (ET) to talk about current news and our boring lives and to make fun of LaEscapee! If we are ever running late, it's PhilJD's fault.  
(Truth be told, friends, we're really not that disorganized; the fact that we've managed to put this series together and stick with it disabuses the notion that we're disorganized, right?  Also, I wish I had a censored night once in awhile, but alas, this is something my producers made me say.)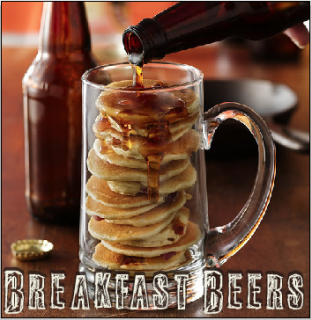 This Day in History
This bit was posted at Voices on the Square, The Stars Holllow Gazette, Docudharma, and Daily Kos.
Breakfast News
Throwback Thursday
The War in Europe is Ended! Surrender Is Unconditional; V-E Will Be Proclaimed Today; Our Troops on Okinawa Gain

Germany surrendered unconditionally to the Western Allies and the Soviet Union at 2:41 A. M. French time today. [This was at 8:41 P.M., Eastern Wartime Sunday.]

The surrender took place at a little red school house that is the headquarters of Gen. Dwight D. Eisenhower.

The surrender, which brought the war in Europe to a formal end after five years, eight months and six days of bloodshed and destruction, was signed for Germany by Col. Gen. Gustav Jodl. General Jodl is the new Chief of Staff of the German Army.

Hillary's State Department Refused to Brand Boko Haram as Terrorists



The State Department under Hillary Clinton fought hard against placing the al Qaeda-linked militant group Boko Haram on its official list of foreign terrorist organizations for two years. And now, lawmakers and former U.S. officials are saying that the decision may have hampered the American government's ability to confront the Nigerian group that shocked the world by abducting hundreds of innocent girls.

In the past week, Clinton, who made protecting women and girls a key pillar of her tenure at the State Department, has been a vocal advocate for the 200 Nigerian girls kidnapped by Boko Haram, the loosely organized group of militants terrorizing northern Nigeria. Her May 4 tweet about the girls, using the hashtag #BringOurGirlsBack, was cited across the media and widely credited for raising awareness of their plight.

* * *

"The one thing she could have done, the one tool she had at her disposal, she didn't use. And nobody can say she wasn't urged to do it. It's gross hypocrisy," said a former senior U.S. official who was involved in the debate. "The FBI, the CIA, and the Justice Department really wanted Boko Haram designated, they wanted the authorities that would provide to go after them, and they voiced that repeatedly to elected officials."

Waging War in Nigeria, and Seeking New Battlegrounds

Explaining Boko Haram, Nigeria's Islamist Insurgency



Boko Haram is an Islamist extremist group responsible for dozens of massacres of civilians in its five-year insurgency in Nigeria, including the brazen kidnapping last month of more than 250 schoolgirls and the abduction, reported Tuesday, of 11 more teenagers.

The kidnappings are the latest assault by the insurgent group, which has terrorized local populations and regularly engages the Nigerian military in bloody combat with the aim of destabilizing and ultimately overthrowing the government and establishing an Islamic caliphate in its place.

The State Department's annual report on terrorism around the globe, issued last month, estimated that the group's members ranged from "the hundreds to a few thousand." The report warned that "the number and sophistication of BH's attacks are concerning," and that Boko Haram had increasingly crossed into neighboring Cameroon, Chad and Niger to "evade pressure and conduct operations."

Abducted Nigerian girls put terrorist group on world map



The mass abduction of several hundred schoolgirls sparked outrage. But it was the rambling, hourlong Hausa-language video by the terrorist group's leader that triggered a global uproar.

In it, Boko Haram chief Abubakar Shekau threatened to sell the teenage girls "into the marketplace" as slaves, or force them to marry by age 12.

Suddenly a 5-year-old violent insurgency that has threatened the stability of sub-Saharan Africa's most populous nation and its largest economy has drawn condemnations at the United Nations, demands for action in the U.S. Congress, protests in capitals around the globe, and a viral Twitter campaign from Nigeria

U.S. Offers Aid In Search For Nigerian Girls, But Is It Too Late?



Nigeria is offering a $300,000 reward for anyone who can find the more than 200 schoolgirls abducted by Islamist group Boko Haram. The U.S. is also pitching in with hostage negotiators and intelligence experts. President Obama says the U.S. will do everything it can to provide assistance to Nigeria.

But, three weeks after the abductions, these offers of outside assistance may be too late.

The U.S. Embassy is setting up a coordinating group, while the Pentagon says it is sending a small group of intelligence, communications and logistics experts.

U.S. Secretary of State John Kerry says the U.S. had been offering support from the beginning, but Nigeria had its own strategy at first.

"I think now the complications that have arisen have convinced everybody that there needs to be a greater effort, and it will begin immediately," Kerry said Tuesday at a State Department news briefing.

'Bring Back Our Girls' Becomes Rallying Cry for Kidnapped Nigerian Schoolgirls



But Mosley, a director of commercials and documentaries, did not have much personal experience with social media. She had heard her daughter use the word "hashtag," but she did not even really understand what it meant.

"I thought it was sort of a phrase that young people use," she said. "Then I realized recently that a hashtag is like a call. It's like a call out to the world and it's also an amalgamation so you can pull together information, put that information in and get information back."

Mosley knew that mothers in Nigeria were chanting, "Bring back our girls," at protests, and she had seen it used on Twitter, so she decided to take to social media herself.

"I started shouting it to Barack Obama, my senators in California, to any celebrity that I could think of," she said, "and within a few hours, I started getting responses."

The phrase has now been repeated on Twitter more than 800,000 times, including by celebrities Kerry Washington and Chris Brown. On Sunday, Hillary Clinton tweeted, "Access to education is a basic right & an unconscionable reason to target innocent girls. We must stand up to terrorism. #BringBackOurGirls."
""We already know global warming threatens our future. This report shows how it is harming our communities now."
The full report of the National Climate Assessment provides an in-depth look at climate change impacts on the U.S. It details the multitude of ways climate change is already affecting and will increasingly affect the lives of Americans."

Global climate change report: Impacts on Oregon, Pacific Northwest



Reduced snowpacks, less water for irrigation, drought-related wildfires, rising sea levels and insect-infested timber.

Those are just a few of the impacts of climate disruption that could affect Oregonians, two environmental groups warned Tuesday.

The response comes on the heels of the release of the National Climate Assessment  and specifically the report's portion addressing climate change impacts on Oregon and the Pacific Northwest.

According to the regional report, temperatures are projected to increase 3.3 degrees by 2070 and 9.7 degrees by 2099, "depending largely on total global emissions of heat-trapping gases."

The report was prepared by 300 climate and weather experts and scientists under the guidance of a 60-member federal advisory committee.

Report: Climate-change effects are already apparent in NW



From changes in stream flows to acidifying oceans and widespread forest die-offs, the Pacific Northwest is already experiencing signs of a changing climate, according to the most

comprehensive analysis yet of impacts in the United States.

The third National Climate Assessment, released Tuesday, warns that no part of the country is immune, and that the effects of climate change will become increasingly disruptive in the coming decades.

"Climate change, once considered an issue for the distant future, has moved firmly into the present," the report says. "Corn producers in Iowa, oyster growers in Washington state and maple syrup producers in Vermont are all observing climate-related changes that are outside of our recent experience."

What to Make of Seattle's $15 Minimum Wage Plan



If you're a low-wage worker in Seattle good luck figuring out how much you will earn under Mayor Ed Murray's proposal to raise the minimum wage to $15 an hour. In a news conference on May 1, an international day of worker protest and celebration, Murray unveiled a "minimum wage plan so complicated reporters can't understand it," as described by The Stranger, Seattle's alternative weekly.

Kshama Sawant, a socialist elected to the Seattle City Council last fall on a platform of a $15-per-hour minimum wage, says the proposal is a step forward, but notes that it contains numerous loopholes and could take more than a decade to come into effect. "If we don't remain unrelenting, we're going to get very little," she says.

Under the mayor's plan, which the council has to approve and can alter as it sees fit, workers will fall under one of four classes depending on the size of the business they work for, whether they get tips and whether the employer provides healthcare.

Seattle's $15 minimum-wage proposal: 'victory for the bottom of the pile'

Autumn Brown is in no doubt about why she struggles to buy decent food if she is also going to pay the rent. As she sees it, it's so the chief executive of Starbucks, Howard Schultz, can continue to build on his $1.6bn fortune.

Brown works behind the counter of a Starbucks in Seattle, home to the multinational giant, where she pulls in a few cents above Washington state's minimum wage.

"They have workers making the smallest amount of money possible and they shovel all those profits back into their pockets," she said. "There's this cycle going on that protects big business from having to divide their massive quantities of wealth they're accruing."

Kangaroo Court Convicts Occupy Protester



Two and a half years after the Occupy Wall Street movement took the country by storm, injecting topics like income inequality and class war into the realm of permissible national political discourse for the first time since the 1930s, the nation's legal machinery of repression has come down like a proverbial ton of bricks on the movement just as nationally coordinated police repression crushed its physical manifestation in late 2011.

The prosecution, and Monday's ultimate conviction of Occupy Wall Street protester Cecily McMillan on the ludicrous charge of felony assault against a brutal male police officer who had grabbed her right breast from behind so hard it caused bruising, makes Manhattan District Attorney Cyrus Vance, Jr. the prosecutorial equivalent of the thug police officers like NYPD deputy inspector Anthony Balogna. Balogna, recall, was the "white shirt" police supervisor who was notoriously caught on video gratuitously spraying several young women directly in the face as they stood peacefully behind a police barricade during the early days of Occupy.

Vance, as Manhattan DA, is doing the same kind of thing with legal prosecutions, making a name for himself by gratuitously prosecuting the wrong people and meanwhile letting the real criminals skate.
Can Frances Fox Piven's Theory of Disruptive Power Create the Next Occupy?



Social movements can be fast, and they can be slow.

Mostly, the work of social change is a slow process. It involves patiently building movement institutions, cultivating leadership, organizing campaigns and leveraging power to secure small gains. If you want to see your efforts produce results, it helps to have a long-term commitment.

And yet, sometimes things move more quickly. Every once in a while we see outbreaks of mass protest, periods of peak activity when the accepted rules of political affairs seem to be suspended. As one sociologist writes, these are extraordinary moments when ordinary people "rise up in anger and hope, defy the rules that ordinarily govern their lives, and, by doing so, disrupt the workings of the institutions in which they are enmeshed." The impact of these uprisings can be profound. "The drama of such events, combined with the disorder that results, propels new issues to the center of political debate" and drives forward reforms as panicked "political leaders try to restore order."
Occupy Melbourne protesters leave $1 million legal and clean up bill

EXCLUSIVE: OCCUPY Melbourne protesters who shut down the city and vandalised buildings have left the public with a million-dollar bill in legal fees and clean-up and other costs.

Documents obtained by the Herald Sun under Freedom of Information laws reveal the public cost of protesters suing the city council, police and the State Government in legal action that ultimately failed.

Lord Mayor Robert Doyle said he was outraged authorities had won in court, but the public still had to pay.

The City of Melbourne has paid over $554,000 to Hunt & Hunt Lawyers since 2011 after activists Sara Kerrison and James Muldoon sued, claiming the arrest and eviction of Occupy Melbourne protesters had been illegal.
Activists Are Camping Out at the FCC Until It Upholds Net Neutrality

Four protesters are currently hunkered down in front of the Federal Communications Commission headquarters in Washington, DC to try to save the internet.

The early turnout is pretty pitiful, particularly because it's a cause that has spread far and wide across the internet. The activists are calling on the FCC to reject aproposal to effectively kill net neutrality and allow for a tiered internet that favors those who can afford to pay for a fast lane.

The specter of a non-neutral web has already prompted hundreds of thousands of comments on the FCC's website, and a petition to protect the open internet gathered over a million signatures.
Must Read Blog Posts/Articles
Daily Wiki:
Victory in Europe Day, generally known as V-E Day or VE Day, was the public holiday celebrated on 8 May 1945 (7 May inCommonwealth realms) to mark the formal acceptance by the Allies of World War II of Nazi Germany's unconditional surrender of its armed forces.[1] It thus marked the end of World War II in Europe.

On 30 April, Adolf Hitler, the Nazi leader,committed suicide during the Battle of Berlin. Germany's surrender, therefore, was authorized by his successor, Reichspräsident Karl Dönitz. The administration headed by Dönitz was known as the Flensburg government. The act of military surrender was signed on 7 May in Reims, France and on 8 May in Berlin, Germany.

Even though this picture was taken the following August after Japan was nuked into submission surrendered, it is one of the more emblematic photos of the end of World War 2: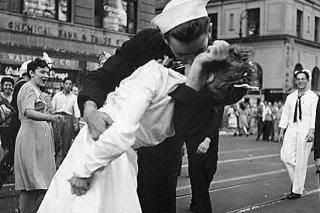 Speaking of Rebels – Happy Birthday Naomi Klein!
Meme of the Day
Did you say "breakfast?"
I love pancakes and I love bacon and together, they make a perfect breakfast high in simple carbs, sugar, fat and salt. What could be better to start one's day? My son and I have bacon and pancakes every weekend, at least once! He likes chocolate chips in his, I prefer mine without the chocolate, but we both love the butter and the syrup. Pancakes are easy enough to make from scratch, but I use a buttermilk mix. I'm not brand-loyal, so if Krusteaz is on sale, then that's what we'll have. If I'm at Trader Joe's, I'll pick up the TJ brand. You know who else likes to go to pancakes house? This guy:

Something to Think About Over Prozac Coffee:
"If Hitler invaded hell I would make at least a favorable reference to the devil in the House of Commons." ~ Winston Churchill
Breakfast Tunes
From the Saving the Best for Last Department:
New rule: If you harass DeadHead in past-their-prime comment threads, you shall be known as a DeadHeader.
Stupid Quiet, Deep Shit LaEscapee Wrote:
"Expand your mind and quit judging others."
LaEscapee is a man of few words. They say still waters run deep. He ain't heavy, man, he's my brother.
Confidential to all you lefty pie warriors
We get that you're frustrated, and feel that the community moderation system does not always appear "fair and balanced," but pretty please with sugar on top don't bring your pie wars into The Breakfast Club. We don't want to reinforce our already dirtier than a dirty fucking hippie angry, hateful, fringy image. Your anticipated cooperation is much appreciated, and That Group thanks you in advance.