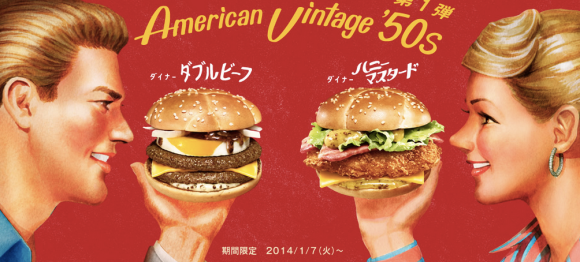 McDonald's Japan serving "American Vintage" burgers starting this January

Michelle Lynn Dinh

Ah, the good old days! It seems like every generation longs for that time when they were young and all was right with the world. McDonald's Japan is taking that feeling of nostalgia and cramming it into a hamburger with their freshly announced American Vintage campaign, taking us back in time with 1950′s diner fare, 1970s soul food and 1980s pop culture cuisine.

McDonald's Japan has released delightfully old-timey posters for their American Vintage campaign. Take a look at this advertisement for "Classic Fry with Cheese":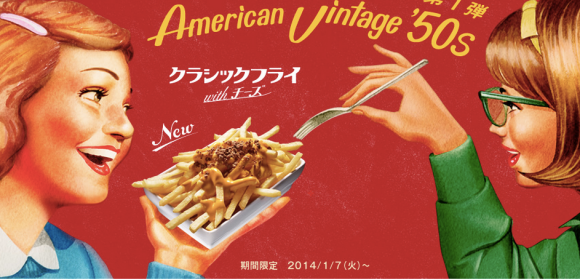 STATS

24

Rank of Japan-out of 24 nations surveyed-in terms of vacation time taken by workers, according to a poll by Expedia Japan

69

Percent of Japanese people who are opposed to lowering the age of majority from 20 to 18, according to a Cabinet Office survey

29,317 kiloliters

Volume of sparkling wine imported by Japan in 2012-a record-according to customs officials

TANGLED WEBS

Stay with us on this one: Law enforcement officials say a 27-year-old female dentist in Osaka sent an unspecified number of dead cockroaches to two women in Tokyo at the behest of a 43-year-old city man who wanted to harass his ex-girlfriend. The suspects apparently met through a "revenge website."

Japanese manufacturer Daio Paper Corp lodged a complaint with authorities in Beijing after counterfeit versions of its disposable diapers began appearing in Chinese supermarkets.

Customs officials seized 46 counterfeit ¥10,000 coins in an unidentified "international freight shipment." The coins were modeled on a commemorative series minted in 1986 to mark the 60th anniversary of Emperor Showa's reign.

The LDP has come up with a novel way to raise public awareness of the disputed Senkaku and Takeshima islands: adding coverage of the territories to nationwide weather forecasts.
Says No Offense Intended
Go To Jail
Of Love
Making waves: In the hunt for invisibility, other benefits seen



By Jeremy Wagstaff

SINGAPORE –

A new way of assembling things, called metamaterials, may in the not too distant future help to protect a building from earthquakes by bending seismic waves around it. Similarly, tsunami waves could be bent around towns, and sound waves bent around a room to make it soundproof.

While the holy grail of metamaterials is still to make objects and people invisible to the eye, they are set to have a more tangible commercial impact playing more mundane roles – from satellite antennas to wirelessly charging cellphones.

Metamaterials are simply materials that exhibit properties not found in nature, such as the way they absorb or reflect light. The key is in how they're made. By assembling the material – from photonic crystals to wire and foam – at a scale smaller than the length of the wave you're seeking to manipulate, the wave can, in theory, be bent to will.