Cross posted from The Stars Hollow Gazette
This is your morning Open Thread. Pour your favorite beverage and review the past and comment on the future.
Find the past "On This Day in History" here.
September 29 is the 272nd day of the year (273rd in leap years) in the Gregorian calendar. There are 93 days remaining until the end of the year.
On this day in 1547, Miguel de Cervantes, author of Don Quixote, is born this day near Madrid.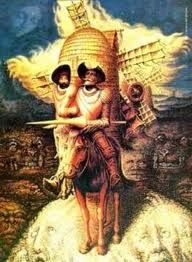 Cervantes led an adventurous life and achieved much popular success, but he nevertheless struggled financially throughout his life. Little is know about his childhood, except that he was a favorite student of Madrid humanist Juan Lopez, and that his father was an apothecary.

In 1569, Cervantes was living in Rome and working for a future cardinal. Shortly thereafter, he enlisted in the Spanish fleet to fight against the Turks. At the Battle of Lepanto in 1571, he took three bullets and suffered permanent damage to his left hand. Later, he was stationed at Palermo and Naples. On the way home to Madrid in 1575, he and his brother Roderigo were captured by Barbary pirates and held captive in Algiers. Cervantes was ransomed after five years of captivity and returned to Madrid, where he began writing. Although his records indicate he wrote 20 to 30 plays, only two survive. In 1585, he published a romance. During this time, he married a woman 18 years younger than he was and had an illegitimate daughter, whom he raised in his household. He worked as a tax collector and as a requisitioner of supplies for the navy, but was jailed for irregularities in his accounting. Some historians believe he formulated the idea for Don Quixote while in jail.

In 1604, he received the license to publish Don Quixote. Although the book began as a satire of chivalric epics, it was far more complex than a simple satire. The book blended traditional genres to create a sad portrait of a penniless man striving to live by the ideals of the past. The book was a huge success and brought Cervantes literary respect and position, but did not generate much money. He wrote dramas and short stories until a phony sequel, penned by another writer, prompted him to write Don Quixote, Part II in 1615.
Cervantes died in Madrid on April 23, 1616. In honor of the date on which both Miguel de Cervantes and William Shakespeare died, UNESCO established April 23 as the International Day of the Book. (Shakespeare and Cervantes, however, did not actually die on the same day, as the April 23 date for Shakespeare is Julian calendar (Old Style) and the April 23 date for Cervantes is Gregorian calendar (New Style) as those were the calendars in effect in England and in Spain, respectively, at that time. The Gregorian calendar was then ten days ahead of the Julian.)