July 8, 2013

archive

Cross posted from The Stars Hollow Gazette

This is your morning Open Thread. Pour your favorite beverage and review the past and comment on the future.

Find the past "On This Day in History" here.

Click on images to enlarge.
July 8 is the 189th day of the year (190th in leap years) in the Gregorian calendar. There are 176 days remaining until the end of the year.
On this day in 1951, Paris celebrates 2,000th birthday. In fact, a few more candles would've technically been required on the birthday cake, as the City of Lights was most likely founded around 250 B.C.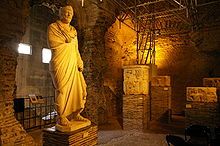 The earliest archaeological signs of permanent settlements in the Paris area date from around 4200 BC. The Parisii, a sub-tribe of the Celtic Senones, inhabited the area near the river Seine from around 250 BC. The Romans conquered the Paris basin in 52 BC, with a permanent settlement by the end of the same century on the Left Bank Sainte Geneviève Hill and the Île de la Cité. The Gallo-Roman town was originally called Lutetia, but later Gallicised to Lutèce. It expanded greatly over the following centuries, becoming a prosperous city with a forum, palaces, baths, temples, theatres, and an amphitheatre.

The collapse of the Roman empire and the 5th-century Germanic invasions sent the city into a period of decline. By 400 AD, Lutèce, largely abandoned by its inhabitants, was little more than a garrison town entrenched into a hastily fortified central island. The city reclaimed its original appellation of "Paris" towards the end of the Roman occupation.

The Paris region was under full control of the Germanic Franks by the late 5th century. The Frankish king Clovis the Frank, the first king of the Merovingian dynasty, made the city his capital from 508. The late 8th century Carolingian dynasty displaced the Frankish capital to Aachen; this period coincided with the beginning of Viking invasions that had spread as far as Paris by the early 9th century. Repeated invasions forced Parisians to build a fortress on the Île de la Cité; one of the most remarkable Viking raids was on 28 March 845, when Paris was sacked and held ransom, probably by Ragnar Lodbrok, who left only after receiving a large bounty paid by the crown. The weakness of the late Carolingian kings of France led to the gradual rise in power of the Counts of Paris; Odo, Count of Paris was elected king of France by feudal lords, and the end of the Carolingian empire came in 987, when Hugh Capet, count of Paris, was elected king of France. Paris, under the Capetian kings, became a capital once more.