Cross posted from The Stars Hollow Gazette
This is your morning Open Thread. Pour your favorite beverage and review the past and comment on the future.
Find the past "On This Day in History" here.
June 10 is the 161st day of the year (162nd in leap years) in the Gregorian calendar. There are 204 days remaining until the end of the year.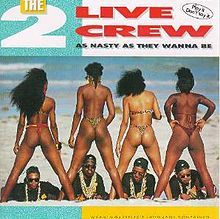 On this day in 1990, Luther Campbell and fellow 2LiveCrew members are arrested on obscenity charges

Though the First Amendment to the Constitution clearly states that the U.S. Congress "shall make no law…abridging the freedom of speech," free speech is widely understood to have its limits. It is dangerous and potentially criminal, for instance, to yell, "Fire!" in a crowded theater. But what about yelling "$&%#@!!" in a crowded nightclub? Lenny Bruce and other comedians tested the limits of that practice in the 1960s, but it was not until the late 1980s that the issue of obscenity came front and center in the world of popular music. The group that brought it there was 2LiveCrew, a hip-hop outfit led by Luther "Luke Skyywalker" Campbell. On June 10, 1990, just days after a controversial ruling by a Florida federal judge, Campbell and two other members of 2LiveCrew were arrested on charges of public obscenity after performing material from their album As Nasty As They Wanna Be in a Hollywood, Florida, nightclub.
In 1989, the group released their album, As Nasty As They Wanna Be, which also became the group's most successful album. A large part of its success was due to the single "Me So Horny", which was popular despite little radio rotation. The American Family Association (AFA) did not think the presence of a "Parental Advisory" sticker was enough to adequately warn listeners of what was inside the case. Jack Thompson, a lawyer affiliated with the AFA, met with Florida Governor Bob Martinez and convinced him to look into the album to see if it met the legal classification of obscene. In 1990 action was taken at the local level and Nick Navarro, Broward County sheriff, received a ruling from County Circuit Court judge Mel Grossman that probable cause for obscenity violations existed. In response, Luther Campbell maintained that people should focus on issues relating to hunger and poverty rather than on the lyrical content of their music.

Navarro warned record store owners that selling the album may be prosecutable. The 2 Live Crew then filed a suit against Navarro. That June, U.S. district court Judge Jose Gonzalez ruled the album obscene and illegal to sell. Charles Freeman, a local retailer, was arrested two days later, after selling a copy to an undercover police officer. This was followed by the arrest of three members of The 2 Live Crew after they performed some material from the album at a nightclub. They were acquitted soon after, as professor Henry Louis Gates, Jr. testified at their trial in defense of their lyrics. Freeman's conviction was overturned on appeal as well.

In 1992, the United States Court of Appeals for the Eleventh Circuit overturned the obscenity ruling from Judge Gonzalez, and the Supreme Court of the United States refused to hear Broward County's appeal. As in the Freeman case, Gates testified on behalf of Navarro, arguing that the material that the county alleged was profane actually had important roots in African-American vernacular, games, and literary traditions and should be protected.

As a result of the controversy, As Nasty As They Wanna Be sold over two million copies. It peaked at #29 on The Billboard 200 and #3 on the Top R&B/Hip-Hop Albums chart. A few other retailers were later arrested for selling it as well, including Canadian Marc Emery who was convicted in Ontario in 1991, and would later gain fame as a marijuana activist. Later hard rock band Van Halen sued over an uncleared sample of their song "Ain't Talkin' 'Bout Love" in The 2 Live Crew Song "The Fuck Shop". The publicity then continued when George Lucas, owner of the Star Wars universe, successfully sued Campbell for appropriating the name "Skywalker" for his record label, Luke Skyywalker Records. Campbell changed his stage name to Luke (and changed the record label's name to Luke Records) and the group released an extremely political follow up album, Banned in the USA after obtaining permission to use an interpolation of Bruce Springsteen's Born in the U.S.A. The 2 Live Crew paraphernalia with the Luke Skyywalker or Skyywalker logos are often sought-after collector's items.
1190 – Third Crusade: Frederick I Barbarossa drowns in the river Saleph while leading an army to Jerusalem.
1539 – Council of Trent: Paul III sends out letters to his bishops, delaying the Council due to war and the difficulty bishops had traveling to Venice.
1619 – Thirty Years' War: Battle of Zablati, a turning point in the Bohemian Revolt.
1624 – Signing of the Treaty of Compiègne between France and the Netherlands.
1692 – Salem witch trials: Bridget Bishop is hanged at Gallows Hill near Salem, Massachusetts, for "certaine Detestable Arts called Witchcraft & Sorceries".
1719 – Jacobite Rising: Battle of Glen Shiel.
1786 – A landslide dam on the Dadu River created by an earthquake ten days earlier collapses, killing 100,000 in the Sichuan province of China.
1793 – The Jardin des Plantes museum opens in Paris. A year later, it becomes the first public zoo.
1793 – French Revolution: Following the arrests of Girondin leaders, the Jacobins gain control of the Committee of Public Safety installing the revolutionary dictatorship.
1805 – First Barbary War: Yusuf Karamanli signs a treaty ending the hostilities between Tripolitania and the United States.
1829 – The first Boat Race between the University of Oxford and the University of Cambridge takes place.
1838 – Myall Creek Massacre in Australia: 28 Aboriginal Australians are murdered.
1854 – The first class of the United States Naval Academy students graduate.
1864 – American Civil War: Battle of Brice's Crossroads. Confederate troops under Nathan Bedford Forrest defeat a much larger Union force led by General Samuel D. Sturgis in Mississippi.
1871 – Sinmiyangyo: Captain McLane Tilton leads 109 U.S. Marines in a naval attack on Han River forts on Kanghwa Island, Korea.
1886 – Mount Tarawera in New Zealand erupts, killing 153 people and destroying the famous Pink and White Terraces.
1898 – Spanish-American War: U.S. Marines land on the island of Cuba.
1918 – The Austro-Hungarian battleship SMS Szent Istvan sinks after being torpedoed by an Italian MAS motorboat.
1924 – Fascists kidnap and kill Italian Socialist leader Giacomo Matteotti in Rome.
1925 – Inaugural service for the United Church of Canada, a union of Presbyterian, Methodist, and Congregationalist churches, held in the Toronto Arena.
1935 – Dr. Robert Smith takes his last drink, and Alcoholics Anonymous is founded in Akron, Ohio, United States, by him and Bill Wilson.
1940 – World War II: U.S. President Franklin D. Roosevelt denounces Italy's actions with his "Stab in the Back" speech at the graduation ceremonies of the University of Virginia.
1940 – World War II: Norway surrenders to German forces.
1942 – World War II: Nazis burn the Czech village of Lidice in reprisal for the killing of Reinhard Heydrich.
1944 – World War II: 642 men, women and children are killed in the Oradour-sur-Glane Massacre in France.
1944 – World War II: In Distomo, Boeotia Prefecture, Greece 218 men, women and children are massacred by German troops.
1944 – In baseball, 15-year old Joe Nuxhall of the Cincinnati Reds becomes the youngest player ever in a major-league game.
1945 – Australian Imperial Forces land in Brunei Bay to liberate Brunei.
1947 – Saab produces its first automobile.
1957 – John Diefenbaker leads the Progressive conservative Party of Canada to a stunning upset in the Canadian federal election, 1957, ending 22 years of Liberal Party rule.
1965 – Vietnam War: The Battle of Dong Xoai begins.
1967 – The Six-Day War ends: Israel and Syria agree to a cease-fire.
1967 – Argentina becomes a member of the Berne Convention copyright treaty.
1977 – James Earl Ray escapes from Brushy Mountain State Prison in Petros, Tennessee, but is recaptured on June 13.
1977 – Apple ships its first Apple II personal computer.
1980 – The African National Congress in South Africa publishes a call to fight from their imprisoned leader Nelson Mandela.
1996 – Peace talks begin in Northern Ireland without the participation of Sinn Féin.
1997 – Before fleeing his northern stronghold, Khmer Rouge leader Pol Pot orders the killing of his defense chief Son Sen and 11 of Sen's family members.
1999 – Kosovo War: NATO suspends its air strikes after Slobodan Milosevic agrees to withdraw Serbian forces from Kosovo.
2001 – Pope John Paul II canonizes Lebanon's first female saint, Saint Rafqa.
2002 – The first direct electronic communication experiment between the nervous systems of two humans is carried out by Kevin Warwick in the United Kingdom.
2003 – The Spirit Rover is launched, beginning NASA's Mars Exploration Rover mission.
* Abolition Day (French Guiana)
* Army Day (Jordan)
* Christian Feast Day:
* Getulius, Amancius and Cerealus
* John of Tobolsk
* Landry of Paris
* Olivia
* June 10 (Eastern Orthodox liturgics)
* Portugal Day, also Day of Camões (Portugal and the Portuguese communities)
* Reconciliation Day (Republic of the Congo)
* The Queen's Birthday (Solomon Islands)