Cross posted from The Stars Hollow Gazette
This is your morning Open Thread. Pour your favorite beverage and review the past and comment on the future.
Find the past "On This Day in History" here.

Click on image to enlarge
June 8 is the 159th day of the year (160th in leap years) in the Gregorian calendar. There are 206 days remaining until the end of the year.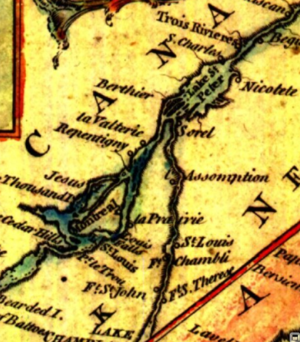 On this day in 1776, Canadian Governor Sir Guy Carleton defeats American Patriot forces under John Sullivan, who were already in retreat from Quebec toward Montreal.

After General Richard Montgomery's early success in Montreal, he and Colonel Benedict Arnold attempted to take Quebec in the middle of the night between December 31, 1775 and January 1, 1776. Montgomery lost his life and Arnold was wounded in the action; half of their men were also lost to death, injury or capture and Quebec remained in British control. The colonists' ill-conceived, pre-emptive attack on Canada ended in disaster. Instead of winning French Canadians to the Patriot cause, it led only to a huge loss of life among Patriot forces.
The Battle of Trois-Rivières (Three Rivers in English) was fought on June 8, 1776, during the American Revolutionary War. A British army under Quebec Governor Guy Carleton defeated an attempt by units from the Continental Army under the command of Brigadier General William Thompson to stop a British advance up the Saint Lawrence River valley. The battle occurred as a part of the American colonists' invasion of Quebec, which had begun in September 1775 with the goal of "liberating" the province from British rule.

The crossing of the Saint Lawrence by the American troops was observed by Quebec militia, who alerted British troops at Trois-Rivières. A local farmer led the Americans into a swamp, enabling the British to land additional forces in the village, and to establish positions behind the American army. After a brief exchange between an established British line and American troops emerging from the swamp, the Americans broke into a somewhat disorganized retreat. As some avenues of retreat were cut off, the British took a sizable number of prisoners, including General Thompson and much of his staff.

This was the last major battle fought on Quebec soil. Following the defeat, the remainder of the American forces, under the command of John Sullivan, retreated, first to Fort Saint-Jean, and then to Fort Ticonderoga.