Cross posted from The Stars Hollow Gazette
This is your morning Open Thread. Pour your favorite beverage and review the past and comment on the future.
Find the past "On This Day in History" here.
February 15 is the 46th day of the year in the Gregorian calendar. There are 319 days remaining until the end of the year (320 in leap years).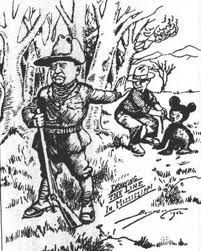 On this day in 1903, toy store owner and inventor Morris Michtom places two stuffed bears in his shop window, advertising them as Teddy bears. Michtom had earlier petitioned President Theodore Roosevelt for permission to use his nickname, Teddy. The president agreed and, before long, other toy manufacturers began turning out copies of Michtom's stuffed bears, which soon became a national childhood institution.
The name Teddy Bear comes from former United States President Theodore Roosevelt, whose nickname was "Teddy". The name originated from an incident on a bear-hunting trip in Mississippi in November 1902, to which Roosevelt was invited by Mississippi Governor Andrew H. Longino. There were several other hunters competing, and most of them had already killed an animal. A suite of Roosevelt's attendants, led by Holt Collier, cornered, clubbed, and tied an American Black Bear to a willow tree after a long exhausting chase with hounds. They called Roosevelt to the site and suggested that he should shoot it. He refused to shoot the bear himself, deeming this unsportsmanlike, but instructed that the bear be killed to put it out of its misery, and it became the topic of a political cartoon by Clifford Berryman in The Washington Post on November 16, 1902. While the initial cartoon of an adult black bear lassoed by a white handler and a disgusted Roosevelt had symbolic overtones, later issues of that and other Berryman cartoons made the bear smaller and cuter.

Morris Michtom saw the drawing of Roosevelt and the bear cub and was inspired to create a new toy. He created a little stuffed bear cub and put it in his shop window with a sign that read "Teddy's bear," after sending a bear to Roosevelt and receiving permission to use his name. The toys were an immediate success and Michtom founded the Ideal Novelty and Toy Co.

At the same time in Germany, the Steiff firm, unaware of Michtom's bear, produced a stuffed bear from Richard Steiff's designs. They exhibited the toy at the Leipzig Toy Fair in March 1903 and exported 3,000 to the United States.

By 1906 manufacturers other than Michtom and Steiff had joined in and the craze for "Roosevelt Bears" was such that ladies carried them everywhere, children were photographed with them, and Roosevelt used one as a mascot in his bid for re-election.

American educator Seymour Eaton wrote the children's book series The Roosevelt Bears, while composer John Bratton wrote "The Teddy Bear Two Step" which, with the addition of Jimmy Kennedy's lyrics, became the song "The Teddy Bears' Picnic".

Early teddy bears were made to look like real bears, with extended snouts and beady eyes. Today's teddy bears tend to have larger eyes and foreheads and smaller noses, babylike features that make them more attractive to buyers because they enhance the toy's cuteness, and may even be pre-dressed.
590
– Khosrau II is crowned king of Persia
1113 – Pope Paschal II issued a bull

sanctioning the estabilishment of the Order of Hospitallers.
1493 – While on board the Niña, Christopher Columbus writes an open letter describing his discoveries and the unexpected items he came across in the New World, which would be widely distributed upon his return to Portugal.
1637 – Ferdinand III becomes Holy Roman Emperor.
1764 – The city of St. Louis, Missouri is established.
1804 – Serbian revolution started.
1805 – Harmony Society is officially formed.
1835 – The first constitutional law in modern Serbia was adopted.
1862 – American Civil War: General Ulysses S. Grant attacks Fort Donelson, Tennessee.
1879 – Women's rights: American President Rutherford B. Hayes signs a bill allowing female attorneys to argue cases before the Supreme Court of the United States.
1898 – Spanish-American War: The USS Maine explodes and sinks in Havana harbor in Cuba, killing more than 260. This event leads the United States to declare war on Spain.
1906 – The British Labour Party is organised.
1909 – The Flores Theater fire in Acapulco, Mexico kills 250.
1933 – In Miami, Florida, Giuseppe Zangara attempts to assassinate President-elect Franklin D. Roosevelt, but instead shoots Chicago, Illinois Mayor Anton J. Cermak, who dies of his wounds on March 6, 1933.
1942 – World War II: The Fall of Singapore. Following an assault by Japanese forces, the British General Arthur Percival surrenders. About 80,000 Indian, United Kingdom and Australian soldiers become prisoners of war, the largest surrender of British-led military personnel in history. The Sook Ching massacre begins.
1944 – World War II: The assault on Monte Cassino, Italy, begins.
1949 – Gerald Lankester Harding and Roland de Vaux begin excavations at Cave 1 of the Qumran Caves, where they will eventually discover the first seven Dead Sea Scrolls.
1950 – The Soviet Union and the People's Republic of China sign a mutual defense treaty.
1952 – King George VI is buried in St. George's Chapel at Windsor Castle.
1954 – Canada and the United States agree to construct the Distant Early Warning Line, a system of radar stations in the far northern Arctic regions of Canada and Alaska.
1961 – Sabena Flight 548 crashes in Belgium, killing 73, including the entire United States figure skating team, several coaches and family.
1965 – A new red-and-white maple leaf design is adopted as the flag of Canada, replacing the old Canadian Red Ensign banner.
1970 – A Dominican DC-9 crashes into the sea during takeoff from Santo Domingo, killing 102.
1971 – The decimalisation of British coinage is completed on Decimal Day.
1972 – Sound recordings are granted U.S. federal copyright protection for the first time.
1972 – Jose María Velasco Ibarra, serving as President of Ecuador for the fifth time, is overthrown by the military for the fourth time.
1976 – The 1976 Constitution of Cuba is adopted by the national referendum.
1979 – Don Dunstan resigns as Premier of South Australia, ending a decade of sweeping social liberalisation.
1982 – The drilling rig Ocean Ranger sinks during a storm off the coast of Newfoundland, killing 84 rig workers.
1989 – Soviet Union invasion of Afghanistan: The Soviet Union officially announces that all of its troops have left Afghanistan.
1991 – The Visegrad Agreement, establishing cooperation to move toward free-market systems, is signed by the leaders of Czechoslovakia, Hungary and Poland.
1994 – Standard of the President of Russia was established.
1996 – At the Xichang Satellite Launch Center in China, a Long March 3 rocket, carrying an Intelsat 708, crashes into a rural village after liftoff, killing many people.
1999 – Abdullah Ocalan, leader of the PKK (Kurdistan Workers Party), is arrested in Kenya.
2000 – Indian Point II nuclear power plant in New York State vents a small amount of radioactive steam when a steam generator fails.
2001 – First draft of the complete Human Genome is published in Nature
2003 – Protests against the Iraq war occur in over 600 cities worldwide. It is estimated that between 8 million to 30 million people took part, making this the largest peace demonstration in the history of the world.
2005 – YouTube, the Internet site on which videos may be shared and viewed by others, is launched in the United States.
* Candlemas (Eastern Orthodox Church)
* Christian Feast Day:
o February 15 (Eastern Orthodox liturgics)
* Earliest day on which Family Day can fall, while February 21 is the latest; celebrated on the third Monday in February. (Canada)
* Earliest day on which Washington's Birthday can fall, while February 21 is the latest; celebrated on the third Monday in February. (United States)
* National Flag of Canada Day (Canada)
* John Frum Day (Vanuatu)
* National Day (Serbia)
* Parinirvana Day, also celebrated on February 8. (Mahayana Buddhism)
* Susan B. Anthony Day (United States)
* The third and final day of Lupercalia. (Roman Empire)
* Total Defence Day (Singapore)