Cross posted from The Stars Hollow Gazette
Find the past "On This Day in History" here.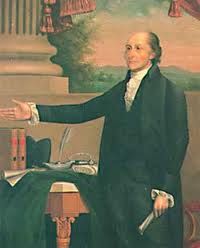 On this day on 1789, The Judiciary Act of 1789 is passed by Congress and signed by President George Washington, establishing the Supreme Court of the United States as a tribunal made up of six justices who were to serve on the court until death or retirement. That day, President Washington nominated John Jay to preside as chief justice, and John Rutledge, William Cushing, John Blair, Robert Harrison, and James Wilson to be associate justices. On September 26, all six appointments were confirmed by the U.S. Senate.

The U.S. Supreme Court was established by Article 3 of the U.S. Constitution. The Constitution granted the Supreme Court ultimate jurisdiction over all laws, especially those in which their constitutionality was at issue. The high court was also designated to oversee cases concerning treaties of the United States, foreign diplomats, admiralty practice, and maritime jurisdiction. On February 1, 1790, the first session of the U.S. Supreme Court was held in New York City's Royal Exchange Building.
622 – Prophet Muhammad completes his hijra from Mecca to Medina.
1180 – Manuel I Komnenos, last Emperor of the Komnenian restoration dies. The Byzantine Empire slips into terminal decline.
1645 – Battle of Rowton Heath, Parliamentarian victory over a Royalist army commanded in person by King Charles
1664 – The Dutch Republic surrenders New Amsterdam to England.
1780 – Benedict Arnold flees to British Army lines when the arrest of British Major John Andre exposes Arnold's plot to surrender West Point.
1789 – The United States Congress passed a Judiciary Act that provided an attorney general and The Supreme Court.
1789 – The United States Post Office Department is established.
1841 – The Sultan of Brunei cedes Sarawak to Britain.
1852 – The first airship powered by (a steam) engine, created by Henri Giffard, travels 17 miles (27 km) from Paris to Trappes.
1869 – "Black Friday": Gold prices plummet after Ulysses S. Grant orders the Treasury to sell large quantities of gold after Jay Gould and James Fisk plot to control the market.
1877 – Battle of Shiroyama, decisive victory of the Imperial Japanese Army over the Satsuma Rebellion
1890 – The Church of Jesus Christ of Latter-day Saints officially renounces polygamy.
1906 – U.S. President Theodore Roosevelt proclaims Devils Tower in Wyoming as the nation's first National Monument.
1935 – Earl Bascom and Weldon Bascom produce the first rodeo ever held outdoors

under electric lights at Columbia, Mississippi
1946 – Cathay Pacific Airways is founded in Hong Kong.
1947 – The Majestic 12 committee is allegedly established by secret executive order of President Harry Truman
1948 – The Honda Motor Company is founded.
1950 – Forest fires black out the sun over portions of Canada and New England. A Blue moon (in the astronomical sense) is seen as far away as Europe.
1957 – Camp Nou, the largest stadium in Europe, is opened in Barcelona.
1957 – President Dwight D. Eisenhower sends 101st Airborne Division troops to Little Rock, Arkansas, to enforce desegregation.
1962 – United States court of appeals orders the University of Mississippi to admit James Meredith.
1968 – 60 Minutes debuts on CBS.
1968 – Swaziland joins the United Nations.
1973 – Guinea-Bissau declares its independence from Portugal.
1979 – Compu-Serve launches the first consumer internet service, which features the first public electronic mail service.
1990 – Periodic Great White Spot observed on Saturn.
1994 – National League for Democracy is formed by Aung San Suu Kyi and various others to help fight against dictatorship in Myanmar.
1996 – U.S. President Bill Clinton signs the Comprehensive Nuclear-Test-Ban Treaty at the United Nations.
2005 – Hurricane Rita makes landfall in the United States, devastating Beaumont, Texas and portions of southwestern Louisiana.
2008 – The Trump International Hotel and Tower in Chicago is topped off at 1,389 feet (423 m), at the time becoming the world's highest residence above ground-level.