I don't normally cover stories about transpeople committing crimes. I hope that is understandable. I write so that maybe someday we'll get equal rights. I personally don't think transpeople committing crimes advances that cause. I don't write about those incidences unless something else is involved in the story, like maltreatment by the police or while incarcerated.
This past week I took another look at one of those stories. I think it warrants some commentary.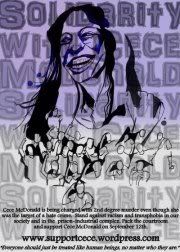 Crishaun (Cece) McDonald is a 23-year-old transwoman from Minneapolis. She has been charged with second-degree murder in the June 5 stabbing death of Dean Schmitz, 47, of Richfield, outside of the Schooner Tavern in the Longfellow neighborhood of Minneapolis.
McDonald remains in jail in lieu of $150,000 bail. Because of his gender transition status, McDonald is being held in isolation for his own safety, said Tony Dulski, who looks after McDonald's finances as a trustee and has visited him in jail.

Dulski said that McDonald is a man who is "in the process of becoming female," receiving hormone treatment while living as a woman.

As a trustee and counselor, Dulski said, he helps McDonald handle his finances. McDonald, who attended Minneapolis Community and Technical College this past spring semester, receives Social Security disability payments because of emotional and mental difficulties tied to gender identity, Dulski added.
Don't think we didn't notice the use of the male pronouns.
Cece and some friends were walking past the tavern on their way to Cub Foods. A group of smokers outside the bar began shouting racial, homophobic and transphobic slurs at them.
They called CeCe and her friends 'faggots,' 'niggers,' and 'chicks with dicks.
I'm not a lawyer, but I seem to recall hearing something about "fighting words".
According to McDonald's roommate, Schmitz started harassing McDonald, shouting, " Did you think you were going to rape somebody in those girl clothes?" and adding racial slurs.
A melee broke out. By definition of melee, nobody is certain of what happened next. There was a verbal exchange and then Schmitz and two other patrons attacked McDonald.
One witness reported that a woman hit McDonald in the face with a glass (which may have been a beer mug), puncturing her cheek and lacerating her salivary gland.
Mr. Schmitz ended up on the ground, stabbed in the stomach apparently by a pair of scissors.
In the authorities' version, a witness outside the bar saw Schmitz pull McDonald out of the melee. Then Schmitz backed away and said, "You stabbed me," to which McDonald replied, "Yes, I did."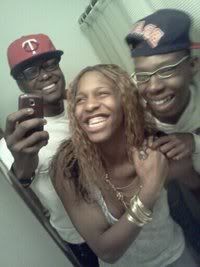 One of Chrishaun's friends who was in the group, Larry Taylor, says that when he saw Cece's face was bleeding, he pulled her out of the tussle and the two of them ran the two blocks to Cub Foods.
Thomas says when he looked back, he saw another friend that had been with them that night, a man that he and others now identify as Schmitz's killer, running away from the scene.

Thomas and Zavawn Smith, who was also present that night, say their friend admitted to them that he had stabbed Schmitz. Thomas says the friend told them that Schmitz "ran up and fell on the scalpel." Smith says he recorded the confession on his cell phone, and still has the video.
This person of interest seems to be in hiding.
Minneapolis Police spokesman Sgt. William Palmer said the police were not aware of a videotaped confession to the murder. He says the investigation is ongoing, and any new evidence that is brought forward will be investigated thoroughly.
After her arrest, she was held for two months in solitary confinement for her "protection." She was denied adequate medical attention for those two months during which the wound on her face, which actually punctured her cheek, abscessed to the sized of a golf ball. Ms. Mcdonald and community members rallied for her transfer from solitary and she was moved to an all male psychiatric wing for about a month. Last week she was sent back to solitary confinement again, for unknown reasons. After a community outcry and two days of mass call ins to the jail demanding her transfer, Mcdonald was transferred back to the psychiatric wing from solitary.

–Kate Burgess, Free Speech Zone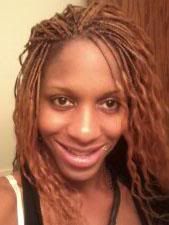 Since Chrishaun's arrest, her family has received threatening both them and her safety in jail. The have been followed down the street by people in trucks and have had bottles thrown at them. They have been told to "go back to Africa."
The painful reality is that the expectation of violence is constant for many transgender women of color. That violence takes place within families, on the streets, in the workplace, in schools and in jails and prisons.

–Kate Burgess
The attack on Chrishaun included racist, transphobic, and anti-feminine verbal assaults.  These verbal  assaults are extensions of the violent machine works of our society that are built upon capitalist exploitation of people of color, poor people, and feminine presenting people.   Because she is poor, accessing a competent lawyer was difficult. Without the support of her friends and community, she would have been left with a Public Defender who may not have understood or supported her experiences as a trans woman, as is frequently the case for incarcerated gender non-conforming people. In addition, she is not able to meet her $150,000 bail.   Had Chrishaun been able to access bail money, she would have had that much more contact with her family, friends, and community supporters.  She is without the freedom to organize support for herself because she's in the Hennepin County Public Safety Facility.

–Trans Youth Support Network (TYSN)
There is a site where someone who wishes may support Cece. There is also a Facebook page.
Bail was originally $150,000. Judge Daniel C. Moreno recently rejected the prosecution's assertion that Cece poses a threat to the community and request to have the bail raised to $500,000. Bail was reduced to $75,000 on September 22.
Ms. McDonald has consistently stated that she feels safer housed with other people, though she continues to be held in the male unit despite having repeatedly asserted her desire to be housed with other women.
But that's another issue, isn't it.
Though DNA evidence is due back in December, Ms. McDonald's trial isn't scheduled to begin until January 9th of next year; no other hearings are currently scheduled.