March 11, 2011

archive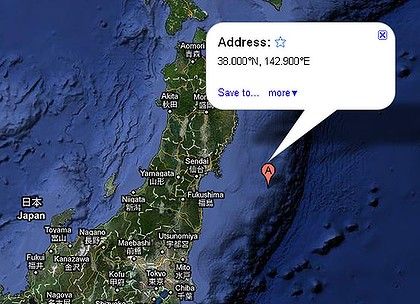 This is just coming in now that a major earthquake has struck the Northeast of Japan at 2:46 p.m. local time (0146 EST) with a tsunami. A tsunami warning has been issued for other parts of the region. Hawaii is under a tsunami watch.
Up Date: Al jazeera and other news agencies are reporting that there are 19 confirmed deaths.

The entire Pacific basin is under either a tsunami warning with some waves are expected to bee higher than some Pacific islands.

Nuclear power plants in Japan are shut down and there are no reports of leaks. Most transportation has been shut down.

Bullet train network is shut down and airports are closed.

There is a warning issued for another quake expected to hit Honshu.
State of emergency is declared at Japanese nuclear plants
Process for cooling reactor 'not going as planned' in wake of quake, administrator says

Japan's top government spokesman and local administrators say emergencies have been issued at two nuclear power plants over cooling-system fears in the wake of Friday's giant earthquake.

Chief Cabinet Secretary Yukio Edano says the nuclear power plant in Fukushima developed a mechanical failure in the system needed to cool the reactor after it was shut down after the earthquake. He said there was no radiation leak.
Japan earthquake and tsunami: fire breaks out at nuclear plant in Onagawa
A fire broke out in the turbine building of Onagawa nuclear plant in Miyagi Prefecture, Japan, on Friday after an 8.9-magnitude earthquake triggered a huge tsunami.

It was not immediately clear if there was a risk of a radioactive leak as a result of the fire at the plant operated by Tohoku Electric Power. Miyagi prefecture was one of the areas worst hit by the tsunami.
Tokyo Narita Airport Cancels All Flights Today After Quake
Tokyo's Narita Airport, Japan's main international gateway, canceled all flights for the rest of the day after the country was hit by the world's strongest earthquake in six years.

About 13,800 passengers were stranded because of the shutdown, Ryoko Yabe, a spokeswoman for the airport said by phone. There was no visible damage to runways, she said. Tokyo's Haneda airport, Asia's second-busiest by passengers, resumed flights, the transport ministry said.
Hawaii orders evacuations in tsunami threat
(Reuters) – Hawaii ordered evacuations from coastal areas due to the threat of a tidal wave set off by Friday's earthquake in Japan as a tsunami warning was extended to the whole of the Pacific basin, except mainland United States and Canada.

Authorities also ordered evacuation from low-lying areas on the U.S. island territory of Guam in the western Pacific, where residents there were urged to move at least 50 feet above sea level and 100 feet inland.
Roubini Says Earthquake Is 'Worst Thing' at 'Worst Time' for Japan Economy
Nouriel Roubini, the economist who predicted the global financial crisis, said the earthquake in Japan comes at the "worst time" as the country struggles to lower its budget deficit.

"This is certainly the worst thing that can happen in Japan at the worst time," Roubini told Maryam Nemazee on Bloomberg Television's "Countdown" in London today. "There will be fiscal stimulus to reconstruct but Japan already has a budget deficit of close to 10 percent of" gross domestic product and an aging population.

The Bank of Japan (8301) pledged to ensure financial stability after the magnitude 8.9 earthquake struck off the coast of Sendai, sparking a tsunami. Japanese stocks declined in Tokyo today. The central bank, which keeps its benchmark rate at zero, had last month said the world's third-largest economy is set to recover from a fourth-quarter contraction.
The picture in the below news article gives clear idea of just how devastating this disaster is
Major damage in Japan after 8.9 quake
A powerful tsunami spawned by the largest earthquake in Japan's history slammed the eastern coast Friday, sweeping away boats, cars, homes and people as widespread fires burned out of control.
Japan earthquake unleashes tsunami
Up to 19 people killed as tsunami causes major damage after 8.9-magnitude quake strikes off the coast.

A 10-metre tsunami hit Sendai airport in the north-east. Television footage showed people standing on the roof of the terminal building.

The tsunami roared over embankments in Sendai city, washing cars, houses and farm equipment inland before reversing directions and carrying them out to sea. Flames shot from some of the houses, probably because of burst gas pipes.

Thirty international search and rescue teams stand ready to go to Japan to provide assistance following the quake, the United Nations said.

Military airplanes were flying over the worst-affected areas to assess the need for rescue efforts.

Many people were reported injured after a roof caved in during a school graduation ceremony at a hall in east Tokyo, the fire department in the capital said, after the quake hit.

snip

Al Jazeera's Marga Ortigas, reporting from Manila in the Philippines, said the military there had been ordered to help evacuate areas at risk on the east coast.

Several earthquakes have hit the region in recent days, including a 7.2-magnitude quake on Wednesday.

"Japan has been on high alert since the earthquake on Wednesday," Al Jazeera's Harry Fawcett, following developments from the Malaysian capital, Kuala Lumpur, said.

"Japan is very well equipped to deal both with the initial tremors caused by an earthquake: buildings are systematically built with allowances for sway so that they are less likely to fall down. Also coastal cities have long had tsunami protection measures in place."

Friday's quake struck at a depth of 24 kilometres, about 125 kilometres off the eastern coast, the country's meteorological agency said.

The quake was the biggest in 140 years. It surpasses the Great Kanto quake of 1923, which had a magnitude of

7.9 and killed more than 140,000 people in the Tokyo area.
Northern Japan Suffers Major Tsunami Damage
TOKYO (AP) – Japan was struck by a magnitude 8.9 earthquake off its northeastern coast Friday, unleashing a 13-foot (4-meter) tsunami that washed away cars and tore away buildings along the coast near the epicenter. There were reports of injuries in Tokyo.

In various locations along Japan's coast, TV footage showed massive damage from the tsunami, with dozens of cars, boats and even buildings being carried along by waters. A large ship swept away by the tsunami rammed directly into a breakwater in Kesennuma city in Miyagi prefecture, according to footage on public broadcaster NHK.

Officials were trying to assess damage, injuries and deaths from the quake but had no immediate details.

The quake that struck at 2:46 p.m. was followed by a series of powerful aftershocks, including a 7.4-magnitude one about 30 minutes later. The U.S. Geological Survey upgraded the strength of the first quake to a magnitude 8.9, while Japan's meteorological agency measured it at 7.9.
Live feed from Al Jazeera
More pictures below the fold
Cross posted at The Stars Hollow Gazzette