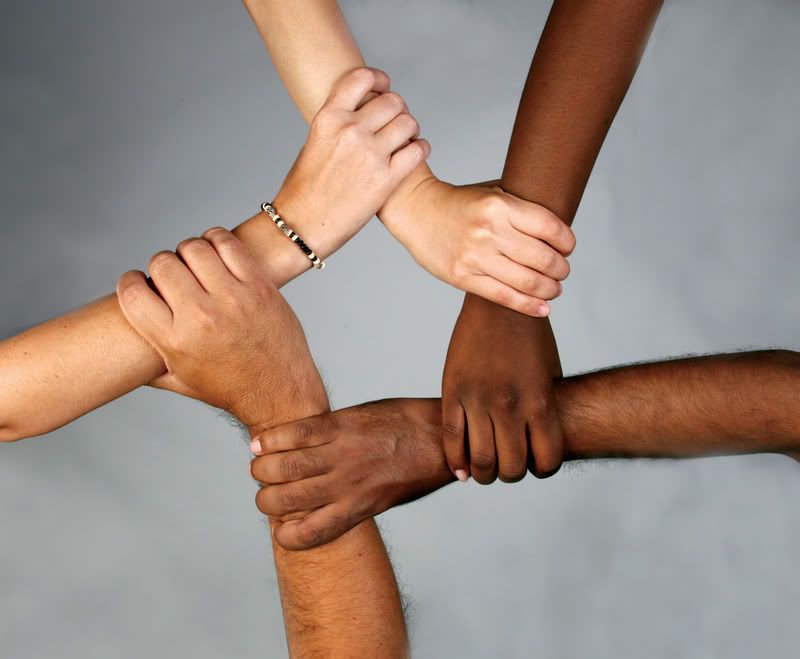 This week's selection would seem particularly timely, especially given the bare-knuckled assault on the working class playing out in many states across the country, most notably in Wisconsin. The progressive factions have, quite predictably, splintered into numerous warring factions, much to the delight of the oligarchs who now see absolute power and control of the masses within reach. Our challenge, if we wish to survive, is to reach out to those whose core values are similar, while at the same time realizing that most of those individuals will not agree with us on all counts.
Written in the early 1960s by singer-songwriter Chet Powers (aka Dino Valenti), this week's selection represents a heartfelt plea for peace and brotherhood. The message also speaks to the frequent struggle between the mutually exclusive sentiments of love and fear, as well as the importance of the path we choose.
The song was first recorded by The Kingston Trio and released on June 1, 1964, on their album, "Back in Town." Although it was never released as a single, they frequently included it in their live performances. In 1965, We Five released their cover version as a followup to their hit, "You Were On My Mind", which peaked at #31 on the Billboard Hot 100 charts. The Jefferson Airplane's cover version was included on their debut album, "Jefferson Airplane Takes Off", released on August 15, 1966.
In 1966, Chet Powers (aka Dino Valenti), needing funds for his legal defense against drug charges, sold the rights to the song to Frank Werber.
Judy Collins performed her version at the 1966 Newport Folk Festival, which she included in a later album. From 1967-1969, Joni Mitchell oftentimes performed her cover version as an encore.
In 1967, The Youngbloods, whose best known member was Jesse Colin Young, released their cover version under a slightly different title, which rose to a modest #62 ranking on the Billboard Hot 100 charts. Their version saw new life when it was used for a television public service announcement in a call for brotherhood by the National Conference of Christians and Jews. The version that is most familiar to us was re-released in 1969, and peaked at #5 on the Billboard Hot 100. The song also appears on the soundtracks for several films, including "Purple Haze", "Forrest Gump", "Riding the Bullet", and "Fear and Loathing in Las Vegas."
And now, without further ado, this week's selection is the Youngbloods' hit from 1967 and again in 1969, "Get Together."
In the aftermath of 9/11, Clear Channel Communications placed The Youngbloods' version of "Get Together" on a list of "lyrically questionable" songs. This list was sent ot their 1200 radio stations across the United States.
Here is songwriter Chet Powers' recording of January, 1964, first collected in 1996 on the album "Someone To Love: Birth of the San Francisco Sound" and later in "Love Is the Song We Sing: San Francisco Nuggets 1965-1970."
The Kingston Trio (1964)
David Crosby (pre-Byrds & Crosby, Stills, Nash & Young) – 1964
We Five (1965)
Jefferson Airplane (1966)
The Youngbloods (1967, 1969)
H. P. Lovecraft (1967)
The Carpenters' cover version was included in their debut album, released in 1969. The album was repackaged as "Ticket to Ride" in 1970…
Joni Mitchell with Crosby, Stills, Nash & Young (1969?)
Andy Williams with Loadstone – October 6, 1969
Released in February, 1970, The Dave Clark Five's version reached #8 on the UK Singles Chart during the following month with their version, which was retitled "Everybody Get Together". The song itself can be heard after some annoying preliminaries, at about the 1:30 mark…
Jesse Colin Young's 1979 cover version was included on both an album and a film, both entitled, "No Nukes", which was related to the Musicians United for Safe Energy concerts…
Ann Wilson, along with Nancy Wilson and Deanna Carter, from her 2007 album, "Hope and Glory"…
The Baja Blues Band performed their interpretation at a live concert held at Battelle Auditorium in Richland, Washington on March 12, 2009…
Loading ...