Cross posted from The Stars Hollow Gazette
This is a Live Blog and will be updated as the news is available. You can follow the latest reports from AL Jazeera English and though Mishima's live blog, our news editor.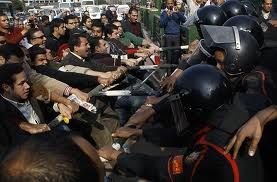 A second day of protests have taken to the streets across Egypt and conditions have deteriorated considerably. Protests, dissatisfied with a reshuffling of the "deck chairs", have intensified calling for the ouster of President Hosni Mubarak. Mubarak has appointed a Vice President for the first time and a new Prime Minister, both government insiders who are close to Mubarak. Omar Suleiman, 71 years old, head of intelligence and former spy, has been named Vice President. Mubarak had promised to do this some years ago but never did to Suleiman's disappointment. He, however remained loyal to Mubarak. The new Prime Minister is another military man, Ahmad Shafiq.
The Muslim Brotherhood, the opposion party that has no seats in the current parliament, has called for Mubarak to step down and a unity government formed without the ruling party, NDP. Al Jazeera is now reporting that the head of the Muslim Brotherhood have been detained by the Mubarak government.
In a statement this evening (Egyptain time), Mohamed Elbaradei has called once again for Mubarak to step down and the formation of a unity government that represents all the Egyptian people. The people will be satisfied with nothing less. (I will have the video with the simultaneous translation as soon as Al Jazeera makes it available on You Tube)(Up date #2: Video of Elbaradei's statement with simultaneous translation by AL Jazeera)
The curfew, 6 PM to 7 AM local time, continues but is being ignored. There are reports of looting and vandalism of shops, the museums and hospitals. There are no signs of the security police from the Ministry of Interior. The army is unable to contain any of the protests and is calling for private citizens to protect themselves and their property. There are also reports that the "thugs" who are looting may be police from police Egypt's Central Security. Al Jazeera's Ayman Mohyeldin is reporting that thugs in one neighborhood were seized and found to have state security id and carrying state issued weapons.
7:38pm Ayman Mohyeldin reports that eyewitnesses have said "party thugs" associated with the Egyptian regime's Central Security Services – in plainclothes but bearing government-issued weapons – have been looting in Cairo. Ayman says the reports started off as isolated accounts but are now growing in number.
Al-Masry Al-Youm has reported that protesters have been trying to organize to protect neighborhoods in the absence of the police.