Many among us recently celebrated that annual holiday designated for the giving of thanks; a day when we take note of that half of our glass that is full and express our gratitude for that inheritance, however meager it may be.
By contrast, if we are among the privileged few whose fortunes have continued to grow, in spite of and often because of the euphemistically named Great Recession, our glass is probably 75%, 90% or even 95% full.
Many who enjoy great wealth are trapped in a prison of their own design — that place where no amount of wealth or power will ever be enough. These are the people who are seemingly addicted to "running up the score", even when the outcome of "the game" has been long ago decided. Unfortunately, like vampires, they can only find temporary relief by sucking the life blood from innocent, unsuspecting victims, leaving a path of destruction in their wake, continuing to plunder other hapless souls for additional wealth that they will never need nor use.
"In a country well governed, poverty is something to be ashamed of. In a country badly governed, wealth is something to be ashamed of." — Confucius, 551-479 BC
If money be not thy servant, it will be thy master. The covetous man cannot so properly be said to possess wealth, as that may be said to possess him. — Sir Francis Bacon
If we command our wealth, we shall be rich and free; if our wealth commands us, we are poor indeed. — Edmund Burke
Among the rest of us (aka, the lower 98%) are those who, after reviewing the unwritten ledger whereupon that for which we are thankful is inscribed, may discover that the list has become considerably shorter than it was in years past. For some of us, that proverbial glass is now 25% full, 10% full, or in extreme cases, the bottom is almost completely dry.
Of course, it is very difficult to survey the past and at the same time avoid peering into the future, trying our best to ascertain what lies ahead, so we may prepare for whatever that might be. For most, divining the future will either serve as the grounds for exuberant optimism, or abject fear and dread.
If we prepare a list of that for which we are thankful, we can begin with the fact that we are alive, add the names of our closest friends and family members, our pets (if we can afford one), and whatever remaining source(s) of economic security we may have, that which is essential to maintain a roof over our heads, adequate food and clothing, medical care, and the ability to afford an occasional diversion.
Who is most likely to give thanks? The billionaire? The homeless person, residing on the streets, for whom a good day is one when they don't go to sleep hungry? Perhaps, if we wish to adopt the most positive approach possible, we can be thankful that our situation is less dire than that of growing number of our brethern, those often invisible others who populate less well traveled areas in our community.
This all raises the inescapable question: Does the former meaning of Thanksgiving Day still apply?
For those of us wishing for a yardstick, we may want to consider Norman Rockwell's four-painting series, his visual depiction of the Four Freedoms of which Franklin Delano Roosevelt spoke during his State of the Union speech on January 6, 1941. We may recall that the country was still emerging from an extended period of want and despair. The bombing of Pearl Harbor was still eleven months distant, even though ominous war clouds loomed on the horizon.
Perhaps we would do well to consider these Four Freedoms, and ask ourselves the obvious question each Thanksgiving Day: "How are we doing?"
The Four Freedoms series appeared in four consecutive issues of the Saturday Evening Post on February 20, February 27, March 6 and March 13, 1943, each week pairing one of Rockwell's paintings with a corresponding essay. "Freedom from Fear" was considered to be the best known of the four, in this case accompanying an essay written by Stephen Vincent Benet.
Freedom of Speech and Expression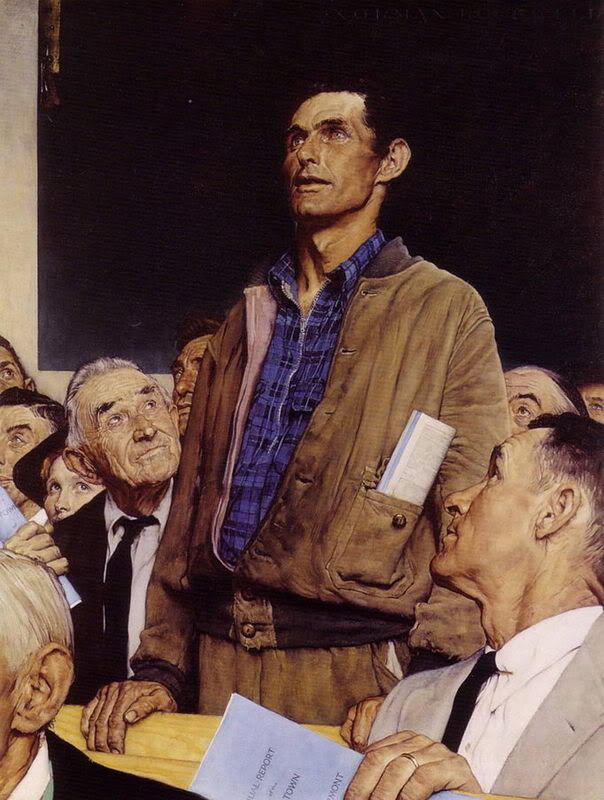 Freedom of Worship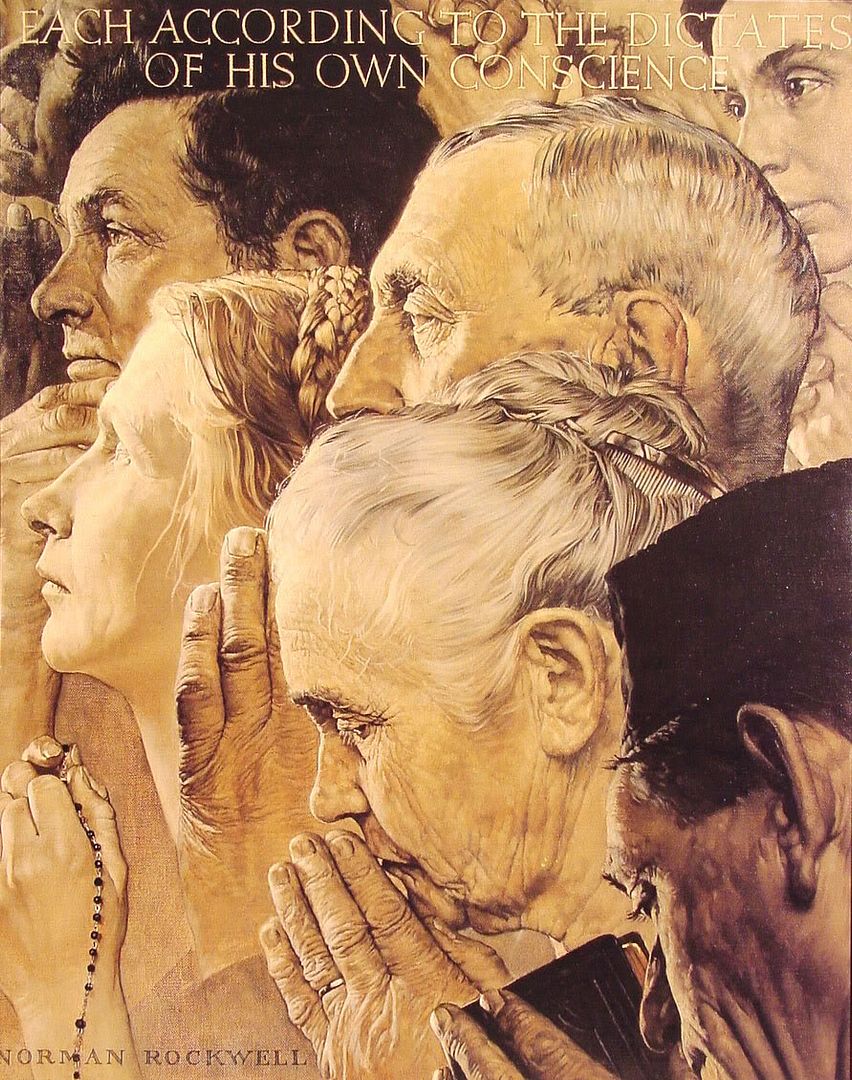 Freedom from Want
Freedom from Fear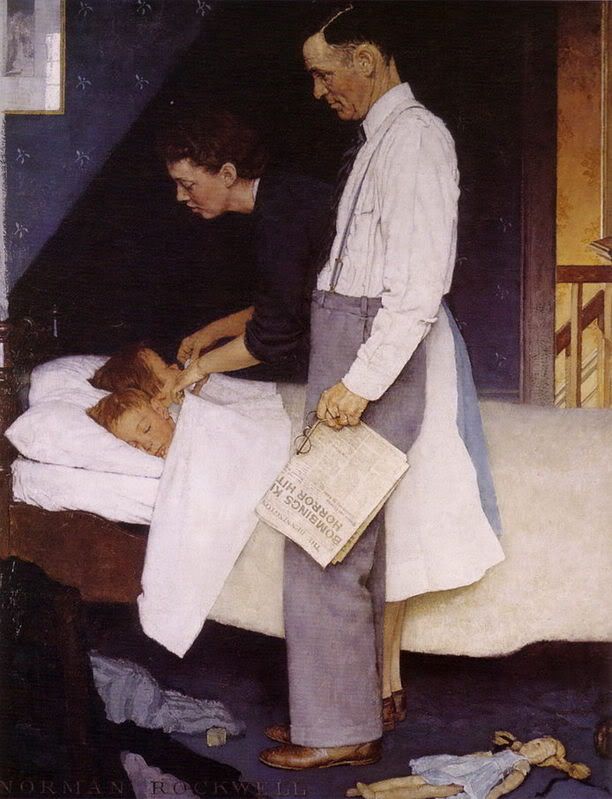 Yes, we all have much to contemplate.
But, I digress. After all, this essay is supposed to be about music.
Our musical preferences at any given point in time can vary considerably. We may sometimes prefer that which reflects and validates our immediate thoughts and feelings. Alternatively, we may be seeking an escape, a refuge, something to help us forget our woes, similar to many of the films released during the depths of the Great Depression (i.e., the depression in the 1930s).
The featured song this week most likely would fall under the former heading. For those of us who have lost more than we've gained during the past year and are fearful that much of what we cherish is at risk of vanishing, the lyrics of this song may accurately reflect a sense likely shared with billions of others on the planet.
The song, written by Tony Joe White in 1962, was first released by the composer in 1969.
The following year, another performer who had enjoyed a string of Top Ten hits between 1959 and 1963 staged a comeback with this #4 hit in 1970, his first major hit in seven years' time. This songwriter and R&B singer, christened Benjamin Franklin Peay, scored 49 Billboard Top 100 hits during his lifetime, and wrote songs that became hits for other performers, yet remains little known today. Like many, he was first a gospel singer, then made the transition to rhythm and blues. His resonant, baritone voice lent itself well to ballads in particular. Tragically, he died of complications from spinal meningitis in Queens, New York City, at the age of 56 on April 9, 1988.
It should be noted that Mr. Peay, at the suggestion of a producer, changed his name, so, without further ado, this week's feature song is "Rainy Night in Georgia" by Brook Benton.
Tony Joe White was perhaps best known for his 1969 hit, "Polk Salad Annie", which peaked at the #8 slot on the Billboard Hot 100 charts. He also wrote "Rainy Night in Georgia" in 1962, and was the first to release that song in 1969…
In this writer's humble opinion, Brook Benton did such a fine job on "Rainy Night…" that he is a tough act to follow. Can anyone else even come close to equaling his effort?
"Rainy Night in Georgia" can also be found on Benton's album, "Brook Benton Today." It peaked at #4 on the Billboard Hot 100 singles chart and #2 on the Adult Contemporary chart. Benton's cover version sold more than one million copies, garnering Gold Record honors and was listed by Rolling Stone magazine in 2004 at #498 on their 500 Greatest Songs of All Time. From 1970…
Johnny Rivers recorded a cover version of "Rainy Night…" on his 1970 album, entitled, "Slim Slo Rider." Embedding has been disabled, but you can see it here.
The Jazz Crusaders (1970) take this song in a few new directions with this instrumental jazz version…
It appears that David Ruffin recorded his version in 1970, which was part of an unreleased LP, and was much later released on compact disc format in 2004. For anyone wanting to purchase the CD, there is one copy available on one of the more popular online store sites for $299.99. Ruffin recorded this cover version during the same year as Benton, however, for unknown reasons; Motown did not release the album.
Ruffin was best known as a lead singer for the Temptations from 1964 to 1968, singing lead on their hits "My Girl" and "Ain't Too Proud to Beg." In 2008, he was ranked as one of the 100 Greatest Singers of All Time by Rolling Stone magazine and was inducted into the Rock and Roll Hall of Fame in 1989 for his work with the Temptations. It was said that fellow Motown recording artist Marvin Gaye once said of Ruffin, "I heard in [his voice] a strength my own voice lacked."
Boots Randolph lends his saxophone for this instrumental version from 1970…
Wynn Stewart (1970) turns in a countrified version…
Nicky Thomas (October 5, 1971) performs "Rainy Night…" in the reggae style? Does it work? Well, you decide…
Hank Williams Jr. accelerates the tempo a little in this version from January, 1974…
Otis Rush displays his talents with this 1976 rendition of "Rainy Night in Georgia"…
The Gladiators recorded this reggae version, which can be found on their Album: The Studio One Years 1968-1976…
Randy Crawford turned in this fine interpretation in 1981. There were several options, and although you may need to turn up the volume up a little for this video, the sound quality is very good and the visual imagery is worth a look. If you find the thunderstorm in the background an unpleasant distraction, you can see a live version here.
Conway Twitty and Sam Moore collaborated on this version in 1994. Even though Twitty is primarily known as a country artist, you probably won't be hearing their effort on radio stations in redneck country. This video is definitely worth a look. That said, I'm not sure how much the dialogue near the end of the recording adds to the song…
The indie folk-rock band Hem released their cover version on the 2006 album, "No Word from Tom." Their interpretation of this song perhaps departs even further from the original than the three reggae versions included in this essay…
Vocalist Aaron Neville and trumpeter Chris Botti combined their talents on September 19, 2006…
The Congos turn in yet another reggae version — Jerusalem Live Burgerweeshuis Deventer NL 2009 11 01
Rod Stewart included his cover version on his 2009 "Soulbook" CD…
George Benson turned in this performance in 2009…
Chris Young showcased his talents on his 2009 CD, "The Man I Want to Be"…
Loading ...