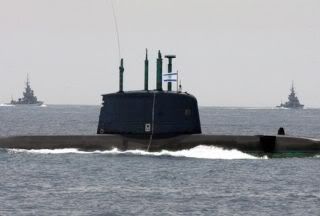 Three Israeli nuclear-armed submarines are headed for the Persian Gulf to be stationed there permanently and "potentially land Mossad agents in the region."
Amid speculations about Israel's hostile future policies against Iran, a report says Israel is to deploy three submarines equipped with nuclear cruise missiles in the Persian Gulf.

Snip –

The Sunday Times quoted a flotilla officer as saying that the vessels were sent to carry out intelligence gathering missions and potentially land Mossad agents in the region.

Talking about the prospect of a possible military attack against Iran, a navy officer said, "The 1,500 km range of the submarines' cruise missiles can reach any target in Iran."

The revelation came after earlier this week, Iranian naval forces detected a US nuclear-armed submarine in the Strait of Hormuz.
Not that they'd do anything crazy.
But it is an interesting development given this recently published paper by Harvard professor and Israeli Strangelove, Chuck Freilich.