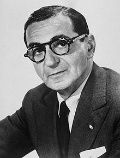 On this day in 1888, the composer and lyricist, Irving Berlin (Israel Isidore Baline) was born in Tyumen in Eastern Russia. When young Irving was 5, his father, a cantor in a Jewish Synagogue, moved his family to the United States in 1893 as did many other Jewish families which was sparked by the pogroms of the new Russian Tsar. Berlin only recollection of his life in Russia was the burning of his families home during a Cossack rampage of their village.
The Baline family eventually settled on the lower east side of New York City. After his father passed away when he was 8, young "Izzy" drooped out of school taking odd jobs delivering papers and, eventually making a living singing "street songs" for pennies. Eventually, he hooked up with another street kid who was getting by singing his own songs, George M. Cohan and other young song writers. In 1911, Irving Berlin hit the charts with "Alexander's Ragtime Band" and he was off and running for decades with hit after hit many of which are still heard today. We all know "White Christmas". And who can forget this classic "immortalized" by the late Peter Boyle and Gene Wilder in "Young Frankenstein"
Irving Berlin died September 22, 1989 in NYC. Happy Birthday, Mr. Berlin.
330 – Byzantium is renamed Nova Roma during a dedication ceremony, but is more popularly referred to as Constantinople.
1310 – In France, fifty-four members of the Knights Templar are burned at the stake as heretics.
1502 – Christopher Columbus leaves for his fourth and final voyage to the West Indies.
1647 – Peter Stuyvesant arrives in New Amsterdam to replace Willem Kieft as Director-General of New Netherland, the Dutch colonial settlement in present-day New York City.
1745 – War of Austrian Succession: Battle of Fontenoy – At Fontenoy, French forces defeat an Anglo-Dutch-Hanoverian army.
1776 – Washington recommends using German-American troops to Congress: In a letter addressed to the president of Congress, American General George Washington recommends raising companies of German-Americans to use against the German mercenaries anticipated to fight for Britain.
1812 – Prime Minister Spencer Perceval is assassinated by John Bellingham in the lobby of the House of Commons, London.
1813 – In Australia, William Lawson, Gregory Blaxland and William Wentworth lead an expedition westwards from Sydney. Their route opens up inland Australia for continued expansion throughout the 19th century.
1820 – Launch of HMS Beagle, the ship that took Charles Darwin on his scientific voyage.
1857 – Indian Mutiny: Indian rebels seize Delhi from the British.
1858 – Minnesota is admitted as the 32nd U.S. state.
1862 – American Civil War: The ironclad CSS Virginia is scuttled in the James River northwest of Norfolk, Virginia.
1864 – Confederate Cavalry General J.E.B. Stuart is mortally wounded: A dismounted Union trooper fatally wounds J.E.B. Stuart, one of the most colorful generals of the South, at the Battle of Yellow Tavern, just six miles north of Richmond. Stuart died the next day.
1867 – Luxembourg gains its independence.
1891 – The Otsu Incident : Tsarevich Nicholas Alexandrovich of Imperial Russia (late Nicholas II) is critically injured on his head by the sword attack by a Japanese policeman Tsuda Sanzo.
1894 – Pullman Strike: Four thousand Pullman Palace Car Company workers go on a wildcat strike in Illinois.
1910 – An act of the U.S. Congress establishes Glacier National Park in Montana.
1919 – Germans prepare to protest Versailles Treaty terms:
1924 – Mercedes-Benz is formed by Gottlieb Daimler and Karl Benz merging their two companies.
1927 – The Academy of Motion Picture Arts and Sciences is founded.
1934 a dust storm sweeps from Great Plains across Eastern states
1942 – William Faulkner's collections of short stories, Go Down, Moses, is published.
1943 – World War II: American troops invade Attu Island in the Aleutian Islands in an attempt to expel occupying Japanese forces.
1944 – World War II: The Allies start a major offensive against the Axis Powers on the Gustav Line.
1945 – World War II: Off the coast of Okinawa, the aircraft carrier USS Bunker Hill, is hit by two kamikazes, killing 346 of her crew. Badly damaged, the ship is able to return to the U.S. under her own power.
1947 – B.F. Goodrich Co. announces development of tubeless tire: The B.F. Goodrich Company of Akron, Ohio, announces it has developed a tubeless tire, a technological innovation that would make automobiles safer and more efficient
1949 – Siam officially changes its name to Thailand for the second time; the name had been in use since 1939, but was reverted 1945.
1949 – Israel joins the United Nations.
1960 – In Buenos Aires, Argentina, four Israeli Mossad agents capture fugitive Nazi Adolf Eichmann, living under the assumed name Ricardo Klement.
1960 – The first contraceptive pill is made available on the market.
1961 – President Kennedy orders more troops to South Vietnam President Kennedy approves sending 400 Special Forces troops and 100 other U.S. military advisers to South Vietnam.
1967 – Andreas Papandreou, Greek economist and socialist politician, is imprisoned in Athens by the Greek military junta.
1968 – The Toronto Transit Commission opens the largest expansion of its Bloor-Danforth Line, going to Scarborough in the east, and Etobicoke in the west.
1969 – Paratroopers battle for "Hamburger Hill": U.S. and South Vietnamese forces battle North Vietnamese troops for Ap Bia Mountain (Hill 937), one mile east of the Laotian border.
1972 – The San Francisco Giants announced that they were trading Willie Mays to the New York Mets.
1973 – Citing government misconduct, Daniel Ellsberg has charges for his involvement in releasing the Pentagon Papers to The New York Times dismissed.
1981 – Bob Marley dies
1984 – A transit of Earth from Mars takes place.
1987 – Klaus Barbie goes on trial in Lyon for war crimes committed during World War II.
1987 – In Baltimore, Maryland, The first heart-lung transplant takes place. The surgery is performed by Dr. Bruce Reitz, of Stanford University School of Medicine.
1988 – Kim Philby dies: Kim Philby, a former British Secret Intelligence Service officer and double agent for the Soviet Union, dies in Moscow at the age of 76. Philby was perhaps the most famous of a group of British government officials who served as Russian spies from the 1930s to the 1950s.
1995 – In New York City, more than 170 countries decide to extend the Nuclear Nonproliferation Treaty indefinitely and without conditions.
1996 – The 1996 Everest disaster: on a single day eight people die on Mount Everest during summit attempts.
1997 – Deep Blue, a chess-playing supercomputer, defeats Garry Kasparov in the last game of the rematch, becoming the first computer to beat a world-champion chess player in a classic match format.
1998 – India conducts three underground nuclear tests in Pokhran, including a thermonuclear device.
1932 – Valentino Garavani, Italian Designer
1933 – Louis Farrakhan, American Black Muslim leader
1934 – Jim Jeffords, former American politician
1946 – Robert Jarvik, American physician and inventor
1952 – Frances Fisher, English-born actress
1952 – Mike Lupica, American sports journalist
1953 – David Gest, American television producer
1959 – Martha Quinn, American television personality